759
Degrees from
55
Schools
How to Become a Business Analyst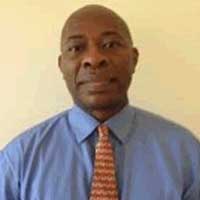 Christian Madu is a professor in the MBA in Management program at Pace University. He holds a Bachelor of Science in industrial engineering, a Master of Business Administration, a Master of Science in industrial engineering, and also a PhD. Christian was the 2008 recipient of the Keenan Award for Teaching Excellence, and he has also won several awards for his research. He is coeditor of the International Journal of Quality and Reliability Management and is the founding editor of the International Journal of Quality Science. He is also on the editorial board of several other journals.
What exactly does an MBA in Management entail?
The MBA in Management is generally aimed to provide training in the basic principles of business and management. There are many aspects of management that are covered in the foundation courses. These may include leadership, organizational behavior, business ethics, strategy, and quantitative topics such as business statistics and operations management. Also, the program will cover accounting practices, financial management, human resources management, and marketing. Increasingly, programs in management are expanding their scope to cover recent advances in business practices such as quality management, sustainability, supply chain management, and logistics.
What do you find most interesting about business and management?
What I find most interesting about business and management is that they are real. They are not abstract topics but deal with everyday issues that we are all familiar with. We are all aware of factory and business closings; failures of businesses either due to poor management, poor quality, or poor customer services. We also witness the growth of new businesses based on the ability to effectively manage innovative ideas. We are constantly dealing with actual cases as we continue to study and evaluate the successes and failures of businesses. It is enriching to understand why businesses do well and why some do fail.
What is your least favorite aspect of this field?
It is difficult for me to classify any aspect of this field as "least favorite." The reason is that all aspects must be considered to effectively run a business. One may not particularly like the study of an aspect but that does not make it least favorite. All these aspects may contribute in different degrees to the successes or failures of a particular business.
Are there subfields of business and management that students might not be aware of?
Most areas of management are traditional such as accounting, finance, marketing, operations management, organizational behavior, and information management. However, there may be some spin offs from these traditional subfields such as logistics, supply chain management, quality management, etc. Many of the spinoffs are reaction to the evolving business world. Students are more likely to hear about these from news and trade magazines. I think the information will be readily available.
What careers do students commonly pursue with an MBA in Management?
With an MBA, one normally would aspire for a management position but this may likely come over time. It may be unrealistic to expect to be a VP or CEO just because one has an MBA without the necessary work experience. Careers with MBA are far reaching and may include consulting, middle-level management, logistics analyst, accountant, planner, team leader, etc. There is a wide range of employment opportunities depending on interest and the subfield of specialization.
What personality traits do you think a student should have in order to be successful in an MBA in Management program?
To be successful in an MBA program, one has to have several skills. Important personality traits include being a team player, good communicator both in writing and oral communication, good analytical skills, focused and dedicated with good work and business ethics. Organization is also an important trait that one has to possess. The student should be able to plan and organize and complete tasks on time.
What undergraduate degrees are ideal to prepare a student for an MBA in Management?
There is no specific undergraduate degree that is required, provided the student has the analytical and quantitative skills that may be required to compete in the program. Many of the MBA students do not have prior backgrounds in business yet they are successful. Preparatory courses may sometimes be required when there is obvious deficiency that may not be satisfied at the graduate level.
What study tips would you give to a student to help him or her succeed in an MBA in Management program?
To succeed in an MBA program, you need to open up your mind and explore the different worldviews. It is important to be interdisciplinary in a way. Today's businesses are very complex and it is important to have a working knowledge of the different fields. Accounting managers should know not only accounting but marketing, finance, and even operations management. The same applies to the other fields. The broader the knowledge base, the more successful the student becomes.
Do you think students can succeed in this subject with online courses, or is a traditional class environment ideal?
Yes, students can succeed with online classes if the online classes are done well and are effective. However, the online classes with limited contact with the instructor may not be for every student. Each case should be reviewed differently. Many of the online classes have also improved significantly with the use of technology to provide visual classrooms and communication on a real time basis. So, both approaches to offer MBA courses can help the student to succeed.
What pieces of advice, or caution, would you offer to a prospective MBA in Management student?
MBA in Management is as good as what you bring into it. If you come in with the intention to learn and expand your worldviews and inquiry system, you will benefit from the program but you should be prepared to do the extra work. The field of management is fast evolving so it is important that you continue to follow up with the changes by being up to date with current trends and information on business practices. Such may be available through major trade magazines and some major newspapers and also online. However, if you confine yourself only to what is taught in the classroom, you will be disappointed about how much you do not know about the business world.