Find an Online School
3,120
Degrees from
74
Schools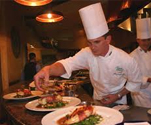 Chefs create the menu and direct the food service at restaurants and other establishments. Chefs are responsible for the activity in their kitchen, and typically hire sous chefs, cooks, and other kitchen staff in addition to sourcing the ingredients for their menus. A chef typically specializes in one or more types of cuisine and must master many cooking techniques and tools. Many chefs also stay abreast of current culinary trends, learn about and try new types of cuisines, and employ their creativity to constantly evolve and create new things.
Being a chef can be physically demanding and sometimes dangerous. Chefs work with heat and sharp tools, and they spend most of their time on their feet working in a fast-paced, high-pressure environment. They also typically work long hours in the evening and on weekends and holidays.
What kind of training is required to become a chef?
Many chefs receive their training and education on the job working under experienced chefs first as kitchen helpers, and then as line cooks and sous chefs. While working in kitchens, prospective chefs learn how to prep different kinds of food for use in dishes and how to keep their tools and working area clean and sanitized. They also work on mastering knife skills and different kinds of cooking techniques. Chefs also learn how to recognize flavors in foods and to successfully blend those flavors in their dishes. Tasting and adjusting the seasoning of dishes is an important skill for chefs to develop.
While it is not strictly necessary, many chefs undergo training at a culinary school. Culinary school programs may lead to a certificate, associate degree, or bachelor's degree in culinary arts or sciences. Students in these programs learn many of the skills that they need to become successful chefs. Through hands-on learning and with mentoring with experienced chefs, students develop their palate, their knife skills, and their skills working with different cuisines and cooking techniques. Culinary programs can last anywhere from several months to four years to complete and typically include one or more internship or externship experiences in area restaurants, hotels, and catering services.
Even those who graduate from culinary arts or sciences programs typically must gain experience working as sous chefs before they can become head chefs.
Are there any certification or licensure requirements?
One does not need a license to work as a chef, but there are some voluntary certifications that chefs may pursue to show they have met certain standards in their education and training. Organizations like the American Culinary Federation, the Culinary Institute of America, the United States Personal Chef Association, and the Research Chefs Association offer certifications to chefs who meet education and experience requirements and pass a certification exam.
How long does it take to become a chef?
It can take several years of training and experience before cooks can begin working as sous chefs in fine dining restaurants. Sous chefs then typically gain years of experience in their positions before becoming head or executive chefs.
What does a chef earn?
The median yearly pay for chefs and head cooks in the United States was $42,480 in 2012. The top ten percent of chefs earned more than $74,120 and the lowest ten percent of earners made less than $24,530 that year.
What are the job prospects?
The Bureau of Labor Statistics projects that employment of chefs and head cooks in the United States will grow by only 5 percent between 2012 and 2020, slower than the average growth for all occupations. Because few new jobs are expected to be created over the next several years, competition for work in upscale establishments should be strong, favoring candidates with more experience and training.
What are the long term career prospects for chefs?
With experience, sous chefs can become head or executive chefs. Some chefs open their own restaurants or other types of food service establishments. Running a successful business requires another set of skills, however, and chefs who want to open their own restaurants should cultivate knowledge in management, marketing, and accounting.
How can I find a job as a chef?
Many chefs start out in lower-level jobs in kitchens and work their way up. Even if your goal is to become a head chef, taking a less prestigious position in a high-quality restaurant can be beneficial for your career because of the potential to learn from talented, experienced coworkers and superiors. As you gain experience, you should also build a network of contacts in your area's culinary community, and this network should be a valuable resource when you are looking for your next job.
Not all chefs work in restaurants, so you can try expanding your job search to positions in hotels and catering services. Becoming a personal chef may be an option for you as well.
How can I learn more about becoming a chef?
There are many resources online and in print and television media for those who want to expand their culinary skills, but making cooking your career is another matter. You can try talking to cooks and chefs who work in your community to see what training and education they've completed and what kinds of jobs they've worked to reach their current stop on their career path.