Find an Online School
3,120
Degrees from
74
Schools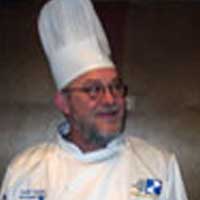 Robert Houot has been in the culinary field for 40 years and has lots of helpful insights to share with those interested in the culinary arts. He boasts some impressive credentials, having attended Lycee Hotelier JBS Chardin de Gerrardmer in Vosges, France, where he earned the degree Chef Cuisinier Master Saucier. He currently operates Robert's Bistro Style Gourmet Food Products and has experience working in many fine dining restaurants in France and the United States. He also gained experience in restaurant management when he and his wife Cynthia co-owned the Country Garden Bistro Restaurant in Redmond, Washington. For the past four years, Chef Houot has been a chef instructor at South Seattle Community College, one of the top-ranked culinary programs in the country.
Why did you decide to become a chef?
I am from a family of nine children, and when I was around 11 or 12 years old I began helping my mother cook meals for our large family. My mom was a great cook who introduced me to the creativity and fun of working with food. Through helping her cook, I discovered my passion for culinary arts and I decided to pursue culinary school.
Are there common misconceptions about your profession?
Yes, one of the biggest misconceptions about culinary arts is the notion that owning and running a restaurant is easy. It is a little known fact that more than 80 percent of restaurants fail within five years of opening. Owning and running a restaurant is a difficult endeavor with numerous details to consider. Even great chefs with extensive knowledge can fail for any number of reasons, including unskilled management or a bad location.
What is your favorite part of the culinary field?
My favorite part of working in the culinary field is creating art for people to appreciate. It feels a bit like painting a masterpiece and then seeing people take pleasure in the painting. Quite simply, I love cooking good food and knowing that people will enjoy it.
What is your least favorite part of culinary field?
Working as a chef is stressful. During service time, a chef must ensure that all the food leaving the kitchen is cooked properly and that all of the customers are happy at the end of the meal. In addition to the stress of the kitchen, chefs work long hours and it is difficult to have a normal family life.
Are there subfields of culinary arts that students might not be aware of?
Yes, there are a few subfields that might not be familiar to most people. Baking is one area of culinary arts that chefs can choose as a specialty. Another less common area of culinary arts is food and wine pairing. Besides these specialties, a lot of people do not realize that there are also Bachelor of Science programs in culinary arts.
What careers do students commonly pursue with a culinary degree?
With a culinary degree, graduates can move in a variety of different directions. Besides opening a restaurant, a culinary graduate can work as a chef at a bed and breakfast, a hotel, on a cruise line or as a private chef. Someone with a culinary degree can also work as a caterer, or run a food canning business.
Is a college degree preferable for a career in the culinary field, or can someone be successful without a degree?
It is possible to be successful in the field without a degree, but having a culinary degree will make success a lot more attainable. There is much more to learn about than just cooking, including the front-of-house and back-of-house procedures. A good culinary program will teach aspiring chefs all aspects of the culinary and restaurant world so that they can oversee all components of the business.
What personality traits do you think a student should have in order to be successful in a culinary program?
The most successful culinary students are good listeners who take a lot of notes and ask a lot of questions. There are no stupid questions! In addition, good culinary students are willing to take criticism, even when it is painful. A thick skin is important because sometimes the best lessons are learned through mistakes.
What electives would you recommend that a student in a culinary program take?
As I mentioned before, food and wine pairing and baking are two subfields of culinary arts. I strongly suggest that culinary students take classes in these subjects to gain a more comprehensive understanding of the field.
What study tips would you give to a student to help him or her succeed in a culinary program?
The first tip I would give to a culinary student is to work in a lot of different restaurants and change restaurants frequently. Exposure to many distinct chefs and foods will help aspiring chefs develop a signature style. Secondly, do not stop experimenting. Lastly, remember to always taste the food you cook because that is the only way you will know if it will be pleasing to others.
What subjects should a prospective culinary student study before entering a culinary program?
If a student is interested in studying culinary arts, I highly recommend working in a restaurant before entering a culinary program. Gaining first-hand exposure in a restaurant will allow an aspiring chef to decide if it is the right career path to pursue.
What pieces of advice, or caution, would you offer to a prospective student of culinary arts?
If you are pursuing a career as a chef, I have three pieces of advice for you. First, always give your best effort, even if you don't like the cuisine or recipes you are cooking. Your chef might refer you to other chefs whose style and interests match yours, but not if you have not given your best effort. Secondly, don't be afraid to change restaurants. If you work with a difficult chef, find a new restaurant. Just remember that it is never a good idea to leave one restaurant before finding a job at a new one. Third, don't give up. If you love food, then never quit.