95
Degrees from
18
Schools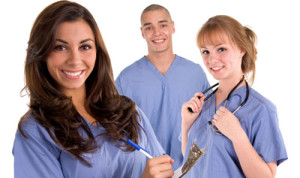 CNAs, or certified nursing assistants, provide basic health care to patients under the supervision of doctors and nurses. A CNA's responsibilities typically include responding to patients' call signals, feeding patients, observing patients' vital signs, helping patients move about and stay comfortable in their beds, and helping patients bathe and dress themselves.
CNAs may work in skilled nursing facilities and hospitals or they may visit patients in their homes. CNAs work at all hours of the day and their job is often physically demanding.
What kind of training is required to become a CNA?
Certified nursing assistants complete a training program before they start working with patients. These programs are often offered through community colleges, though other organizations like the Red Cross offer them as well. Applicants to CNA programs must usually pass an aptitude test, a physical exam, and a criminal history background check before they are accepted.
Students in CNA programs take courses in nursing theory, learning how to take vital signs and how to care for patients. They also learn how to perform resuscitation. CNA programs include clinical experiences that give students opportunities to care for real patients under the supervision of experienced nurses.
Are there any certification or licensure requirements?
Certified nursing assistants must be licensed to provide care to patients in their state. Each state approves a set of CNA training programs, and graduates of those programs must pass an exam to become licensed. Many states use the National Council of State Boards of Nursing's National Nurse Aide Assessment Program to determine licensure.
Some CNAs pursue additional certifications such as the Home Health Aide, Geriatric Nursing Assistant, Certified Medicine Aide, and Dialysis Technician designations. States may require CNAs to have one of these certifications before they can work in certain settings, like dialysis centers, and perform certain tasks, such as dispensing medications.
How long does it take to become a CNA?
CNA training programs typically include 120 to 130 hours of instruction, which may be spread out over several weeks.
What does a CNA earn?
The median yearly pay for nursing assistants in the United States was $24,420 in 2012. The top ten percent of earners made more than $35,330 and the lowest ten percent made less than $18,300 that year.
What are the job prospects?
The Bureau of Labor Statistics projects that employment of CNAs will grow by 21 percent between 2012 and 2020, making it one of the faster-growing occupations in the United States. The baby boom generation is aging, and more CNAs will be needed to provide care for them in their homes and in hospitals and skilled nursing facilities.
What are the long term career prospects for CNAs?
With additional education and experience, CNAs can progress up the ladder of the nursing profession. To become a licensed practical nurse, CNAs will have to complete another course of study. Becoming a registered nurse requires completing an associate or bachelor's degree program. Nurses can pursue even more education to become advanced practice registered nurses such as nurse practitioners.
How can I find a job as a CNA?
CNAs can look for work in skilled nursing facilities, hospitals, and home health care agencies. These jobs can be found through the usual channels of job websites and help wanted ads, but graduates of CNA programs may make contacts through their training program who can give them leads on job openings in the area.
Some CNAs find jobs before completing their training, as many skilled nursing facilities hire employees and then put them through the appropriate training.
How can I learn more about becoming a CNA?
Most states have their own certified nursing assistant association, and these associations' websites can help you find CNA programs in your state and learn what specific regulations your state sets for CNAs. The National Network of Career Nursing Assistants offers helpful advice on topics like finding a training program and transferring a certification from one state to another.