Find a Computer Networking School
How to Become a Computer Networking Professional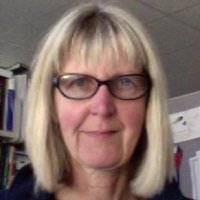 Gerlinde Brady has taught computer networking classes at Cabrillo College for the past 13 years. She earned a Master of Education from the University of Hannover, Germany, and a Master of Arts in translation from the Monterey Institute of International Studies.
In addition, she completed numerous vocational programs and industry training courses to improve her technical skills. Outside of academia, she worked for many years as a networker at a small office, where she was also responsible for user support and training.
What is computer networking?
Computer networking is a wide field that deals with everything related to the daily operation of a network. This includes hardware and software configuration and maintenance, troubleshooting, security configurations, analysis of networking traffic, etc.
What do you find most interesting about computer networking?
I enjoy the analytical and logical aspect of networking, troubleshooting, and the fact that there is always something new to learn.
What is your least favorite aspect of computer networking?
My least favorite aspect is also what I find most very interesting about networking, the fact that there is always something new that needs to be learned. Networking is an ever-changing field.
Are there subfields of computer networking that students might not be aware of?
There are many subfields or related fields. Networking knowledge and skills are important in many fields like computer user support, virtualization and storage technologies, security, programming, and many more.
What careers do students commonly pursue with a degree in computer networking?
They pursue many careers in various industries that employ computer networking graduates. Networking expertise is needed in many non-IT industries, like education, hospitals, banks, etc.
Is a graduate degree preferable for a career in computer networking, or can someone enter the field with a bachelor's degree?
Students can enter the field with a bachelor's degree, especially if they have good soft skills and industry certifications.
What personality traits do you think a student should have in order to be successful in a computer networking program?
Probably similar to most programs, students need to be motivated, have a positive attitude, be flexible, willing to learn, and not be afraid to make mistakes. Students need to be willing to work hard and work in teams. They should enjoy troubleshooting and using analytical skills.
What electives would you recommend that a student in a computer networking program take?
Project management, documentation with Visio, virtualization, communication, team work and leadership courses.
What study tips would you give to a student to help him or her succeed in a computer networking program?
Spend about 20 minutes daily reading about something new, get as much hands-on experience as possible, complete an internship, and perform volunteer work to get real-world experience. Do all homework, attend every class, manage time well, and get enough sleep and exercise. Make sure you enjoy what you are doing. If you are not enjoying it, you might be in the wrong field.
Do you think computer networking is a subject that can be studied online, or is a traditional class environment ideal?
I think that there should always be some in-class time if possible so that students can develop people skills along with the technical skills. Many technical subjects can be studied online if there is the opportunity to gain hands-on experience.
What subjects should a prospective student of computer networking study before entering a computer networking program?
Students need to come in with basic computer skills like file management and MS Office skills. A study skills class might be helpful for many students who either have not developed their study skills or who have been away from school for a long time.
What pieces of advice, or caution, would you offer to a prospective student of computer networking?
Computer networking is a very interesting field, but it is demanding and requires hard work. Be prepared for life-long learning. You will never get to a point where you know everything. There is always something new. You need to be flexible and enjoy learning.