759
Degrees from
55
Schools
How to Become a Consultant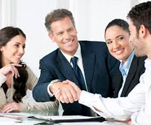 Consultants, also known as management consultants or analysts, work with businesses and organizations to improve their efficiency and profitability. Businesses hire consultants to come and observe their operations, examine their finances, and interview and observe their employees. Consultants gather information and analyze it in order to develop a strategy for their client that may involve instituting new policies and practices, reorganizing the business structure, or making personnel changes.
Management consultants can specialize in a specific type of consulting, like health care, engineering, technology, government, or education consulting. Their work involves long hours spent away from the office and home, visiting clients and observing their businesses.
What kind of training is required to become a consultant?
Management consultants can come from a variety of educational backgrounds. There is no one degree program that prepares graduates for this career, and management consultants may have bachelor's degrees in business, economics, management, accounting, political science, computer science, or English. Because management consulting focuses on improving the operation of businesses and other organizations, a management or business background can be helpful, and some management consultants hold Master of Business Administration (MBA) degrees for this reason.
Many colleges and universities offer graduate certificate programs in business analysis, and a prospective management consultant can combine this training with a background in a field like engineering or computer science to develop a broad base of knowledge for their career. Students in business analysis certificate programs complete a small number of courses that may include project management, quality assurance and quality control, and business requirements.
MBA programs take longer to complete than certificate programs, but they allow students to study a wider variety of business topics like accounting, finance, marketing, operations management, organizational behavior, human resources, and information technology. Beyond foundational courses in business, MBA students take elective courses that focus on their area of interest. Students who want to become consultants can take elective courses that will prepare them for this career.
Management consultants may also receive their consultant training through their employer. Consulting firms hire associates with backgrounds in different areas and provide them with the training they need to become consultants. This training may include attending workshops, working with a mentor, and tuition reimbursement for college courses.
Are there any certification or licensure requirements?
Management consultants are not required to hold a license to practice, but many earn voluntary certifications like the Certified Management Consultant (CMC) certification granted by the Institute of Management Consultants USA.
To become a CMC, consultants must meet education and experience requirements. CMCs do not need a degree in any particular subject, but they must have at least a bachelor's degree. They must also have at least three years of experience working in consulting. They must submit professional references and pass both a written examination and an oral review.
How long does it take to become a consultant?
Consultants who take entry-level positions in consulting firms can start their careers after completing their bachelor's degree, which typically takes four years. Those who pursue graduate certificates or MBAs before seeking consulting work can take anywhere from a few months to a few years extra to become consultants.
Some consultants enter the field after gaining several years of experience working in their area of expertise, and this work experience can be very valuable to potential employers.
What does a consultant earn?
The median yearly pay for management consultants in the United States was $78,600 in 2012. The lowest ten percent of earners among consultants made less than $44,370 and the top ten percent earned more than $142,580 that year.
Management consultants who worked for the federal government and in management, scientific, and technical consulting services earned the highest median wages in 2012 at $84,530 and $84,300, respectively.
What are the job prospects?
The Bureau of Labor Statistics projects that employment of management consultants will grow 19 percent between 2012 and 2020, faster than the average growth for all occupations during that time.
While more jobs will be available for consultants, competition for positions will be strong. The BLS expects that candidates with graduate certificate or degrees, expertise in another field, foreign language fluency, and sales and public relations skills will have the best job prospects.
What are the long term career prospects for consultants?
As they gain experience, management consultants can advance beyond entry-level positions in their firm, and gain greater responsibility and work more directly with clients. Effective consultants may go on to become partners in their firm or even open their own consulting firms.
How can I find a job as a consultant?
Many consulting firms use recruiters to locate potential employees to fill openings. Making contact with a recruiter may help you land an interview, so attending networking events should be an important part of your job search.
Consulting firms often evaluate applicants using a "case interview," in which interviewees are given a case study of a business problem and asked to create a strategy to address that problem. Because case interviews can be stressful, prospective consultants often spend time practicing them before they begin applying to jobs. There are many resources available for practicing case interviews, including some interactive practice cases offered by the Boston Consulting Group.
How can I learn more about becoming a consultant?
You can learn about becoming a management consultant through groups like the Institute of Management Consultants USA. There may also be associations for management consultants in your state or city, or for prospective management consultants at your college or university. Several schools have consultant associations for their students to provide them with networking opportunities and career support.