Find a Construction Management School
How to Become a Contractor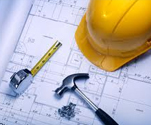 Contractors oversee the planning and execution of all types of construction projects, ranging from small home repair and improvement projects to the construction of homes, buildings, and other structures.
They typically have experience in one or more construction trades and may work on their own, hire employees to help them, hire other independent contractors, or work with subcontractors to carry out various parts of a project.
What kind of training is required to become a contractor?
General contractors employ a combination of trade expertise and management knowledge to carry out their work. Tradesmen typically gain their training through an apprenticeship, in which they spend a number of years working under the supervision of a master tradesman. During this time, apprentices also take courses to learn about the principles and laws that govern their trade. Tradesmen must gain experience working in their trade before they can become contractors.
In addition to their vocational training, some prospective contractors complete degree programs in construction management, engineering, or science. Colleges offer these programs at the associate, bachelor's, and master's degree levels. A construction management or science program typically includes courses in physics, mathematics (including calculus), construction materials and methods, construction surveying, construction plans and measurements, and design. Students also learn about the fundamentals of managing a construction project, including estimates, contracts, scheduling, and human relations.
Even if they do not complete a construction management degree, contractors should be very familiar with the applicable building codes in the area in which they will be doing business as well as any state and local laws that govern contractors. They should also prepare for running a business by learning about taxes, accounting, contracts, marketing, and managing employees.
Are there any certification or licensure requirements?
Contractors may be required to obtain several licenses and permits to operate in their state, county, or town. The US Small Business Administration has a tool on its website that lets prospective contractors look up what permits and licenses they must get to practice their trade as a contractor in their area.
In some states, contractors are licensed by county or city governments, but in others, licenses are granted at the state level. Requirements vary by area, but in general, contractors are required to pass one or more licensing exams. Contractors may be tested on business management and construction law, and in many cases, they can designate an employee to take this exam on behalf of the business. Business management exams cover topics like estimating, bidding, tax laws, labor laws, contracts, and environmental safety. Contractors may also be required to pass a written test of their knowledge of their trade. Some jurisdictions set experience requirements instead of or in addition to an examination. Contractors may also be required to provide financial statements, letters of reference, and proof of insurance to obtain their license.
The value of the work that a contractor can take on may depend on the type of license he or she has obtained. For example, in Virginia, Class C contractors can not take on any one job worth more than $10,000 and cannot perform more than $150,000 of work in a 12-month period. Contractors can obtain licenses that allow them to manage higher-value projects, but will have to meet additional testing and experience requirements to do so.
How long does it take to become a contractor?
It can take three or more years to complete an apprenticeship in a trade, and a few years after that to gain enough experience in that trade to start one's own business. Completing a degree in construction management can take two to four years or more depending on the type of degree.
What does a contractor earn?
The Bureau of Labor Statistics reports that the median yearly pay of construction managers in the United States was $82,790 in 2012. While many of the construction managers included in this group were salaried employees of construction firms, 57 percent were self-employed contractors. The amount of money a self-employed contractor earns depends on the number of clients they are able to attract and the types of projects they complete.
What are the job prospects?
Demand for construction work depends heavily on the state of the economy. The Associated General Contractors of America reports that many construction firms expect growing demand in 2014 as the economy continues to improve. At the same time, contractors may face growing costs as shortages in skilled tradesmen may require them to pay higher wages to employees and subcontractors.
What are the long term career prospects for contractors?
Contractors who find success can grow their businesses, hiring employees to help them with both administrative duties and on construction projects. As they add employees, contractors can take on bigger projects or take on more than one project at a time.
How can I find a job as a contractor?
Contractors can find jobs through word of mouth and by advertising in both social media and traditional media like newspaper and radio. Websites like Angie's List and Yelp allow contractors to connect with potential clients through customer reviews. The more satisfied customers you have, the more customers you should attract.
How can I learn more about becoming a contractor?
Organizations like the Building Trades Association and Associated General Contractors of America offer training, education, and informational resources to contractors. You can also learn more about becoming a contractor through the US Small Business Administration's How to Start a Small Construction or General Contracting Business web page. Because licensing requirements for contractors vary by state, county, and town, you can also check with your local government to see what you will have to do to start down this career path.