Find a Law Enforcement School
19
Degrees from
9
Schools
How to Become a DEA Agent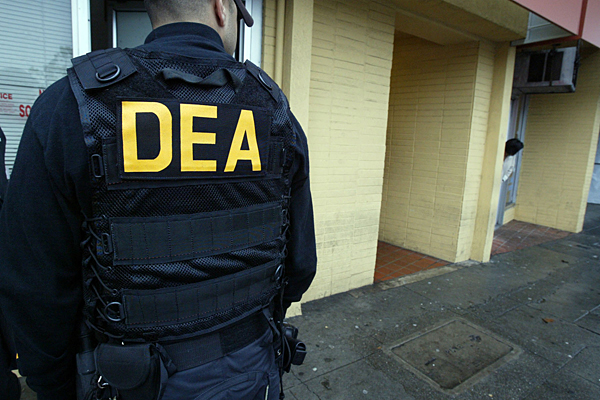 The Drug Enforcement Administration (DEA) is the arm of the US Department of Justice that enforces federal laws related to controlled substances. DEA special agents are the law enforcement officers for this agency, and they are responsible for investigating crimes related to drug trafficking.
DEA special agents conduct surveillance and undercover operations, carry out search and arrest warrants, and plan and execute drug raids. Agents must be physically fit and have strong communication and tactical skills in addition to expertise in firearms and self defense.
What kind of training is required to become a DEA agent?
Most DEA agents come from a law enforcement or military background, so many new agents have already undergone rigorous physical fitness training as well as training in firearms and self defense. No matter their background, all new DEA agents must complete an 18-week basic agent training program at the DEA training academy in Quantico, Virginia.
Students in DEA basic agent training complete a combination of academic and practical training. New agents study leadership, ethics, drug recognition, and the law as it relates to their work. They also receive training in the technology they will use in the field and in law enforcement techniques like surveillance, undercover operations, conducting searches, carrying out raids, prisoner processing, and report writing.
Firearms training is another focus of the DEA training academy. New agents spend 122 hours learning and practicing marksmanship, combat shooting skills, and tactics. Students practice using firearms in different scenarios, such as in low-light environments and while using a shield.
Students also spend 84 hours on physical fitness and defensive tactics training. New agents build their strength and stamina through exercise and learn self-defense and fighting techniques. Tactical training also addresses the mental conditioning required to handle unarmed confrontations.
New agents in basic agent training are evaluated by their performance on written tests as well as performance in practical scenarios designed to test classroom learning. Graduates of the academy are assigned to a field office in some area of the United States so they can begin work. DEA special agents continue to receive training throughout their career.
Are there any certification or licensure requirements?
Candidates must meet a set of stringent standards to be eligible to become a special agent. A prospective DEA special agent must:
Be between the ages of 21 and 36 when they apply.
Be a United States citizen.
Have a valid US driver's license.
Hold a bachelor's degree or higher or meet specific experience requirements.
Qualify for a Top Secret security clearance.
Pass a written assessment and oral interviews.
Pass medical and psychological examinations.
Meet physical fitness standards.
Pass a background investigation.
Those who meet these requirements and make it to special agent basic training must successfully complete that training before they can be sworn in as special agents.
How long does it take to become a DEA agent?
It can take up to 12 months to make it through the DEA hiring process and 18 weeks after that to complete basic agent training.
What does a DEA agent earn?
Special agents are graded by levels according to their education and experience. New special agents may start at level GS-7 or GS-9 and earn a salary between $49,746 and $55,483. With experience and additional training, special agents can advance to the GS-13 level and earn $92,592 or more.
What are the job prospects?
Due to federal budget constraints, the Department of Justice enacted a hiring freeze starting in 2011. The hiring freeze ended in early 2014, but during the freeze the department lost more than 4000 employees.
While the DEA is now able to hire new special agents, competition for these positions will be strong. Those who have college degrees, especially graduate degrees, and extensive related experience should have the best prospects.
What are the long term career prospects for DEA agents?
With experience and advanced training, special agents can advance into positions of greater responsibility or put their extensive knowledge to work training other agents. In addition to training their own agents, DEA special agents provide training to state, local, and foreign drug enforcement units.
Some special agents advance into leadership positions in state DEA divisions or in foreign offices.
How can I find a job as a DEA agent?
To apply for a special agent position with the DEA, you must contact your local recruitment office. Each state has its own division, and there are typically several field offices assigned to that division in cities across the state.
You should start by locating your state's division through the DEA website. The web page for your state should list any upcoming job fairs and orientations you can attend to meet with DEA officials and begin the application process. You can also find contact information for your division's special agent recruiter on the division's web page.
As you progress through the application process, you will be required to provide the DEA with your background information and submit to written exams, oral interviews, drug tests, and a physical fitness test. If you reach the final stages of the hiring process, the DEA will conduct an extensive background investigation to determine your eligibility and suitability for the job.
How can I learn more about becoming a DEA agent?
You can learn more about becoming a DEA agent by exploring the DEA website. The DEA offers an eligibility quiz that you can take to see if you meet the qualifications required to become a special agent. You can also contact your local DEA field office by speaking to your division's special agent recruiter or by attending an orientation session.