Find a Dental Assistant School
How to Become a Dental Assistant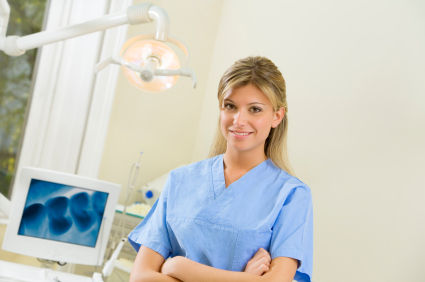 Dental assistants work under the supervision of dentists performing a variety of tasks that help dentists carry out procedures and ensure the office runs smoothly. Dental assistants may assist dentists during procedures by preparing the working area, handing dentists requested tools, and suctioning patients' mouths. The procedures that dental assistants are allowed to perform on patients can vary by state. Some states allow only registered or certified dental assistants to take x rays or perform coronal polishing, for example.
Dental assistants may also sterilize tools and perform lab work such as x ray processing or making casts of patients' teeth. In addition to helping dentists prepare for and carry out dental procedures, dental assistants also take care of office tasks such as scheduling, billing, and record keeping.
What kind of training is required to become a dental assistant?
The training required to become a dental assistant can be completed through a dental assistant diploma or certificate program offered by a community or technical college. Diploma and certificate programs typically last one year, or two to three semesters, and prepare students with the skills and knowledge needed to perform a job.
Students in dental assistant programs take courses in topics like orofacial anatomy, dental sciences, infection control, dental pharmacology, dental radiography, dental materials, dental office administration, and dental health education. Students learn about these topics in both classroom and laboratory settings, and toward the end of their program, students typically complete an externship so they can put their learning into practice in real dental office settings.
Some states do not require dental assistants to complete any college education. Dental assistants who find jobs without first completing formal training in dental assisting will learn how to perform the tasks required of them on the job.
Are there any certification or licensure requirements?
Licensure requirements for dental assistants vary by state. States that do require dental assistants to become certified often require certification through the Dental Assisting National Board. The DANB offers several certifications for dental assistants, including the Certified Dental Assistant credential.
To become a CDA, one must meet eligibility requirements for education and experience. One way to become eligible is to graduate from a dental assistant program accredited by the Council on Dental Accreditation. Those who have not completed an accredited dental assistant program can be eligible for certification if they have 3,500 hours of approved work experience. All certification candidates must also hold a current CPR certification.
Those who meet education and experience requirements take three component examinations. The GC exam covers topics related to general chairside assisting, including collecting and recording clinical data, preparing equipment, patient management, assisting with dental procedures, dental materials, laboratory materials and procedures, patient education, and office operations. The RHS exam covers radiation health and safety, and the ICE exam covers infection control procedures.
Some states require dental assistants to pass state-specific examinations in addition to or instead of the DANB's CDA exams. These exams are administered by the DANB, and dental assistants may be required to pass them to earn state licenses or to qualify to perform certain procedures like coronal polishing.
The DANB offers additional certifications for dental assistants who specialize in different kinds of dental work. One can become a Certified Orthodontic Assistant, a Certified Preventive Functions Dental Assistant, or a Certified Restorative Functions Dental Assistant, for example.
How long does it take to become a dental assistant?
It can take about a year to complete a dental assistant diploma or certificate program. In states where a college education is not required to become a dental assistant, dental assistants may qualify for jobs after earning a high school diploma or its equivalent.
What does a dental assistant earn?
The median yearly pay for dental assistants in the United States was $34,500 in 2012. The lowest ten percent of earners made less than $23,550, and the top ten percent earned more than $47,580 that year.
What are the job prospects?
The Bureau of Labor Statistics projects that employment of dental assistants will grow 25 percent between 2012 and 2020, much faster than the average growth for all occupations. The BLS attributes this growth to increased access to health and dental insurance as well as the need to care for the teeth of an aging population.
What are the long term career prospects for dental assistants?
Dental assistants may pursue additional education to become dental hygienists, dental laboratory technicians, or dentists. Becoming a laboratory technician or dental hygienist requires an associate or bachelor's degree, and dentists must complete a four-year graduate degree program.
How can I find a job as a dental assistant?
Dental assistants who complete diploma or certificate programs often make professional contacts in their area through their program, and these contacts can be good sources of information on job openings. If you complete an externship through your program, you may even earn a job offer from the dentist you worked with.
You can also find and apply for dental assistant positions through the typical job search channels, such as online job boards and community newspapers.
How can I learn more about becoming a dental assistant?
The American Dental Association has resources on its website that describe the education and training required to pursue all kinds of dental careers, including dental assisting. You can also find more information through the American Dental Assistant Association and the Dental Assisting National Board.
It may also help to speak to your own dentist and the dental assistants in his or her office to learn more about the field and the steps you'll need to take to get started.