Find an Online School
2,937
Degrees from
74
Schools
How to Become a Dental Hygienist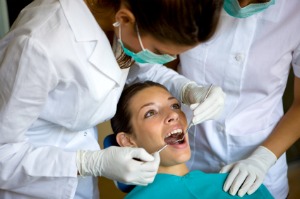 Dental hygienists help people maintain their oral health by cleaning their teeth, showing them proper brushing and flossing techniques, examining teeth and gums, taking dental x-rays, and applying sealants and treatments. Hygienists also help dentists manage their practices by taking medical histories and scheduling appointments.
Most dental hygienists work under the supervision of dentists in private practice, but they may also work in community clinics and other health care facilities.
What kind of training is required to become a dental hygienist?
Prospective dental hygienists must complete an entry-level dental hygiene program. These programs typically lead to an associate or bachelor's degree and are offered by community colleges and dental schools. If you are searching for a dental hygiene program, look for one that is accredited by the American Dental Association's Commission on Dental Accreditation.
Students in entry-level programs take general science courses plus courses specific to the practice of dental hygiene. These courses often include dental anatomy, radiology, oral pathology, anesthesiology, dental materials, and pharmacology. Students also learn how to work with different types of patients, including children, the elderly, and those with special needs. Students in bachelor's degree programs take additional courses in topics like dental hygiene research, health care management, and hygiene education.
Clinical experiences are a large part of any dental hygiene program, and students practice their skills on real patients. Dental schools often offer services like cleanings, x-rays, oral exams, and other treatments to the community at a reduced cost, and dental hygiene students perform these services under the supervision of experienced dentists and hygienists. Students may also receive their clinical training by completing external rotations in dental practices and community health clinics.
Are there any certification or licensure requirements?
Dental hygienists in every state must have a license before they can treat patients. Each state sets its own requirements for licensure, but in most cases, dental hygienists must complete an accredited program and pass a licensing exam. Most states require the National Board Dental Hygiene Examination. Passing a practical examination to demonstrate clinical proficiency is often necessary as well.
Hygienists may also have to meet experience requirements, maintain a CPR certification, and show that they have completed training in infection control and barrier precautions.
After licensure, dental hygienists can call themselves registered dental hygienists.
How long does it take to become a dental hygienist?
Dental hygienists who complete an associate degree program can start practicing after two years, while those who complete a bachelor's degree program will take four.
What does a dental hygienist earn?
The median yearly pay for dental hygienists in the United States was $70,210 in 2012. The top ten percent of earners in this field made more than $96,280 and the lowest ten percent made less than $46,540 that year.
What are the job prospects?
The Bureau of Labor Statistics projects that employment of dental hygienists in the United States will grow by 33 percent between 2012 and 2020. More than 64,000 new hygienists will be needed over the next several years.
The BLS attributes this growth to the need to provide dental care to an aging population as well as increased access to health insurance, including dental insurance.
What are the long term career prospects for dental hygienists?
Dental hygienists who want to advance their careers can return to school and earn a bachelor's or master's degree in dental hygiene. With a master's degree, dental hygienists can work in public health or research, or they can branch out into education and train new hygienists in entry-level programs.
How can I find a job as a dental hygienist?
New dental hygienists may receive job leads through their entry-level program, because their clinical rotations bring them into contact with many experienced dentists and hygienists. Building a network of professional contacts is essential in any job search. Your contacts may alert you to job opportunities or give you helpful career advice.
Dental hygienists jobs are also posted through the usual channels such as job websites, so stay up-to-date on the latest postings and pursue openings aggressively.
How can I learn more about becoming a dental hygienist?
The American American Dental Hygienists Association offers student and career resources to prospective dental hygienists, and you can learn more about the process of becoming a dental hygienist through their website. The American Dental Association has helpful information as well.
Because licensure regulations differ by state, you can also check with your state's dental or licensing board to see what exactly you will need to do to become a dental hygienist.