Find an Online School
2,937
Degrees from
74
Schools
How to Become a Dermatologist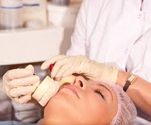 Dermatologists are doctors who specialize in the treatment of disorders of the skin, hair, nails, and mucous membranes. The treatment they provide ranges from helping patients improve the appearance of their skin to treating serious diseases like skin cancer.
Dermatologists may provide general care or specialize in a specific type of practice such as cosmetic dermatology, pediatric dermatology, or dermatopathology. Some dermatologists train to become proficient in a technique called Mohs surgery, which is used to treat skin cancer.
What kind of training is required to become a dermatologist?
Like any other physician, dermatologists complete a graduate medical school program after earning an undergraduate degree. Medical schools accept students from all educational backgrounds, but typically prefer applicants with strong backgrounds in science courses like biology and chemistry. Applicants can also improve their chances by earning a high score on the Medical College Admissions Test and volunteering or working in the medical field before graduation.
Medical school programs last four years and the first few years are spent taking courses in the science behind the practice of medicine. Students take courses in anatomy and physiology, genetics, cell biology, pathology, immunology, and pharmacology. They also learn about how to examine, interview, diagnose, and build relationships with patients.
Students in medical school also spend large amounts of time in clinical clerkships, or rotations. In a clerkship, students observe and treat patients under the supervision of experienced physicians. Each clerkship focuses on a specific type of medical practice, and several are required for medical students. Required clerkships typically include primary care, critical care, psychiatry, pediatrics, surgery, and anesthesia. Students may also choose elective clerkships, and those who are interested in practicing dermatology can complete a rotation in that field.
A dermatologist's training continues after graduation from medical school. Graduates enter residencies in their chosen specialty, and these residencies can vary in length. A dermatology residency typically takes three years to complete. Prospective dermatologists are matched with a residency through the National Resident Matching Program. Dermatology residents learn how to diagnose skin, hair, and nail conditions and learn the surgical techniques specific to the field, such as biopsies, excisions, and cryotherapy. Dermatologists who want to further specialize can complete fellowships after their residency. Fellowships may focus on specialties like dermatopathology or advanced surgical techniques such as Mohs surgery.
Are there any certification or licensure requirements?
Each state requires physicians, including dermatologists, to obtain a license to treat patients. For the most part, earning a license involves completing medical school, completing all or part of a residency, and passing the United States Medical Licensing Examination.
In addition to their state medical license, most dermatologists pursue board certification. Board certification is voluntary, but it signals to patients and employers that dermatologists have met high standards for education and knowledge. Dermatologists can earn certification by meeting all requirements for state licensure plus passing an examination given by the American Board of Dermatology. Board-certified dermatologists identify themselves as a Fellow of the American Academy of Dermatology(FAAD). To maintain certification, dermatologists must complete ongoing medical education and retake the board examination every 10 years.
How long does it take to become a dermatologist?
It can take about 12 years to become a dermatologist, including time spent as an undergraduate, in medical school, and in a residency.
What does a dermatologist earn?
Dermatology is one of the most highly-compensated medical specialties practiced by physicians. In 2012, their median yearly pay was $471,555.
What are the job prospects?
The Bureau of Labor Statistics projects that employment of physicians and surgeons, including dermatologists, will increase by 18 percent between 2012 and 2020, faster than the average growth for all occupations. The BLS expects that more physicians will be needed over the next several years to meet the needs of an aging population and to serve patients with greater access to health insurance and health care.
What are the long term career prospects for dermatologists?
Dermatologists with experience and strong business skills can eventually own their own practices. Some dermatologists go into higher education, training the next generation of physicians. Others go into research, contributing to the body of knowledge in their field.
How can I find a job as a dermatologist?
There are many specialized job posting sites for physicians, including some just for dermatologists. Dermatologists may also find jobs through recruiters representing hospitals and practices looking to fill openings. Some dermatologists pursue locum tenens work, which is temporary work filling in for a doctor who is taking a leave of absence from his or her practice or hospital. Locum tenens work is a good way to experience different areas of the country.
Dermatologists should make many professional contacts throughout their education and training. Maintaining a strong network can help when you are looking for a job. Your contacts can provide you with leads and information about job openings that might be a good fit for you.
How can I learn more about becoming a dermatologist?
You can learn more about the practice of dermatology through the American Academy of Dermatology. The AAD has many resources for the public and for prospective and practicing dermatologists. Each state typically has its own association of dermatologists, and your state's association can be a good source of information as well.