Find an Online School
2,937
Degrees from
74
Schools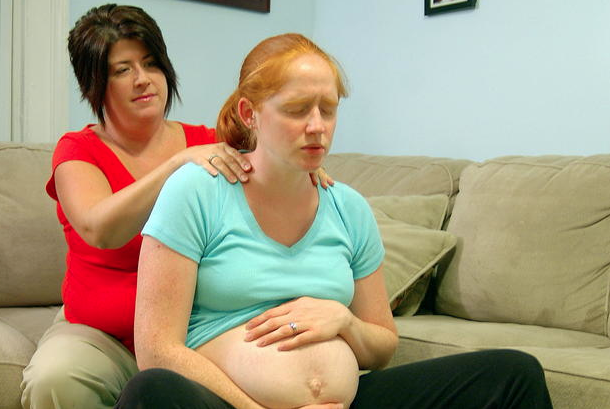 Doulas guide and support pregnant women and new mothers through the process of childbirth and the postpartum period. Doulas do not provide medical care or advice, but they help facilitate communication between mothers and medical professionals and may refer mothers and families to care providers when needed.
Many women hire labor doulas to act as their advocates during the childbirth process to make sure their needs are communicated to their nurses, midwife, and/or doctor. Labor doulas also provide support and encouragement to birthing mothers and help them stay comfortable throughout the birthing process.
Postpartum doulas provide assistance and support to new mothers and their families in the days, weeks, and months after their baby is born. Families may hire postpartum doulas to help around the house, provide breastfeeding support, make sure the mother is well fed and rested, and provide emotional support and childcare advice.
Many women hire doulas on their own, but some hospitals keep doulas on staff so women have access to them during childbirth and recovery. The job of a doula can be physically demanding, as they care for women throughout their labors, which can last many hours.
What kind of training is required to become a doula?
Many organizations offer training programs for prospective doulas. Doulas who want to eventually become certified by an organization like DONA International or CAPPA Worldwide should seek out a training program that is approved by one of these organizations.
New labor doulas are expected to attend a childbirth class to familiarize themselves with the normal process of childbirth and possible complications. After completing a childbirth class, prospective doulas can attend a labor doula workshop, which covers topics like providing support during the prenatal / labor / delivery / postpartum periods, using hands-on comfort and positioning techniques, and helping women deal with complications in labor.
Like labor doulas, postpartum doulas must complete a workshop that prepares them for all aspects of their job. Postpartum doulas learn how to care for newborns and new mothers, how to identify signs of postpartum depression, and how to support new mothers in the postpartum period.
Both labor and postpartum doulas are expected to learn about breastfeeding principles and techniques so they can support new mothers as they learn to nurse their babies. Having some knowledge in bottle feeding is useful as well when working with mothers who bottle feed their babies.
All doulas also learn about the business side of their profession. Doulas should know how to attract clients and work with contracts, fees, record keeping, and scheduling.
Are there any certification or licensure requirements?
Doulas are not required to obtain licenses to practice, but many choose to become certified by an organization like DONA International or CAPPA Worldwide. Becoming certified as a labor or postpartum doula means meeting several requirements for education and experience.
Each organization requires prospective doulas to complete approved workshops. These workshops can be completed in person or online. Most doulas are also required to complete courses in childbirth and breastfeeding support, but some with prior experience in the field, such as nurses and midwives, may be exempt from these requirements.
Doulas must also obtain certification in infant and adult CPR and submit letters of recommendation from health care providers and/or certified doulas. Doulas must also compile a list of local resources in several categories of support, such as lactation consultants and mental health professionals.
After they complete their training, doulas can begin to see clients. Doulas must provide qualifying support to at least three mothers or families before they can be certified. Each organization sets its own definitions for qualifying support. Postpartum doulas who want to earn certification through DONA International, for example, must provide support to at least two breastfeeding clients, and they must provide at least eight hours of support to their clients in order to qualify.
How long does it take to become a doula?
The workshops that doulas must take to become certified are typically short and may take only a few days or weeks to complete. It can take several months, however, to meet all the education requirements necessary to start working with clients and more time after that to meet the experience requirements necessary to become certified.
What does a doula earn?
Labor doulas typically charge a flat fee for a set of services that includes prenatal consultations, phone and email access, support throughout their client's labor, and limited postpartum support. The fee that a labor doula charges can range from several hundred to a few thousand dollars depending on the area and the doula's experience. A busy doula will see about 20 clients per year, but since most are self-employed, a portion of their income goes toward business taxes and expenses.
Postpartum doulas often charge by the hour, and this rate can range from $10 to $35 per hour or more.
What are the job prospects?
The Bureau of Labor Statistics does not keep employment data for doulas, but some studies suggest a positive trend in the hiring of doulas by pregnant women and new mothers. Because doula services can be expensive, their clientele has typically been limited to mothers with the means to hire them. Recently, however, some states have been moving toward covering doula services through Medicaid, which may better job prospects in the profession.
What are the long term career prospects for doulas?
As they gain experience and build a base of satisfied customers, doulas should be able to attract more clients and possibly charge a higher rate for their services. Some doulas supplement their business by providing education to mothers and by training new doulas.
How can I find a job as a doula?
Doulas can find clients by advertising their services in traditional and social media. If you are a brand new doula, you can get started by volunteering with groups that provide free doula services to low-income mothers and families or by assisting an established doula. Making contacts with doctors, midwives, and lactation consultants in your area can also help you attract potential clients.
How can I learn more about becoming a doula?
You can learn more about becoming a doula through certifying organizations like DONA International and CAPPA Worldwide.
Each organization maintains a required reading list for doulas, so you can start your education by choosing some books from these lists. There may also be an association for doulas in your area, and this group may be able to point you toward training resources in your community.