How to Become a Fashion Designer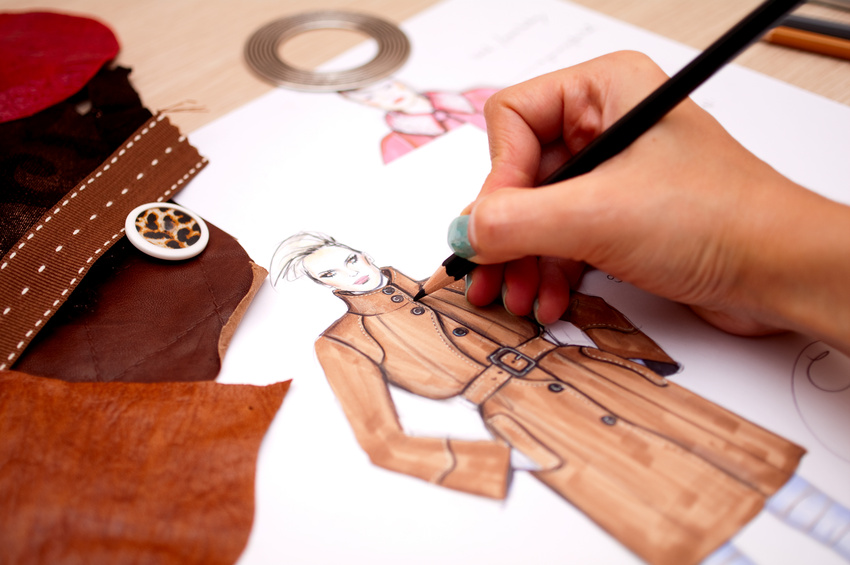 Fashion designers create designs for clothing and accessories and bring those designs to fruition, either sewing them on their own or overseeing their creation by employees or manufacturers. Each designer has his or her own aesthetic, and that aesthetic evolves over time as trends and the designer's vision change.
Being a fashion designer involves more than just sketching a design. Designers often use special computer-aided design (CAD) software, are skilled at sewing, and are familiar with color theory and the many different types of materials used to make garments and accessories. They must also be aware of the business side of fashion, including merchandising and marketing.
What kind of training is required to become a fashion designer?
Many fashion designers receive their training through a fashion design program at a college or university. Some attend schools dedicated to the study of fashion design, while others choose programs based in traditional colleges. Fashion design degrees are available at the associate, bachelor's, and master's degree levels. Some schools even offer MBA programs that focus on the business side of the fashion industry.
Those who want to enter a fashion design program are often expected to develop basic skills before applying. A fashion program may require prospective students to submit their portfolio and pass design and sewing tests when they apply. Designers may teach themselves these skills or take classes to develop these skills before college.
Students in fashion design programs learn about textiles, sketching, sewing, draping, and creating patterns with the help of CAD software. They also learn about the history of fashion, trend forecasting, and the business of fashion. Students may create their own collection as a senior project. Collections and other student work can be valuable additions to a designer's portfolio. Designers pursuing bachelor's and master's degrees may focus on a particular type of design, such as children's wear, intimate apparel, knitwear, or sportswear.
Design students in some programs take on internships to put their knowledge to work under the guidance of experienced professionals at large design houses or in fashion merchandising.
Are there any certification or licensure requirements?
There are no licensure or certification requirements to become a fashion designer.
How long does it take to become a fashion designer?
Designers who complete a bachelor's degree before seeking work in fashion take about four years to start their careers. While most graduates find work in fashion or related fields after school, it can take years for a designer to gain recognition in the industry.
What does a fashion designer earn?
The median yearly pay of fashion designers in the United States was $62,860 in 2012. According to the Bureau of Labor Statistics, entry-level jobs in fashion design typically pay very little, but high earnings are possible for some very successful designers.
What are the job prospects?
The Bureau of Labor Statistics projects that employment of fashion designers in the United States will decrease by 3 percent between 2012 and 2020. Because of the declining number of jobs available, competition for positions will be strong, and designers with education, experience, and impressive portfolios will have the best job prospects.
What are the long term career prospects for fashion designers?
Fashion designers who work for design houses or merchandisers can advance into positions with more creative control, such as lead designer or creative director. Some very successful designers are hired by established high-fashion design houses to set that house's creative direction.
Some fashion designers are self-employed and advance in the industry by catching the attention of influential voices, like magazine or fashion blog editors. Successful independent designers may open their own stores or have their designs manufactured and sold by merchandisers.
How can I find a job as a fashion designer?
If you are applying for fashion design jobs, you must have an impressive portfolio. Your portfolio shows potential employers what they can expect from you in terms of style, creativity, and talent. Your portfolio should be current and feature a variety of items that show the kinds of work you can do.
If you do not find work as a fashion designer right away, you can start out in related jobs in costume design or merchandising. You can also produce your designs independently, though it often takes time to become profitable.
How can I learn more about becoming a fashion designer?
Reading about the careers of your favorite fashion designers can help you learn more about what it takes to become successful in the industry. Resources like ELLE magazine's Designer Files can be a good place to start this research. You can also learn more about the industry and current trends by following blogs and magazines like Women's Wear Daily and the the Business of Fashion.