Find a Law Enforcement School
19
Degrees from
9
Schools
How to Become a FBI Agent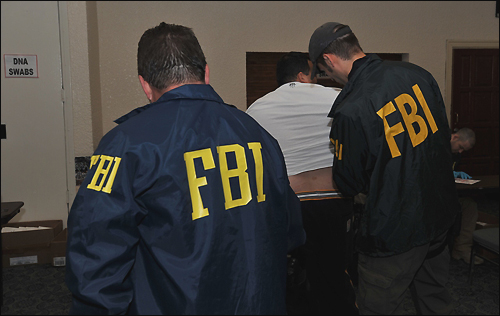 FBI agents work for the Federal Bureau of Investigation, the law enforcement agency that investigates crimes under the authority of the US Department of Justice.
Special agents make up about one-third of the staff of the FBI, and they investigate all crimes that fall under the jurisdiction of the bureau, including terrorism, cyber crime, public corruption, civil rights violations, white-collar crime, and organized crime. They also conduct foreign counterintelligence and assist state and local law enforcement agencies with laboratory examinations and fingerprint identification.
What kind of training is required to become an FBI agent?
New FBI agents undergo 20 weeks of training at the FBI Academy in Quantico, Virginia. There are four components to new recruit training: academics, case exercises, firearms training, and operational skills.
The academics component includes coursework in law, ethics, interviewing, report writing, investigative techniques, counterintelligence techniques, interrogation, and forensic science. Students also learn how to manage different types of investigations.
In case exercise training, students have opportunities to investigate mock crimes in a simulated town setting. The investigation progresses through interrogation, evidence collection and examination, arresting suspects, and testifying at a mock trial.
Students also gain proficiency in a variety of weapons, including a pistol, carbine, and shotgun. Firearms training includes marksmanship, safety, weapon handling, and live fire training.
FBI training also includes a great deal of physical fitness training and students must pass a physical fitness test to graduate.
Are there any certification or licensure requirements?
The special agent position has strict required qualifications. FBI agents must:
Be between the ages of 23 and 37
Have a four-year college degree
Have three years of professional work experience
Meet physical requirements
Pass a criminal history background check
Be willing to move anywhere in the country
Applicants must also qualify for one of five special agent entry programs. The five entry programs are accounting, computer science / information technology, language, law, and diversified. To qualify for the accounting entry program, for example, applicants must be certified CPAs or have an accounting degree and meet work experience requirements.
How long does it take to become an FBI agent?
It can take seven or more years to meet the minimum qualifications to become an FBI agent, and if one is accepted into training, it will take another 20 weeks to graduate.
What does an FBI agent earn?
New FBI agents earn between $61,100 and $69,900 their first year. As special agents gain experience and additional training, they can earn promotions and pay increases.
What are the job prospects?
Because the FBI is a government organization, the amount of hiring it does typically depends on the federal budget. Because of budget difficulties, the Department of Justice, including the FBI, was subject to a hiring freeze for three years ending at the beginning of 2014. When the FBI hires again, competition for openings should be strong.
The FBI prioritizes candidates who have backgrounds in certain critical skills areas like intelligence, law enforcement, military, engineering, and foreign language proficiency. Candidates with experience in one or more of these areas should have the best job prospects.
What are the long term career prospects for FBI agents?
FBI agents are graded and paid according to a government pay scale. As they gain experience and training, agents can advance grade levels. Agents start at grade level GS 10 and can advance to GS 13 in non-supervisory roles. Agents who advance to levels GS 14 and 15 serve in management and executive positions with the FBI.
How can I find a job as an FBI agent?
Job opportunities with the FBI are posted on the FBI Jobs website, FBIJobs.gov.
How can I learn more about becoming an FBI agent?
The FBI website is useful resource for learning more about becoming a special agent. Here you can learn about the history and mission of the FBI, as well as the agent training process, and the various roles special agents can play in the agency.