Find an Online School
2,937
Degrees from
74
Schools
How to Become a Flight Attendant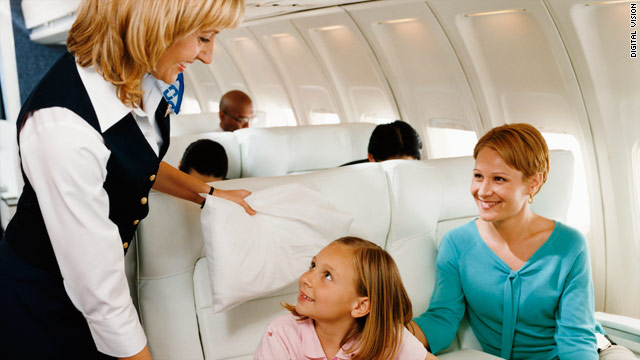 Flight attendants help ensure the safety and comfort of passengers on airline flights. Their job goes beyond serving food and drinks, and several of their responsibilities are mandated by federal law. Flight attendants instruct passengers on safety procedures, like how and when to use the plane's seat belts, and how to use oxygen masks and exit the plane in an emergency. Before each flight, attendants make sure all necessary equipment and supplies are available on board. Flight attendants may also perform first aid, handle security issues, and deal with any other problem that occurs during a flight.
Being a flight attendant requires flexibility, as they are expected to work on short notice, traveling all over the country and the world. Flight attendants spend a large amount of time on their feet helping passengers with luggage and pushing food and beverage carts, so this can be a physically demanding job as well.
What kind of training is required to become a flight attendant?
Prospective flight attendants undergo training in all aspects of their job, including customer service, pre-flight procedures, boarding, in-flight service, safety and security procedures, and first aid. Flight attendants also learn about the types of planes on which they will be working, how to deal with unruly passengers, and what to do in different types of emergencies. Some of this training is hands-on and includes practice flights so students can hone their skills.
New flight attendants typically receive paid training after being hired by an airline, but flight attendant training schools do exist and some choose to pay for their own training before seeking a job. Training programs can take up to eight weeks to complete.
Are there any certification or licensure requirements?
Since 2004, any flight attendant who works on an aircraft with more than 20 seats must hold a Certificate of Demonstrated Proficiency issued by the Federal Aviation Administration (FAA). Flight attendants earn this certificate after completing an FAA-approved training program, typically offered by the airline that hires them.
Flight attendant certification programs focus on fire prevention and control, the use of emergency equipment, aircraft evacuation and escape, and survival skills for different kinds of crash scenarios.
How long does it take to become a flight attendant?
For most entry-level flight attendant jobs, you must be at least 18 and hold a high school diploma or GED, but for some jobs you may need to wait until you are 21 to apply.
If you are hired as a new flight attendant, you will have to complete several weeks of training before you can begin work.
What does a flight attendant earn?
The Bureau of Labor Statistics reports that the median yearly salary for flight attendants in the United States was $37,740 in 2010. An entry-level flight attendant can expect to make between $16,000 and $25,000 per year, while experienced flight attendants may earn $50,000 or more.
Many flight attendants point to their opportunity for travel as a unique benefit of their career.
What are the job prospects?
Competition for jobs in this field can be fierce. Airlines regularly receive tens of thousands of applications for the hundreds of flight attendant jobs they post.
Applicants can set themselves apart by spending some time in college, gaining experience in customer service, and learning foreign languages.
What are the long term career prospects for flight attendants?
The past several years have been difficult for business in the commercial airline industry, and the number of flight attendants employed in the United States is expected to remain stagnant between now and 2020.
Flight attendants who do gain a foothold in the field can advance with experience and additional training, earning them more choice in their assignments as well as management and training opportunities.
How can I find a job as a flight attendant?
Airlines post open flight attendant positions on their websites and you can apply for these jobs online. Some airlines, like Delta, allow you to build an online profile so you can be matched with openings that fit your experience, location, interests, and skills.
Some flight attendant training schools are affiliated with certain airlines, and those airlines may seek out students at these schools to interview for open positions.
How can I learn more about becoming a flight attendant?
You can learn more about the hiring processes, required qualifications, and training processes for flight attendants at the websites of airline carriers like Delta Air Lines, Southwest Airlines, American Airlines, and other regional carriers.
Flight attendants are represented by a few different unions and professional organizations like the Association of Flight Attendants and the Association of Professional Flight Attendants, and you can learn more about the issues that are important to flight attendants at each organization's website.