Find a Gunsmithing School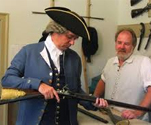 Gunsmiths build, repair, and customize firearms like handguns, rifles, and shotguns. They can perform simple tasks like disassembling, cleaning, inspecting, and reassembling a gun, but they can also do complex work like refinishing metal, engraving designs in wood and metal, and design custom firearms.
The work that gunsmiths do requires knowledge and skills in a variety of areas. Gunsmiths must be knowledgeable about different types and models of firearms so they can design and add custom parts to weapons and modify them to improve performance. Working with metals and metal finishing requires knowledge in chemistry. Gunsmiths must know how to read blueprints, and some work with computer-aided design software as well. Gunsmiths must also know how to weld, carve, and work with tools like lathes and mills.
What kind of training is required to become a gunsmith?
Gunsmiths can learn their craft in a variety of ways, including apprenticeships, military training, and completing a degree or certificate program. There are a small number of schools across the United States that offer certificate or associate degree programs in gunsmithing, and attending one of these programs is a highly-recommended way to learn how to gunsmith.
Students in gunsmith training programs work under the guidance of experienced instructors, taking courses in topics like firearms safety, machine shop safety, firearms repair, stockmaking, and firearms conversion. Skills like welding, metal finishing, gun blueing, and working with complex machine tools are also emphasized. Gunsmith programs are hands-on, and students have many opportunities to practice and master skills using their school's tools and firearms. Because students may go on to own their own businesses, gunsmith programs also provide some instruction in management skills.
Associate degree programs in gunsmithing take about two years to complete at full-time status and include general education coursework like English, mathematics, and science. Schools that offer associate degree programs may also offer certificate programs that take less time to complete and do not include general education coursework. Some schools also partner with the National Rifle Association to offer short-term or summer schools that provide instruction in basic skills.
Are there any certification or licensure requirements?
Gunsmiths who operate as a business must have a federal firearms license, or FFL. FFLs are issued by the US Bureau of Alcohol, Tobacco, Firearms, and Explosives (ATF). To apply for an FFL, gunsmiths must submit a copy of their fingerprints and a fee along with their application. The ATF will use the submitted fingerprints to run a criminal history background check, and the local ATF field office will conduct an in-person interview with the applicant.
FFL-holders must meet bookkeeping requirements set by the ATF. If a customer leaves their firearm with a gunsmith overnight, for example, the gunsmith must make a record of that firearm in a "bound book" that is kept for these purposes.
How long does it take to become a gunsmith?
It can take two years or less to complete a gunsmith associate degree or certificate, but it often takes several years of practice for gunsmiths to reach the level of expertise needed to open their own businesses.
Some gunsmiths come to this career after gaining experience in the military or working as a machinist, and this experience can add years to the amount of time it takes to become a gunsmith.
What does a gunsmith earn?
According to PayScale.com, gunsmiths in the United States earn a median hourly wage of $14. Gunsmithing is not a particularly lucrative career, but many choose it because they love the work.
Gunsmiths who own their own businesses also have to consider the costs of operating a business, such as purchasing equipment and tools, renting space, paying taxes, and hiring employees. These factors all impact the salary one can earn from one's business.
What are the job prospects?
The job outlook for gunsmiths in the United States is unclear. Some factors suggest that demand for gunsmiths will decrease. Gun manufacturers are offering cheaper firearms with more options for customization, for example.
Other factors, however, suggest that there will be a growing demand for gunsmiths in the coming years. The FBI's data on background check applications indicate that gun sales have increased at a high rate in recent years. This increase in gun sales has led gun manufacturers to increase hiring to meet demand, and it may lead to an increase in demand for independent gunsmiths as well.
What are the long term career prospects for gunsmiths?
New gunsmiths who have just completed their training often go to work under the supervision of more experienced gunsmiths. As they gain expertise, gunsmiths can advance into positions of greater responsibility or even open their own businesses.
How can I find a job as a gunsmith?
As a new gunsmith, you can apply for jobs working for gun manufacturers, sporting goods stores, or working underneath independent gunsmiths. Some organizations, like Gunsmiths.com, host job boards for gunsmiths. Attending conferences and careers fairs can be a good way to make contacts and learn about job opportunities in your area.
How can I learn more about becoming a gunsmith?
There are many online forums dedicated to the discussion of gun ownership, maintenance, and gunsmithing. You can use these forums to make contact with gunsmith hobbyists and professionals and learn about the steps they've taken in their education, training, and career. Organizations like the National Rifle Association and the American Gunsmithing Institute offers resources for those who want to learn about becoming a gunsmith as well.