Find an Online School
2,937
Degrees from
74
Schools
How to Become a Lactation Consultant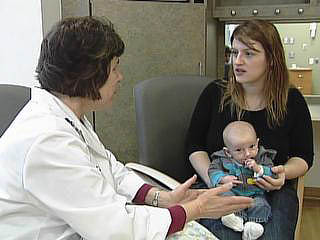 Lactation consultants provide clinical support to breastfeeding mothers. They provide breastfeeding education to expecting and new mothers and help nursing mothers address any problems that arise in the breastfeeding relationship. While anyone, regardless of education and training, may use the "lactation consultant" title, the standard in the field is for lactation consultants to become certified and registered as an International Board Certified Lactation Consultant (IBCLC).
Lactation consultants may work independently or be employed by physicians' offices, hospitals, or lactation centers. Some health care professionals, like nurses, doctors, and midwives, train to become lactation consultants so they can better meet the needs of their breastfeeding patients. It is not necessary to have an existing career as a health care professional to become a lactation consultant, however.
What kind of training is required to become a lactation consultant?
Those who want to become International Board Certified Lactation Consultants (IBCLCs) must meet the preparation requirements set by the International Board of Lactation Consultant Examiners (IBLCE). To become eligible to take the IBLCE certification exam, prospective IBCLCs must meet standards for health sciences education, lactation education, and lactation clinical experiences.
Prospective IBCLCs must complete courses in 14 subjects, including 8 college courses in health sciences topics like biology, human anatomy, human physiology, infant and child growth and development, nutrition, research, sociology, and psychology. They must also complete courses in CPR, medical documentation, medical terminology, occupational safety, professional ethics, and safety precautions for infectious diseases. Current health care providers like doctors, nurses, midwives, and physician assistants may be exempt from these requirements.
Lactation consultants must also complete 90 hours of lactation-specific education. The IBLCE does not accredit any lactation education programs, but recommends choosing a course that addresses all topics that appear on the certification exam.
The third requirement for exam eligibility is clinical experience. Those who have 1000 hours of experience working with breastfeeding mothers in the five years before they take the exam do not have to complete any additional hours. Prospective IBCLCs who do not meet this requirement must complete 300 supervised hours of clinical practice with breastfeeding mothers.
Are there any certification or licensure requirements?
Becoming an IBCLC (International Board Certified Lactation Consultant) can be helpful in attracting clients and landing jobs, because holding a certification shows that you have met certain standards for education and experience. Rhode Island, New Mexico, and Georgia now require lactation consultants to become licensed or registered to practice in their states. Earning a certification may allow your clients to use their medical insurance to pay for your services, as well.
To become a certified lactation consultant, you must meet the IBLCE's (International Board of Lactation Consultant Examiners) standards for health sciences education, lactation-specific education, lactation-specific clinical experience, and adhere to their code of professional conduct. Once you have met these standards, you are eligible for the certification exam. The IBCLC certification is valid for five years, and you can become recertified by completing continuing education. IBCLCs must also retake the certification exam every 10 years.
In June 2019 IBLCE announced updates in exam eligibility requirements: the organization will be removing the use of the flat-rate calculation for earning clinical hours. Implementation of this requirement will be phased in from March 1, 2020 to January 1, 2022. Additionally, starting with exam applications for April 2021, five hours of education focused on communication skills will be required in addition to 90 hours of lactation specific education. Further details regarding this change can be found on the IBLCE website.
How long does it take to become a lactation consultant?
The amount of time it takes to become a lactation consultant depends on your background. Current health care practitioners may already meet the standards to qualify to take the certification exam, while those who are new to the field can complete a certificate program at a college to meet all the requirements. Lactation consultant certificate programs take about one year to complete.
What does a lactation consultant earn?
Certified lactation consultants charge $100 to $200 per session or more, depending on their location. Health care providers like doctors and nurses who incorporate lactation consulting with their existing practice will earn a salary somewhere in the typical range for their profession.
What are the job prospects?
In 2013, 76.5 percent of American women attempted nursing their infants, an increase of almost three percentage points over 2007, but a much higher percentage than the 58 percent who attempted breastfeeding in 1985. The US Centers for Disease Prevention and Control is working toward the goal that, by 2020, 81.9 percent of mothers will attempt breastfeeding, and that 25.5 percent of infants will nurse exclusively until six months of age.
As more women choose to attempt breastfeeding and to nurse their children longer, they will need the education and support that lactation consultants provide. While lactation consultants may be in demand, those who are also registered nurses should have the best job prospects, especially in hospital settings.
What are the long term career prospects for lactation consultants?
Lactation consultants who are self-employed can build a successful private practice and attract more clients by gaining referrals from former clients and other health care professionals in the community.
Those who are lactation consultants in addition to doctors or nurses can advance their careers with further education and training, moving into leadership positions in their hospital or practice.
How can I find a job as a lactation consultant?
If you want to work as an independent lactation consultant, you must market your services and make connections in your community. You can get client referrals from health care providers like nurses, doctors, or midwives, so it is important to build a network of providers who can confidently recommend your services.
If you would like to work in a hospital, physician's office, or lactation center, there may be additional qualifications required beyond a lactation consultant certification. Many employers are looking for lactation consultants who are also registered nurses, for example.
How can I learn more about becoming a lactation consultant?
The International Lactation Consultant Association and its US affiliate, the United States Lactation Consultant Association (USLCA) are good resources for those who want to learn about becoming an IBCLC. The USLCA publishes a journal called Clinical Lactation, and you can access the archives through their website to learn more about the profession and about lactation research.