18
Degrees from
2
Schools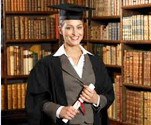 Lawyers help their clients, whether they are individuals or groups of people, businesses, or other organizations, navigate the legal system. The legal system in the United States is an adversarial system, meaning that parties settle their disputes by arguing their case and presenting evidence to a judge or jury, and lawyers may represent parties on either side of a dispute.
Lawyers can defend their clients against accusations, or they may work on behalf of the government to prosecute people for violations of the law. Individuals or organizations may hire lawyers to ensure they are meeting their legal obligations, or to attempt to force other people or groups to meet their legal obligations. There are many types of law that lawyers may practice, including family law, tax law, environmental law, and intellectual property law.
What kind of training is required to become a lawyer?
Most lawyers in the United States receive their training through a juris doctor (JD) degree program. These graduate programs accept students from diverse educational backgrounds, so you do not have to study pre-law as an undergraduate. Applicants to JD programs must have a bachelor's degree and take the Law School Admission Test (LSAT).
The first year of many JD programs includes courses in civil procedure, constitutional law, contracts, criminal law, legal research and writing, property, and torts, which are civil wrongs that can be righted by awarding damages.
After the first year, students begin choosing electives that relate to the law specialty they want to pursue. While JD programs may not require specific courses in the second and third years, they may encourage students to take a variety of courses that explore different types of law and build skills like dispute resolution and trial advocacy.
Many JD programs emphasize clinical experiences, where students apply classroom learning to real-life situations, working with clients under the supervision of experienced lawyers and faculty members.
Are there any certification or licensure requirements?
Each state supreme court has a branch known as the "state bar." State bars are the agencies that set standards for the legal profession in that state. Lawyers become licensed by being admitted to their state's bar. Bar admission is necessary to represent clients in one's state, and it depends on several factors, including passing one or more bar exams.
Before prospective lawyers can sit for their state's bar exam, they must meet certain standards for fitness:
Age: Each state sets a minimum age for bar applicants.
Education: Applicants should have a JD degree from a program accredited by the American Bar Association. Some states define alternative educational paths lawyers may take, such as the law clerk program in Michigan.
Character: Applicants undergo a background check to determine if any conduct in their past disqualifies them from representing clients.
Pass the MPRE: Applicants in most states must present a passing score on the Multistate Professional Responsibility Exam. This exam can often be taken during law school.
Applicants typically spend months preparing to take the bar exam, studying independently and taking review courses. States may offer bar exams only at certain times of the year and in certain cities, so travel may be necessary. The exam itself may take multiple days and will most likely include state-specific testing in addition to the Multistate Bar Exam that is used by many states.
How long does it take to become a lawyer?
It can take seven years after high school graduation to earn a JD degree: four years for a bachelor's degree, and three years in law school. After graduation from law school, it can take several months to gain admittance to the state bar. Some applicants take their state bar exam more than once before they pass.
What does a lawyer earn?
The median yearly pay for lawyers in the United States was $113,530 in 2012. The top 10 percent of earners in the field made more than $187,200 and the lowest 10 percent made less than $54,310 that year. The highest-paid lawyers in 2012 worked in finance and insurance or for the federal government.
What are the job prospects?
The Bureau of Labor Statistics projects that employment of lawyers in the United States will grow 10 percent between 2012 and 2020. This growth is about as fast as the average for all other occupations the Bureau studies.
While growth is steady, competition for jobs will be strong. In 2011, roughly 60 percent of law school graduates found full-time work in law, a drop of 14 percent from 2007. This decrease is most likely due to the Great Recession of 2008 and to law schools graduating more lawyers than there are jobs available.
What are the long term career prospects for lawyers?
Lawyers who find jobs with law firms typically start out as junior associates, working long hours without much control over the type and amount of work they do. With years of experience and additional training, junior associates may become senior associates, and then partners in their firm. Lawyers who do not become partners in their firm may move on to other firms or start their own.
Experienced lawyers may also become judges or pursue advanced degrees and get involved in research and higher education.
How can I find a job as a lawyer?
Finding a job in a difficult market often depends on your network of professional contacts. Law students should make contacts through their clinical experiences and internships. Many students work as "summer associates" with area law firms, and these experiences can serve as valuable opportunities to either earn job offers or meet experienced lawyers who can offer advice.
If you can't find a full-time law job right after passing the bar, gaining experience doing work related to the legal profession may help make you a more attractive candidate.
How can I learn more about becoming a lawyer?
You can visit the website of your state bar to learn more about the requirements for becoming a lawyer in your state. The American Bar Association has resources as well.
Because law is such a large field with many specialties, talking with lawyers in different