759
Degrees from
55
Schools
How to Become a Loan Officer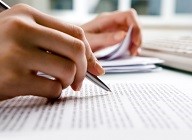 Loan officers determine whether or not individuals and corporations qualify for loans from banks and other financial institutions. They examine the financial records of loan applicants and apply underwriting principles and formulas to determine their ability to repay a loan. Loan officers may look at applicants' income, job stability, debt-to-income ratio, and liquid assets to evaluate the risk of lending to them.
A large part of a loan officer's job is sales and customer service. Some types of loan officers, like mortgage originators, must find their own clients, and loan officers who work for banks and credit unions are expected to generate new business for their employer. Once they have a client to work with, loan officers must communicate with them to determine their needs and answer any questions they may have.
What kind of training is required to become a loan officer?
Most loan officers have completed some college education and many have at least a bachelor's degree, often in a field related to business. Students who major in business or business administration often focus on one area of concentration, like accounting or finance. Students who focus on accounting learn about taxation, auditing, accounting systems, and accounting software. A familiarity with business accounting and financial record auditing can help in a career as a loan officer.
Some community colleges offer undergraduate certificate programs for mortgage loan originators. Students in these programs take courses in topics like real estate fundamentals, real estate fraud, real estate math, real estate finance, sales, marketing, and appraisal.
Organizations like the American Bankers Association's American Institute of Banking also offer diploma and certificate programs for prospective loan officers through local training providers. Students who pursue an AIB diploma in consumer lending take courses in topics like building customer relationships, client referrals, ethics, general accounting, the law and banking, and personal tax return analysis. The AIB commercial lending diploma program includes courses in analyzing financial statements, evaluating and structuring corporate loans, credit and deposit products for small business, and growing small business relationships.
Much of the training than loan officers receive occurs on the job. Banks, credit unions, and mortgage companies teach new loan officers about the various types of loans they can offer to clients and prepare them to use the technology they'll need to do their job. Many financial institutions and mortgage brokers rely on a software platform to do everything from manage potential leads, manage client information and documents, underwrite loans, and ensure compliance with any applicable laws and regulations.
Are there any certification or licensure requirements?
Most states require mortgage originators to obtain a license before they can provide their services to clients. The standards mortgage loan originators must meet to become licensed vary by state, but in general, one must first complete several hours of prelicensing education. Mortgage loan originators in most states must complete 20 hours of education, but some states require more.
Prelicensing education is offered by approved providers in each state, and many states follow the standards set by the Nationwide Mortgage Licensing System (NMLS). Topics of study include federal law, ethics, lending standards, and state-specific information. After completion of prelicensing education, prospective mortgage originators must then pass the NMLS National Test.
In addition to passing a licensing exam, candidates may also be required to pass a criminal history background check and a credit check.
Consumer and commercial loan officers are not required to obtain a license to do their job, but organizations like the American Bankers Association offer voluntary certifications to those who want to bolster their credentials. Loan officers who seek certification must meet requirements for experience and education and pass a certification exam.
How long does it take to become a loan officer?
Some banks and mortgage companies require loan officers to hold a bachelor's degree, so it can about four years to qualify for these jobs.
It can take several weeks or months to meet the prelicensing education requirements and pass the examination to become a licensed mortgage loan originator.
What does a loan officer earn?
The median yearly pay for loan officers in the United States was $59,820 in 2012. The lowest ten percent of earners in this field made less than $32,600 that year, while the top ten percent made more than $119,710.
Compensation for loan officers varies by employer. Loan officers may be paid a commission on the sales they bring in, or they may be paid a salary. Some are compensated with a combination of salary and commission.
What are the job prospects?
The Bureau of Labor Statistics projects that employment of loan officers will grow 8 percent between 2012 and 2020, about as fast as the average for all occupations.
The BLS expects that lending by banks and other financial institutions will increase as the economy improves, which should enhance job prospects for loan officers. Increasing usage of underwriting software, however, may mean that fewer loan officers will be needed to process applications and evaluate clients' finances.
What are the long term career prospects for loan officers?
With experience, loan officers may be promoted to positions with greater responsibility for closing sales and working directly with bigger clients. Promotions to these positions can lead to higher commissions from sales. Loan officers may also be promoted to management positions where they oversee the activities of a group of loan officers.
Mortgage loan officers may eventually become independent mortgage brokers who match clients with the best lender for their needs. Successful mortgage brokers may hire loan officers to take care of some of their business, and these brokers act as managers as well.
How can I find a job as a loan officer?
You can find loan officer jobs through the typical channels of online job boards and community resources. Many banks post information about job openings on their websites, so you can check with banks, credit unions, and other financial institutions in your area. If you attended a business school, you can work with your school's alumni network to make contacts in the industry. A strong professional network can lead to valuable information about job openings.
How can I learn more about becoming a loan officer?
You can learn more about becoming a loan officer through groups like the American Bankers Association, the Association of Mortgage Professionals, and the Mortgage Bankers Association.