Find an Online School
2,937
Degrees from
74
Schools
How to Become a Makeup Artist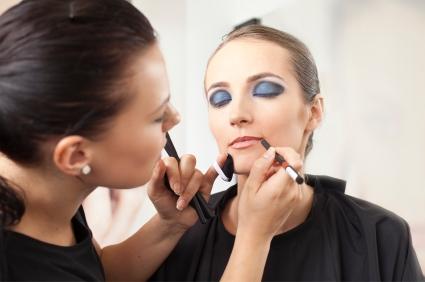 Makeup artists apply cosmetics for their clients, who may be models, actors and actresses, television reporters and personalities, or individuals who want a special look for an occasion like a wedding. Makeup artists must know how to communicate with their clients to determine what kind of look they want, and they must have the skincare and cosmetics knowledge plus the physical and artistic skill required to create that look.
Makeup artists may work independently, or they may be employed in the motion picture industry, in television, by photographers, or by salons and spas.
What kind of training is required to become a makeup artist?
Many makeup artists complete a training program offered by a makeup artist school. Students in these programs learn about different types of cosmetics and cosmetics tools. They also study facial features and how to emphasize or de-emphasize them with makeup. Makeup artist programs also introduce students to the various kinds of looks they can create with cosmetics, including daytime, evening, and special event looks.
Makeup artists who want to create looks for photography, the stage, television, and movies can take courses in the different techniques and products used in each field. Students may learn how to design looks that will hold up to the scrutiny of a high definition camera, while others may study the use of prosthetics to create special effects for film or theatre.
Are there any certification or licensure requirements?
Makeup artists may be required to obtain a makeup artist or cosmetology license to provide services to clients in their state. The practice of cosmetology includes hair styling and other services, so earning a cosmetology license typically requires the completion of more than just a makeup artist program. A state-approved cosmetology program can take a year or more to complete. Cosmetologists may also be required to complete a certain number of training hours and pass a licensing exam.
How long does it take to become a makeup artist?
Makeup artist training programs vary in length. One course may take several weeks to complete, and a whole program can take several months. If your state requires you to obtain a full cosmetologist license, it could take a year or more to complete the required training program.
What does a makeup artist earn?
The wage a makeup artist earns can depend on his or her experience and place of employment. According to the Bureau of Labor Statistics, the average hourly wage for makeup artists in entertainment and performance was $32.49 in 2012, and the median hourly wage was $30.99.
Makeup artists who worked in the motion picture and video industry made the highest average wage, at $40.04. Those who worked in personal care services earned the least: $14.35. These figures did not take into account makeup artists who work independently.
What are the job prospects?
The Bureau of Labor Statistics projects that employment of makeup artists will increase at a slower rate of growth than most other occupations in the United States. Jobs will be available, but competition will be strong. Makeup artists may have the best chances of employment if they seek work in certain states with good job markets for the profession, including California and New York.
What are the long term career prospects for makeup artists?
As makeup artists gain experience and training, they can build a body of work that will allow them to charge higher rates for their services and give them better chances of landing higher-profile work in the fashion and entertainment industries if that is their goal.
How can I find a job as a makeup artist?
Like with any other profession, finding a job as a makeup artist depends on one's experience and connections. Makeup artists put together a portfolio of professional photos of the work they've done in school and for past clients. An impressive portfolio and positive referrals from clients can help you start and expand your business if you're working as a freelance makeup artist.
Some makeup artists build experience by starting out in retail, working at the makeup counter of a drug or department store. Others may start by providing services for community theatre groups.
How can I learn more about becoming a makeup artist?
Many professional makeup artists have blogs and you can learn more about technique, current trends, and the profession by following some of them. You can also check with your state's licensing board to determine the specific requirements for becoming a makeup artist in your state.