97
Degrees from
29
Schools
How to Become a Marketing Professional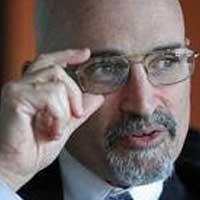 Steve Beren is a marketing consultant in Seattle, Washington. He has worked in the marketing field since 2003, and opened One Spark Marketing in 2010. Prior to his firm's inception, he worked in operations for the Internet marketing company Shoplocal.com, where he honed his marketing skills.
Steve specializes in Internet marketing, publicity, social media, and political campaigning.
Why did you decide to go into marketing?
I never really decided to go into marketing. I started out as a manager at Shoplocal.com, an Internet marketing company. I was primarily responsible for organization and operations. I spent more than five years there, acquiring knowledge about marketing. After the economic downturn, Shoplocal.com closed their Seattle office, and I found myself managing the Facebook and Twitter accounts of local businesses. Then that kind of expanded into political consulting and client service consulting all within the framework of social media and Internet marketing.
What is marketing?
Marketing is selling, persuasion, and publicity. To sell something, you have to make the public aware of it, which is publicity, and then you have to persuade. People won't know if it is a good product until they have tried it, but a marketing professional has to show that it is likely to be a good product or service. Marketing is publicizing plus persuasion.
Are there common misconceptions about your profession?
Some common misconceptions are that marketing professionals are all millionaires, or that marketing is easy to do. However, marketing is very complex and very hard. I will recommend it to people who want to really work hard and constantly be challenged.
What is a typical day like for you?
A typical day is to get up in the morning and maybe check my email and see millions of questions, concerns, problems, and new opportunities. Then I head to the office, where I work with one of my main clients. Throughout the whole day, I receive a large number of phone calls, text messages, instant messages, emails, complaints, requests, disappointments, excitements, and compliments. Even when I get home, there is pressure to take a look at my email, and there is always more work than can be done in a day.
What are your favorite aspects of your job?
It is exciting to accomplish things. It is enjoyable to actually do what people want. I don't want to try to convince someone of what they should be doing; I try to find out what they want to do, what their product or service is, and I help them publicize it. If that can be accomplished, if they get more customers and they are happy, then I know I have done what they want. Also, the technology is always changing. What someone can do now on their iPhone, home computer, or laptop you had to call in an expert and pay them a lot of money to do four or five years ago. So, keeping up with technology is very important.
What are your least favorite aspects of your job?
It is challenging because sometimes 17 things will be happening at once, but I might only be able to do 14 of them and disappoint three people.
What personality traits do you think would help someone to be successful in the marketing field?
Some traits that would help someone to be successful in this field are confidence and not taking things personally. It would also be helpful to have a great ability to focus, because you will be pulled in so many different directions. This job requires doing many things at once.
What personality traits do you think might hinder somebody's success in marketing?
If somebody lacks empathy he or she is not suited to a career in marketing. Additionally, sloppiness and a lack of dependability would hinder someone's success in marketing.
Are there some fields of marketing that people might not be aware of?
Now, there are a million subfields. There is video, there is audio, there is blogging, there is TV, radio and so many interactions between. There are innumerable and constantly evolving subfields.
What advice would you give to a student who is considering studying to go into marketing?
If you are considering a career in general marketing, I would suggest that you take every business course and ethics course that you can.
You should also learn about different industries and work a lot of jobs. If you have worked in a restaurant as a waiter, 10 years later you will have some idea of how to market a restaurant. Don't be afraid of work, and with any job you have, take it as a learning opportunity. If you are going into Internet marketing, learn all the technology you can. In addition, don't expect to get rich quick. Expect to work hard and enjoy it.