Find a Construction Management School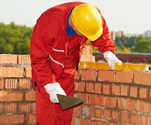 Masons use bricks, stones, and cement to build structures like houses, walls, and pathways. Humans have practiced masonry for thousands of years, and the techniques and materials used in the trade have evolved over time. Masons may work with brick, concrete blocks, cement, fire- and heat-resistant materials, and stones like marble and granite.
Masons can specialize as bricklayers, marble or tile setters, cement masons, block masons, or stone masons. Some masons specialize in finishing while others specialize in cleaning, caulking, and pointing.
What kind of training is required to become a mason?
Most new masons receive their training through an apprenticeship. Apprenticeship programs are offered by technical and community colleges, professional mason's and builder's associations, and masonry unions. In most cases, to enter an apprenticeship you must be at least 18 years old and have a high school diploma or GED. Prospective apprentices may also be required to pass an aptitude test.
Apprenticeship programs in masonry last three to four years and include classroom instruction and on-the-job training. Apprentices are sponsored by an employer or union and paid on a scale during training; as they progress in their program, apprentices earn a higher wage and additional job benefits like health insurance and vacation time. They also attend classes, typically at night, to learn knowledge related to their trade.
The classroom learning in a masonry apprenticeship includes instruction in reading blueprints, construction math, and the history of the trade. Apprentices also learn about the tools and materials used in their trade. The specifics covered in on-the-job training depend on the type of masonry the apprentice is studying. Cement mason apprentices spend a significant amount of time learning how to set forms, establish grades, spread and finish cement, and create steps and trim, for example. Bricklayer apprentices learn how to clean and repair existing masonry, perform waterproofing, and construct walls, arches, columns, and decorative brick patterns.
Apprentices who complete their program may start work as journeyman masons.
Are there any certification or licensure requirements?
Each state sets requirements for the licensing of building contractors and subcontractors, and some masons may be required to have a license to offer their services. A mason who owns a business and contracts directly with clients is typically required to have a license, and those who subcontract on projects managed by a contractor may be required to have a license if the project costs more than a certain amount set by the state. Obtaining a contractor or subcontractor license may involve passing a licensing exam, submitting financial records, and providing references and proof of insurance.
Associations like the Mason Contractors Association of America offer voluntary certifications for masons who want to show potential customers that they have a high level of knowledge and experience in their field. Earning certification involves completing training courses and passing a certification exam.
How long does it take to become a mason?
It takes three to four years to complete a masonry apprenticeship. Those who complete an apprenticeship can begin working as journeyman masons.
What does a mason earn?
The median yearly pay for brickmasons and blockmasons in the United States was $46,440 in 2012. Stonemasons earned a median pay of $37,350, and cement masons earned a median pay of $35,760 that year.
What are the job prospects?
The Bureau of Labor Statistics projects that employment of brickmasons, blockmasons, and stonemasons in the United States will grow by 34 percent between 2012 and 2020, and that employment of cement masons will grow by 29 percent during that time. This projected growth for each trade is much faster than the average for all other occupations.
The BLS predicts that employment of masons will be driven by an increased demand for new buildings due to population growth as well as a need to repair the masonry in existing structures.
What are the long term career prospects for masons?
Journeyman masons who gain experience can eventually become master tradesmen and train new apprentices. Masons with business skill can open their own contracting or subcontracting companies.
How can I find a job as a mason?
Journeyman masons may continue working with the same employer that facilitated their apprenticeship, but others find new work through their union or by responding to job postings in their area.
How can I learn more about becoming a mason?
You can learn more about becoming a mason through a masonry union or association. The The International Union of Bricklayers and Allied Craftworkers represents masons in the United States and Canada, but you should be able to consult a local union for advice specific to your area as well.