Find an Automotive Technology School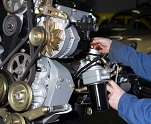 Mechanics diagnose and repair problems with automobiles. If a customer's car or truck is not working properly, they bring it to a mechanic to determine what is wrong. Customers describe symptoms of the problem to the mechanic, who then inspects the vehicle to determine what may be causing the symptoms to occur. The mechanic will then plan a course of action to repair the problem and describe this plan to the customer before starting work.
Mechanics must be familiar with the workings of many different kinds of vehicles, though some specialize in vehicles made by a specific manufacturer. They must also know how to use a wide variety of tools like computer diagnostic tools, lathes, torches, jacks, and various hand tools.
In addition to fixing problems in vehicles, mechanics perform preventive maintenance like oil changes and tire rotations to ensure that the vehicle continues to perform as it should. Many parts of a vehicle become worn down over time and a mechanic will inspect these parts to catch potential problems.
What kind of training is required to become a mechanic?
Automotive technology training programs are available at a few different levels of study. Some mechanics complete a vocational training program during high school, and others attend a technical school or community college after high school graduation.
High school vocational programs last three or four years. Students in these programs learn how to inspect, repair, and maintain the engine and other automotive systems like the exhaust, heating and cooling, electrical, braking, transmission, suspension, and fuel systems. Vocational programs provide hands-on training and students may even work with real customers and service their vehicles. At the end of a vocational program, students graduate with a high school diploma plus the training and experience necessary to start their career.
Technical schools and community colleges offer both certificate and associate degree programs in automotive technology. Certificate programs take less time to complete and focus solely on automotive technology, while associate degree programs include general education coursework as well. Students in both types of programs take courses that explore the various automotive systems and how to diagnose and repair problems with those systems. These programs are partly lecture-based, but students also work with real cars and diagnostic and repair tools to put their learning into practice.
After they graduate high school or earn a certificate or associate degree, prospective auto mechanics continue their training on the job by working as assistants, helpers, or trainees under the supervision of experienced mechanics.
Are there any certification or licensure requirements?
Some states require auto mechanics to hold a license to practice their trade. Obtaining a license may require passing one or more certification exams. Mechanics may have to pass an examination for each type of automobile repair they want to practice. In Michigan, for example, a mechanic can become certified as a master mechanic by passing 8 out of the 11 certification exams offered by the state.
Mechanics can also pursue voluntary certifications from the National Institute for Automotive Service Excellence (ASE). ASE certifies mechanics in several different speciality areas, like auto maintenance and light repair, collision repair, alternate fuels, advanced engine performance, and damage analysis and estimating. To become certified, one must pass a certification exam and provide proof of two years of working experience. Mechanics who have completed formal training in automotive technology can substitute their training for half of their experience requirement.
ASE also offers special certifications for students in vocational and post secondary automotive technology programs. Earning a student certification does not require any working experience, but students must still pass the relevant certification exams.
Mechanics who want to work on vehicles produced by a specific manufacturer can pursue a manufacturer certification by completing a manufacturer-specific training course or program. Earning a manufacturer certification can make a mechanic a more attractive candidate for positions at a dealership that sells and services vehicles made by that manufacturer.
How long does it take to become a mechanic?
The time it takes to become a mechanic depends on the training one pursues. Mechanics who complete vocational programs in high school can begin working in trainee positions right after graduation, while those who complete a post secondary automotive technology program will take a year or more to finish their education.
It can take a mechanic two to five years of on the job training to become proficient in the field.
What does a mechanic earn?
The median yearly pay for auto mechanics in the United States was $36,610 in 2012. The lowest ten percent of mechanics earned less than $20,810 that year, and the top ten percent made more than $60,070.
A mechanic's pay can be calculated in a number of ways. Some mechanics are paid an hourly rate, while others are paid on commission and earn more by finishing more work.
What are the job prospects?
The Bureau of Labor Statistics projects that employment of auto mechanics in the United States will grow 9 percent between 2012 and 2020, about as fast as the average growth for all occupations. The BLS predicts that job prospects will be best for mechanics who have formal automotive training, especially those who are trained in modern alternative fuel and computer systems technology.
What are the long term career prospects for mechanics?
Mechanics should continue to learn throughout their careers, and some pursue additional training to become specialists in a specific type of vehicle maintenance or repair. As they gain experience and earn ASE certifications in a number of different specialties, mechanics can be promoted to positions with greater responsibility, possibly overseeing the work of other, less experienced mechanics.
Some mechanics with significant experience and strong business skills open their own automotive repair or specialty shops.
How can I find a job as a mechanic?
You can look for mechanic jobs through online job boards, community resources, and by inquiring directly with dealerships and independent auto repair shops. If you completed an automotive technology training program, you may have made some professional contacts in your area, and you can ask these contacts for information about job openings that may be a good fit for your interests and skills.
How can I learn more about becoming a mechanic?
You can learn more about becoming a mechanic by looking into the licensure requirements for mechanics in your state. You can also research automotive technology training programs at local community colleges and technical schools. Talking to mechanics in your area can be another good way to learn more about the training and education required to get started in this field.