95
Degrees from
18
Schools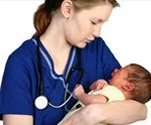 Midwives provide primary health care to women during pregnancy and beyond. Some types of midwives, notably certified nurse midwives (CNMs) and certified midwives (CMs), provide gynecological care for women throughout their lives. Other types of midwives, such as certified professional midwives (CPMs) deal primarily with pregnancy. All types of midwives guide women through prenatal care, labor and delivery, and postpartum care.
Midwives may work in private practices, hospitals, or birthing centers. Some specialize in attending to home births.
What kind of training is required to become a midwife?
The type of education required of midwives depends on what type of certification one is seeking.
Certified nurse midwives have master's degrees in nurse midwifery, and to enter a nurse midwifery program, one must typically have a bachelor's degree in nursing and some experience working as a registered nurse. Some programs accept registered nurses with associate degrees, however.
Prospective nurse midwives should select a program that is accredited by Accreditation Commission for Midwifery Education. Students in these programs study health assessment, normal pregnancy care, high risk pregnancy care, well woman care, management of complications, nursing research, and pharmacology. Students also complete clinical rotations in different areas of midwifery practice.
While nurse midwives must first be registered nurses, certified midwives can enter a master's degree program in midwifery with a non-nursing bachelor's degree. Certified midwife programs are also accredited by the Accreditation Commission for Midwifery Education and offer a curriculum similar to a nurse midwifery curriculum, including coursework and clinical rotations. Because students in CM programs are not coming from a nursing background, however, they may have to take supplemental courses in health skills and medical sciences.
Prospective midwives who want to follow the certified professional midwife path should seek a midwifery program accredited by the Midwifery Education Accreditation Council. MEAC-accredited midwifery programs may lead to associate, bachelor's, or master's degrees. Students take courses in anatomy and physiology, pharmacology, prenatal care, pregnancy care, postpartum care, and newborn care. Students are also paired with a certified nurse midwife or certified professional midwife in an apprenticeship. Through their apprenticeship, students will observe and assist with a minimum number of prenatal exams, births, postpartum exams, and prenatal exams.
Are there any certification or licensure requirements?
Each midwifery path results in certification through a certifying agency. CNMs and CMs are certified by the American Midwifery Certification Board, and CPMs are certified through the North American Registry of Midwives. Both certifying organizations are accredited by the National Commission for Certifying Agencies. To earn a certification, CNMs and CMs must graduate from an accredited nurse midwifery or midwifery program. CPMs can earn certification by completing an accredited program, but they may also earn certification by passing a portfolio evaluation process.
In addition to certification, most states require midwives to have a license to practice, but the licensure requirements for midwives vary by state. All states license certified nurse midwives, but only roughly half recognize certified professional midwives, and five recognize certified midwives.
To become licensed, CNMs must have a current registered nursing license, complete an accredited nurse midwifery program, and pass a national board licensing exam given by the American Midwifery Certification Board.
Three states license CMs: New Jersey, New York, and Rhode Island. CMs in these states must also complete an accredited program and pass a national board exam.
Recognition and licensing of CPMs varies by state. Some states require CPMs to obtain a license to practice, while in other states licensure is voluntary.
How long does it take to become a midwife?
It can take at least eight years to become a CNM: four years for a bachelor's degree, one year of nursing experience, and three years in a nurse midwifery program. Some CNMs may take less or more time to gain certification and licensure. Becoming a CM may take slightly less time, as nursing experience is not required.
The amount of time it takes to become a CPM depends on one's program. A CPM program can take one to five years to complete after high school graduation.
What does a midwife earn?
The median yearly pay for CNMs in the United States was $89,600 in 2012. The Bureau of Labor Statistics does not keep data for CPMs, but the Midwifery Education Accreditation Council reports that CPMs charge $2000 to $4000 per birth, depending on location and experience, and that a busy solo practice can expect to can attend to two to four births per month.
What are the job prospects?
The Bureau of Labor Statistics projects that employment of nurse midwives in the United States will grow by 31 percent between 2012 and 2020. This growth is much faster than the average growth for all occupations, and the BLS attributes this to increased access to health care and the expanding role of the advanced practice registered nurse.
What are the long term career prospects for midwives?
Successful nurse midwives may further their education by pursuing a doctoral degree and go into higher education, training the next generation of midwives.
Certified professional midwives typically practice independently, and an experienced CPM with a good reputation can build a highly successful solo practice.
How can I find a job as a midwife?
Nurse midwives may work in hospitals, physicians' offices, or birthing centers, and new graduates can seek work in these locations. CNMs often make valuable professional connections through their clinical experiences, possibly earning a job offer or advice on job openings in the field.
As certified professional midwives often work independently, new CPMs can start their careers by marketing their services and seeking clients. Building good relationships with clients and a good reputation in the community can lead to new referrals.
How can I learn more about becoming a midwife?
You can learn more about becoming a CNM or CM through the American College of Nurse Midwives. The ACNM website details the process of becoming a CNM or CM, including education and certification. The North American Registry of Midwives offer similar resources for CPMs.
Many advocacy organizations exist for midwives, including the Midwives Alliance of North America, Citizens for Midwifery, and Midwife International, and these websites offer resources that detail the practice of midwifery and describe the differences between the various certifications that are available.