Find an Online School
3,120
Degrees from
74
Schools
How to Become a Nail Technician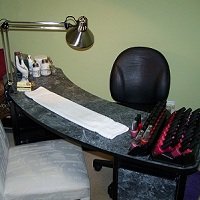 Lydian Flash is a nail technician in Austin, Texas. She attended cosmetology school and earned her manicurist license 20 years ago, but has worked in the beauty industry since 1980.
Lydian first owned a professional beauty supply store where she sold supplies to salons and also hosted shows and educational classes. In addition, she owned a Trade Secret Salon for 17 years. Lydian currently works as a self-employed nail technician, leasing a room in another salon.
What is a nail technician?
A specialist in performing nail services on the hands and feet of their clients. That can be natural nails or enhancements to the nails.
Why did you decide to become a nail technician?
I love this industry. The salon I was managing had one or two techs already, but we were turning down clients for nail services every day. So I decided it would benefit the salon and add to my income if I got my license.
Are there common misconceptions about your profession?
Yes. The main one is the public not realizing we do so much more than send clients out with pretty colored polish. Taking care of your hands, nails, and especially your feet is about your health as well. There are NSS (Non Standard Salons) that do not follow the rules, regulations, or sanitation standards they should. Often this means unlicensed or improperly trained people performing services with products that are not intended (sometimes even illegal) for use on nails. These salons give the wrong perception of our industry. The old saying "you get what you pay for" really is true in this industry.
Another is that there are times we need to refer you to a doctor. We are not allowed to work on infected areas or perform services a doctor should do. Professional nail techs will continue training and updating their skills throughout their careers.
What is a typical day like for you?
This is really not typical. It can change based on what the individual needs. I have worked as many as 12 hours a day seven days a week for years. When I owned the salon, it was in a mall, and these were mall hours. I now work anywhere from 6 to 10 hours a day, five days a week. I have always set my own hours, as I have always been self-employed.
I do all types of nail services. Over the last four years, I have specialized more in natural nails and the new gel polish manicures. I still perform the other services if needed.
Nail technicians can be an employee in a salon or be self employed, either leasing an area or owning a salon. There are opportunities for full-time or part-time employment. Many start part time while they build their client list and learn.
What are your favorite aspects of your job?
I love every aspect of this industry. I am very blessed to love what I do and be able to earn a living while doing it. The clients make every day wonderful. My very first client is still a weekly client, and it will be 20 years next January.
What are your least favorite aspects of your job?
If I am running behind, that means that a client has to wait. Also, I like being busy, but not when it means that I can't squeeze someone in for an appointment. In addition, I do not like if a scheduled appointment "no shows." It does not happen to me often but that is time wasted that someone else could have had.
Is there anything you would have done differently while studying to become a nail technician?
Not really, but I would have liked more time to practice. I was working full time and attending school and I went right to work doing nails the day my license arrived. That being said, if I were going to become a nail technician today I would take advantage of all the additional opportunities to learn that are available which were not when I attended school. The tools available are so great. The Internet provides almost unlimited access to educational videos from the product manufacturers and professionals. Facebook is a wonderful tool. You can connect with other nail techs who are willing to help answer your questions on almost anything from your technique to business advice. You can get inspiration for artwork by viewing others'.
So, if attending school now, I advise you to take advantage of all that is available to you. Attend classes and shows as often as you can. There are even webinars now. Some are lucky enough to find mentors or do one-on-one classes.
What personality traits do you think would help someone to be successful as a nail technician?
I have met successful nail techs with almost every personality. Everyone will find their own way and develop the clients that fit for them. I think being a little outgoing and comfortable with yourself would help you be able to build your client list faster. Being caring and friendly will be a plus.
What personality traits do you think might hinder someone's success as a nail technician?
Someone who is unwilling to learn or thinks they know it all. I learn new things all the time, even after all these years in the industry.
What advice, or words of caution, would you give to a student who is considering studying to become a nail technician?
GO FOR IT!!!! This is a terrific industry. Practice, practice, and more practice. Always keep learning.
The caution would be that it will take time to build your clients. Find a good quality salon that has high sanitation standards and others who are professional about the industry.
Good luck and may anyone considering this as a profession be blessed with much success. You can take this in many directions, including one-on-one with your clients, instructing, working as a representative for products, working as a celebrity nail tech, etc.