171
Degrees from
28
Schools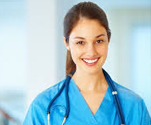 Nurses work in teams with physicians and other nurses to care for patients. Nurses can be found in hospitals, doctor's offices, and other health care settings coordinating and administering care for their patients. A nurse may take vital signs, maintain records, perform physical exams and diagnostic tests, administer medications, change bandages, provide health education, and ensure the comfort of patients.
Depending on their education and training, a nurse may be a licensed practical nurse (LPN), a registered nurse (RN), or an advanced practice registered nurse (APRN), such as a nurse practitioner or clinical nurse specialist.
What kind of training is required to become a nurse?
The level of training required to become a nurse depends on the type of nursing certification one is pursuing.
Becoming a licensed practical nurse (or licensed vocational nurse) requires the least amount of training. Many community colleges offer practical nursing certificate programs that take three semesters to complete. Students takes courses in human anatomy and physiology, pharmacology, psychology, and the practice of nursing, and gain clinical experience in hospitals and skilled nursing facilities.
Registered nurses must complete a two- or three-year diploma or associate degree program in nursing. Students in registered nursing programs take many of the same courses that LPN students take plus additional general education and advanced nursing courses. RN students gain clinical experience through their programs as well.
Though most states require RNs to hold just an associate degree, many prospective and practicing RNs earn bachelor's degrees. In the future, a bachelor's degree may be the standard for RN education, and some employers today prefer or require one. Many schools offer Bachelor of Science in Nursing (BSN) programs. Students in BSN programs gain clinical experience and learn about the human body and nursing practice, but they also develop their critical thinking, decision making, and leadership skills.
Advanced practice registered nurses must have at least a master's degree. RNs with bachelor's degrees or, in some cases, associate degrees, can choose a specialty to study in a graduate program. RNs may become nurse practitioners, nurse midwives, clinical nurse specialists, or nurse anesthetists, and even within these fields there are many choices for specialized study. Nurse practitioners may specialize in acute care, community health, psychiatry, or pediatrics, for example. Master's degree programs focus on nursing research and leadership and include seminar study plus clinical placements.
Are there any certification or licensure requirements?
Nurses must be licensed by their state to practice, and each successive step in nursing practice--from LPN to RN to APRN--requires a new license.
Each state sets its own education standards for licensure, but in general, LPNs should have a practical nursing certificate, RNs should have at least an associate degree, and APRNs should have a master's degree from a state-approved nursing program. States may also require specific coursework or training in topics like infection control and child abuse identification and reporting.
Most nurses must also pass examinations to become licensed. Prospective LPNs and RNs take National Council Licensure Examinations (NCLEX-PN and NCLEX-RN, respectively). Not all states require APRNs to pass an examination for licensure. The National Council of State Boards of Nursing, which administers NCLEX exams, has called on all states to adopt uniform standards for APRN licensure, including requiring APRNs to pass certification exams in general APRN practice and in at least one area of focus.
How long does it take to become a nurse?
The length of time it takes to become a nurse depends on one's educational choices. Practical nursing certificate programs take three semesters, or roughly nine months, to complete. Associate degree programs take two or three years, while bachelor's degree programs take four. A master's degree program can take as few as 18 months to complete at full-time status, but many nurses who pursue master's degrees do so while working and take more time to complete their degrees.
What does a nurse earn?
According to the Bureau of Labor Statistics, the median yearly pay for LPNs in the United States was $41,540 in 2012. That year, the median pay for RNs was $65,470, and the median pay for APRNs was $96,460. Of all types of APRNs, nurse anesthetists had the highest median wage at $148,460.
What are the job prospects?
The BLS projects that employment of all types of nurses will grow at a fast pace between 2012 and 2020. The fastest growth will be in the employment of nurse practitioners; more than 130,000 additional nurse practitioners are expected to be hired before 2020. Employment of LPNs is expected to grow by 25 percent, and employment of RNs is expected to grow by 19 percent over the next several years.
The exceptional growth in the field of advanced nursing practice is attributed to caring for an aging population and increased access to health insurance and health care. Many health care providers are looking to cut costs by employing APRNs like nurse practitioners to provide primary care.
What are the long term career prospects for nurses?
Nurses who start out as LPNs and RNs have many opportunities for career advancement ahead of them if they are willing to pursue additional education. RNs can advance into senior and supervisory positions and with graduate education, advance into management or advanced practice. APRNs are gaining more authority and autonomy in the treatment of patients, and they are increasingly providing primary care services. Nurses who earn doctoral degrees may pursue careers in research, higher education, and health care administration.
How can I find a job as a nurse?
Once you have a license, you can start applying for nursing jobs. Hospitals are a natural setting for nurses, but also consider health care settings like outpatient care, rehabilitation, skilled nursing, assisted living, and psychiatric facilities. Even if you do not start out working in your ideal environment, gaining experience as a nurse should help you become a more attractive candidate in the future.
Nursing students spend time in various health care facilities gaining clinical experience. Use those experiences and later working experiences to build a network of professional contacts that you can consult when searching for a job.
How can I learn more about becoming a nurse?
To learn more about the requirements for becoming a nurse in your state, check with your state's board of nursing. You may also learn more through the website of a professional nursing association like the American Nurses Association or the National Student Nurses Association.