10
Degrees from
5
Schools
How to Become a Nutritionist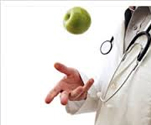 Nutritionists help people make plans to meet their nutritional needs. People with illnesses or health conditions or those who are trying to lose weight or meet fitness goals may seek out nutritionists for help in designing a diet to improve their health.
Nutritionists may also be known as dietitians, and the most common and accepted credential in the field is the registered dietitian nutritionist certification. Registered, licensed dietitians and nutritionists can work independently or as part of a health care team. They may also work in the food production industry or help create public health policy.
What kind of training is required to become a nutritionist?
The minimum educational requirement for becoming a registered dietitian nutritionist (RDN) is a bachelor's degree. Many colleges and universities offer degrees in nutrition, nutritional sciences, and dietetics. Those who want to become RDNs should seek a school that offers a didactic program in dietetics. Didactic programs include the coursework mandated by the Accreditation Council for Education in Nutrition and Dietetics.
Students in nutrition programs take courses in both science and nutrition. Science courses may include anatomy and physiology, chemistry, microbiology, and biochemistry. Nutrition courses may include food science, nutrition and disease, nutrition assessment, counseling strategies, and nutrition in the life cycle.
Prospective RDNs must complete an internship after they graduate. Graduates of didactic programs in dietetics are matched with internships by the Academy of Nutrition and Dietetics. Interns are matched to clinical, community, or food service agencies and work under the supervision of experienced professionals for six to twelve months. At the completion of their internship, prospective dietitians are granted a verification statement that allows them to take the RDN certification examination offered by the Commission on Dietetic Registration.
Are there any certification or licensure requirements?
Licensure requirements for nutritionists vary by state, but most states set some standards to deter abuse of the nutritionist title. In many states, licensed dietitians and nutritionists must either be RDNs or meet standards similar to the requirements for becoming an RDN, such as completing a bachelor's degree in nutrition and an 800- or 900-hour supervised work experience.
How long does it take to become a nutritionist?
Becoming an RDN can take five years, including four years to complete a bachelor's degree and one more year to complete an internship.
What does a nutritionist earn?
The median yearly pay for nutritionists and dietitians in the United States was $55,240 in 2012. The top ten percent of earners in the field made more than $77,590 and the lowest ten percent made less than $34,500 that year. The Academy of Nutrition and Dietetics reports that RDNs made a median yearly wage of $60,000 in 2013.
What are the job prospects?
The Bureau of Labor Statistics projects that employment of nutritionists and dietitians will grow by 21 percent between 2012 and 2020, faster than the average growth for all occupations. The BLS expects that demand for nutrition counseling will increase as the population of the US ages and more people contend with chronic health issues related to obesity.
What are the long term career prospects for nutritionists?
RDNs can find work in many types of settings, from health care, to education, to food production and service. The more experience and training they gain, the more in-demand their services will be. Many schools offer master's and doctoral degree programs in nutrition, and nutritionists who complete these programs may advance into higher education, research, and public health administration.
How can I find a job as a nutritionist?
A small portion of nutritionists work independently, but many more work in hospitals as part of a health care team. Another large portion work in physicians' offices and health care facilities like nursing homes. You can seek open positions in these types of settings, and, if you are an RDN, the professional contacts you make through your internship experience may be a good resource for information on job openings.
Nutritionists can also seek work with government health departments, non-profit organizations, restaurants, and the food industry.
How can I learn more about becoming a nutritionist?
The Academy of Nutrition and Dietetics offers resources on its website for those who want to learn more about becoming a registered dietitian. You may also learn more through your state's dietetic association. Since licensing regulations may differ so much from state to state, it is important to learn the specifics about becoming a nutritionist or dietitian in your state.