How to Become a Park Ranger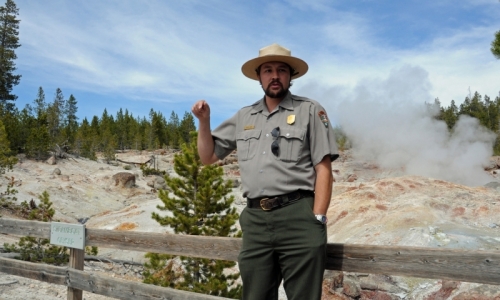 Park rangers perform a wide range of duties in state and national parks. They are often trained as peace officers and are responsible for law enforcement within their jurisdiction, patrolling their park and ensuring visitors follow any applicable laws and regulations.
Park rangers may provide first aid to injured park visitors, conduct investigations of crimes, and participate in or lead search and rescue operations within their park. Park rangers may also be responsible for educational programming, resource conservation activities, animal control, and trail management within their park.
Some rangers' duties trend more towards education, and these rangers are known as interpretive rangers. Those who focus more on law enforcement are known as protection rangers. In smaller parks, rangers may perform duties from both categories.
Park rangers often live within the park they are assigned to serve.
What kind of training is required to become a park ranger?
Many states and the National Park Service require prospective park rangers to have completed at least two years of college coursework, and some require a four-year degree. Candidates have some flexibility in their choice of major, but in general, majors in natural sciences, social sciences, park management, resource protection, or law enforcement are preferred.
Prospective park rangers may be required to have a certain amount of work experience in a field related to park management, including work in forestry, conservation, wildlife management, recreation management, or law enforcement.
Because park rangers are considered peace officers, new hires in many states are expected to complete a peace officer standards and training (POST) program for law enforcement officers. To qualify for a POST program, applicants must pass a physical fitness test, a criminal history background check, and a medical exam, and meet citizenship and age requirements. Peace officer training lasts several weeks and includes instruction in firearms usage, driving emergency vehicles, and investigation and arrest techniques.
In addition to law enforcement training, park rangers may also receive on-the-job training in search and rescue, emergency medical services, wildfire suppression, and environmental education.
Are there any certification or licensure requirements?
Becoming a peace officer requires state certification. To earn certification, park rangers must complete a basic law enforcement training program and pass a certification exam.
How long does it take to become a park ranger?
Meeting the educational, experience, and training requirements to become a park ranger can take three to five years or more.
What does a park ranger earn?
Each state has a salary structure for park rangers that is based on education, experience, and the duties of the position. The National Park Service has its own pay structure as well. An entry-level park ranger with the National Park Service, for example, can expect a salary in the $30,000 range, while a more experienced ranger who has completed additional education could earn more than $50,000.
What are the job prospects?
Job prospects for park rangers can depend on state and federal budgets, and on turnover of retiring park rangers. In 2010, the National Parks Service was heavily recruiting prospective rangers to work in urban parks. Competition for park ranger positions at well-known state and national parks in wilderness areas should be strong.
Candidates who have significant education and experience in fields related to park management should have the best prospects.
What are the long term career prospects for park rangers?
Park rangers may take several seasonal positions before they earn a permanent park ranger position. With additional experience and education, park rangers can graduate to higher state and federal pay grades and advance into management positions, supervising other park employees and becoming park superintendents.
How can I find a job as a park ranger?
Park ranger openings are posted on state and federal jobs websites. Parks may hire and train new park rangers only at certain times each year, so visit these sites regularly to ensure you don't miss any opportunities.
Many states and the National Park Service run internship programs for college students who are interested in becoming park rangers. Students in these programs spend several weeks each summer with a mentoring park acquiring the knowledge and skills needed to qualify for a park ranger position. While graduates of these programs are not guaranteed jobs when they complete their programs, their preparation makes them attractive candidates for openings.
You can also better your chances at earning a job as a park ranger by volunteering in a state or federal park. Most parks seek volunteers to help with a wide range of activities, like trail maintenance, invasive species control, park cleanup, leading tours and hikes, and providing customer service support.
How can I learn more about becoming a park ranger?
If you'd like to work in a state park, check that state's parks department and its peace officer standards and training board for more information about becoming a park ranger in that state. If becoming a national park ranger is your goal, you can learn more about this career path through the National Park Service website.