85
Degrees from
3
Schools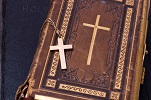 Many Protestant and non-denominational Christian churches hire pastors to lead their congregations. While a large part of a pastor's duties is to lead church services and write and deliver sermons, they have many other duties as well. Pastors, sometimes known as ministers, preside over religious ceremonies like weddings and baptisms and visit with members of the congregation who need guidance and help. Pastors also plan for the future of their church by reaching out to potential new members, working with other community leaders, and attending to the business of the church.
What kind of training is required to become a pastor?
Christian pastors must have a deep familiarity with the Bible and the doctrine of their denomination, if applicable. Each denomination has its own process for training and ordaining pastors and ministers, but in general, one must first be a member in good standing of one's congregation to begin the process. Depending on the denomination and individual congregation, pastors may have to meet other requirements as well. Some congregations do not ordain women, people who are divorced, or openly gay or lesbian people, for example.
Those who are interested in becoming pastors typically start by expressing their interest to the pastor of their church. Congregations may have committees that oversee the ordination of pastors and ministers. Prospective pastors will meet with this committee and the committee will review the person's background and qualifications to determine whether or not he or she will be a good fit for the position. In some churches, this is called the inquiry phase, and if the committee decides the person can move forward in the process, he or she will become a candidate or aspirant.
To prepare for a position as a pastor or minister, candidates may be required to take college courses or complete a degree program. Some denominations ordain only those who have master's degrees from a divinity school. These denominations may maintain affiliations with specific divinity schools to ensure that candidates receive an education that fits with the tradition and doctrine of the church. If a denomination or church does not require candidates to attend an affiliated divinity school, it may instead require candidates to attend a divinity school that has been accredited by an agency like the Association of Theological Schools.
Divinity schools and seminaries offer programs that lead to a Master of Divinity (MDiv) degree, which is considered the professional degree for pastors in the United States. Students in MDiv programs study the religious texts and history of their faith. They also learn basic skills in the language or languages in which their texts were originally written, such as New Testament Greek and Biblical Hebrew. MDiv programs also focus on the art and practice of ministry, and students learn about worship, preaching, pastoral care and counseling, and community leadership. Field experience is another focus of MDiv programs, so students spend time with religious communities in their area or in other parts of the world.
Beyond earning a degree, pastoral candidates may also be required by their church to complete an internship, undergo financial planning, take seminars, pass an examination, and/or work with a mentor.
Are there any certification or licensure requirements?
There are no government certification or licensure requirements for pastors, but some denominations refer to to pastor or minister ordination as certification or licensure. To become certified or licensed by a church, one must meet that church's education and experience requirements.
How long does it take to become a pastor?
The requirements for ordination vary by denomination and by individual church, so it may take longer to become a pastor in one church as compared to another. It generally takes three years to complete an MDiv program, and it may take two or three years to complete the candidacy process in some churches.
What does a pastor earn?
According to Salary.com, the median salary for pastors and ministers in the United States is $87,180, and the median salary for associate pastors is $63,051.
Pastors are often provided housing by their congregation, and this form of compensation can impact the salary one receives.
What are the job prospects?
The Bureau of Labor Statistics projects that employment of clergy in the United States will grow 10 percent between 2012 and 2020, about as fast as the average growth for all occupations.
Other sources, however, report a difficult job market for pastors and ministers due to the overall economic climate. Churches depend on donations from their congregation to operate, and in difficult economic times, giving decreases, reducing the ability of churches to hire new pastors.
What are the long term career prospects for pastors?
New pastors and ministers may start out working in associate roles working with youth or other groups within a church. With some experience, associates can be hired as full pastors of established congregations.
Some non-denominational pastors open their own churches. These pastors may also attempt to reach potential members by writing books or creating other media. Pastors of established churches can also reach out to people in their community to grow membership in their congregation.
How can I find a job as a pastor?
Many churches looking for pastors post openings on job websites, but many rely on networking to find a suitable pastor or minister as well. You should attempt to build a network of contacts within your church community and connect with pastors of your faith in other areas as well.
You can improve your job prospects by gaining experience working in associate pastor roles. Associate pastors work under the guidance of pastors and ministers. You may lead religious services, run educational programs, perform outreach, or work with groups of people in your church community.
How can I learn more about becoming a pastor?
You can learn more about becoming a pastor by speaking to your own pastor and with other pastors who share your faith. They can tell you what sort of education they pursued and what kinds of experiences they took part in on their way to their current position.