Find a Photography School
How to Become a Photographer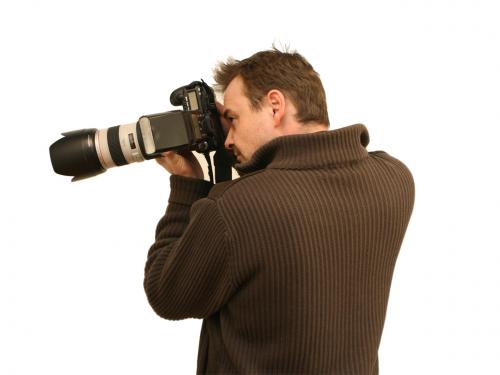 Photographers who make a business out of their craft use sophisticated technology to take photographs and develop prints or prepare digital copies of their work. Photographers know how to use professional camera and lighting equipment, design compositions, work with their subjects, and edit their work to enhance or remove certain elements.
Most photographers work independently and must market their services to potential clients. Some photographers document special events like weddings or photograph individuals, families, or children. Photojournalists work for newspapers and magazines, while fine art photographers may sell their work at art galleries, art shows, or online.
What kind of training is required to become a photographer?
Photographers gain their technical and artistic skills in a variety of ways. Some teach themselves, while others take classes or earn a college degree in photography.
Photography courses are offered at many technical and community colleges, and photographers can build their skills one class at a time without completing a degree. Students can take a course in the fundamentals of photography, including lighting and working with the settings on digital and film cameras. Courses in different types of photography, like wildlife photography, portrait photography, and landscape photography are also typically offered.
Many colleges offer undergraduate and graduate programs in photography, typically leading to a Bachelor of Fine Arts (BFA), Master of Fine Arts (MFA), or PhD. Student in photography BFA programs learn about art history and theory, the history of photography, art theory, and photography theory. They will also spend a large amount of time in studio courses where they can practice the skills they are learning. While photography students work in darkrooms learning how to develop prints, they also learn how to use powerful photo editing software to produce digital images.
Some colleges offer degree programs in photojournalism and documentary photography. These programs can lead to bachelor's or master's degrees and include coursework in both journalism and photography. Students learn about journalism ethics, news writing and reporting, news editing, and news videography in addition to learning about photography skills like lighting and editing.
Because so many photographers are self-employed, it can be important for them to learn business knowledge in addition to the skills of their craft. To run a successful business they will need to know how to legally set up a business, handle taxes, set costs for their services, and market themselves.
Are there any certification or licensure requirements?
There are no certification or licensure requirements to work as a photographer. Photographers who set up their own businesses, however, will need to make sure they meet the legal and tax requirements for businesses in their state.
How long does it take to become a photographer?
While there are no strict formal education and training requirements for the profession, it can take years of practice to develop the skills and build the portfolio necessary to earn an income as a photographer.
What does a photographer earn?
The median hourly wage for photographers in the United States was $13.70 in 2012. The top ten percent of earners in the field made more than $32.21 per hour and the lowest ten percent made less than $8.42 per hour that year.
What are the job prospects?
The Bureau of Labor Statistics projects that employment of photographers in the United States will grow by 4 percent between 2012 and 2020, slower than the average growth for all professions. The BLS attributes this relatively slow growth to the advancement of digital camera technology and the decrease in the cost of this technology. With greater access to better technology, more people and businesses will produce their photographs themselves.
What are the long term career prospects for photographers?
Photographers with strong technical and artistic skills as well as good business skills can build a successful business for themselves. Clients hire photographers based on the strength of their portfolios, so as photographers gain experience, they should be able to attract bigger clients, whether it's higher-paying wedding and personal photography work, corporate clients, or regional and national magazines and newspapers.
How can I find a job as a photographer?
Self-employed photographers can start out by taking small jobs or working as an assistant to an established photographer. It is important to build a strong portfolio to attract potential clients, so photographers should take every opportunity to add new, quality work to theirs. Knowing how to market yourself and your business is very important as well.
Some photographers hire a representative to help them find work in their industry. Many different kinds of photographers, including product, fashion, documentary, and fine art photographers use representatives to put them into contact with buyers and clients that they may not be able to reach on their own. Even photographers who use representatives, however, should still continue adding to their portfolios and marketing themselves on their own.
How can I learn more about becoming a photographer?
Many professional photographers talk about the business and craft of photography online. Blogs and magazines like Photo District News and Professional Photographer Magazine may be helpful resources as you learn about making your photography a business.
You can also contact professional photographers in your area to see if they have any advice to offer as you start your career.