Find a Physical Therapy School
How to Become a Physical Therapist Assistant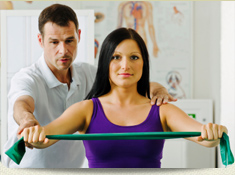 Physical therapist assistants (PTAs) provide care and education to patients under the supervision of a physical therapist. Patients seek treatment with a physical therapist when they have lost function or mobility due to an injury, an illness, or aging. Physical therapists design a plan of therapy for each patient and modify it as needed, and physical therapist assistants help carry out that plan by assisting patients with exercises, administering massage, observing patients, helping patients use adaptive equipment, and providing education to patients and their families.
Most PTAs work in hospitals and private physical therapy practices, but they also work in rehabilitation facilities, nursing facilities, schools, and home health care.
What kind of training is required to become a physical therapist assistant?
Physical therapist assistants must have at least an associate degree from a physical therapy assistant program that is accredited by the Commission on Accreditation in Physical Therapy Education. (CAPTE) These programs are offered by many technical and community colleges across the country.
Physical therapist assistant programs take two years to complete and feature a combination of lecture courses, laboratory courses, and clinical experiences. Students take courses in topics like anatomy and physiology, human growth and development, aging, clinical pathology, neuroscience, and psychology. They also study the principles of physical therapy, physical therapy procedures, orthopedic disabilities, and kinesiology, which is the study of the mechanics of body movements. Because PTA programs lead to an associate degree, students also take general education courses in English and mathematics.
In the second half of their program, PTA students complete clinical experiences. Clinical training is a full-time commitment and takes place in hospitals, physical therapy practices, and nursing facilities. Clinical training gives students opportunities to work directly with actual patients and gain the practical skills they'll need to be successful in their career. Working with experienced health care providers, students learn how to carry out a therapy plan in a safe manner. PTAs must learn how to follow hygiene and sterilization protocols, check patients' vital signs to ensure they can receive therapy safely, physically handle patients safely, and recognize signs of distress from patients receiving therapy.
When they graduate, prospective PTAs should know how to implement a therapy plan created by a physical therapist, communicate effectively with patients, perform various therapies and interventions, observe patients and collect data, and assist in the operation of a physical therapy practice.
Are there any certification or licensure requirements?
Physical therapist assistants must be licensed by their state to practice. Earning a physical therapist assistant license generally requires completing a CAPTE-accredited or state approved PTA program and passing the National Physical Therapist Assistant Examination. Some states also require PTAs to submit fingerprints for a criminal history background check.
How long does it take to become a physical therapist assistant?
In most cases, it takes two years to complete a physical therapist assistant program. It may take additional time to pass the National Physical Therapist Assistant Examination and receive a state license.
What does a physical therapist assistant earn?
The median yearly pay for physical therapist assistants in the United States was $52,160 in 2012. The lowest ten percent of PTAs earned less than $32,420, and the top ten percent made more than $72,720 that year.
What are the job prospects?
The Bureau of Labor Statistics projects that employment of physical therapist assistants will grow 41 percent between 2012 and 2020. This projected growth is much faster than the average growth for all occupations over this time. The BLS attributes this growth to a number of factors, including the need to care for the aging baby boom generation and to care for the increasing numbers of Americans dealing with chronic conditions like diabetes.
Job prospects should be good for qualified PTAs, as physical therapy services will be in high demand over the next several years, and physical therapists will turn to PTAs to help provide that therapy at a lower cost.
What are the long term career prospects for physical therapist assistants?
Physical therapist assistants who have experience and strong job performance may earn greater responsibility in their current workplace or move on to other practices and facilities that offer higher pay or a more satisfying work environment.
PTAs can complete continuing education through the American Physical Therapy Association to learn more about the practice of physical therapy and various specialties within physical therapy. Physical therapist assistants who meet high standards for experience, continuing education, and job performance may qualify for advanced proficiency recognition from the APTA. PTAs can earn this recognition in specialties like acute care, aquatic, geriatric, oncology, and pediatric physical therapy.
How can I find a job as a physical therapist assistant?
You can search for physical therapist assistant jobs through online job boards or community resources. The American Physical Therapy Association hosts its own job site that allows PTAs to upload resumes that can be viewed by employers looking to hire.
You should make several professional contacts while completing your clinical training, and you may receive a job offer through one of your clinical training sites. If not, the contacts you make should be good sources of information on job openings in your area.
How can I learn more about becoming a physical therapist assistant?
You can learn more about becoming a physical therapist assistant through the American Physical Therapy Association website. Each state has its own physical therapy association, and your state's association can be a another good source of information.