Find a Plumbing Technology School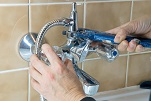 Plumbers install and repair the pipes that carry liquids, like water, or gases into and out of buildings. They also install and repair fixtures like toilets, sinks, bathtubs, and water heaters.
Plumbers should be comfortable working in both indoor and outdoor conditions and at all times during the day. Their work is physically demanding, as it requires them to lift heavy pipes and put them into place. Plumbing can also be both dangerous and dirty. Plumbers work in cramped spaces using tools like welding torches, and they often work in close quarters with heavy machinery, electrical work, natural gas lines, and human waste products.
What kind of training is required to become a plumber?
Most plumbers receive their training through an apprenticeship. Apprenticeships last four to five years and are typically managed by local plumbers' unions and associations. Apprentices learn on the job under the supervision of their employer, who should be an experienced journeyman plumber. They also attend classes, which may be held in the evening or on an alternating schedule with on-the-job training. Apprentices are paid on a sliding scale for their training. As they gain experience, their pay and benefits increase.
To apply for an apprenticeship, prospective plumbers must meet age requirements and hold a high school diploma or its equivalent. They must also pass an aptitude test or entrance exam, and they may be required to pass a background check or drug test as well. If they are accepted into a program, apprentices may be assigned an employer or they may be expected to find employment on their own.
In the classroom, apprentices learn how to use their tools safely and care for them properly. They also learn how to perform techniques like soldering, brazing, and welding. Classroom learning also focuses on workplace safety and on proper preparation for plumbing work. This includes training in the mathematics used to measure pipes and to determine the materials needed for pipe layouts. Students also learn how to create piping drawings and to interpret technical diagrams and building plans. Plumbers must also be familiar with the plumbing code in their area.
Plumber apprentice training also covers topics like the study of hydraulics, pneumatics, and mechanics as they relate to plumbing. Because some plumbing fixtures and appliances have electrical components, apprentices also learn the basics of electrical work and safety principles related to electrical work.
On the job, apprentices put their classroom learning into practice and gain experience installing and repairing pipes, fittings, and fixtures for water, gas, vacuum, and drainage systems in various types of buildings. They practice soldering, welding, and modifying pipes using pipe cutters, threading machines, and bending machines. They also learn how to create openings for pipes and fixtures in walls and floors. On-the-job training also gives apprentices opportunities to develop their troubleshooting and problem solving skills. These skills will be vital as they enter the trade and encounter various types of plumbing problems.
Apprentices who successfully complete their apprenticeships are qualified to begin work as journeyman plumbers.
Are there any certification or licensure requirements?
Plumbers in most states must have a license to provide services to clients. Some states license journeyman and master plumbers separately, while others license only master plumbers. To become licensed, plumbers must meet standards for training and experience, and in most cases, pass a certification exam. Training and experience requirements for journeyman licensure are typically met through an apprenticeship. Journeyman plumber certification exams cover topics like the Uniform Plumbing Code, state plumbing codes, and application of the code to piping, venting, and waste scenarios.
States that license journeyman plumbers may set limits on the type of work they can do and the types of businesses they can open. In Louisiana, for example, a journeyman plumber may own a repair business, but may not advertise it as a plumbing business.
With additional experience and training, journeyman plumbers can become licensed as master plumbers or specialty plumbers. States may offer specialty endorsements or certifications in areas like backflow prevention, medical gas, and well drilling.
The United Association, a national union of plumbers, fitters, welders, and HVAC service techs, offers voluntary certifications for plumbers who want to demonstrate expertise in a specialty. Plumbers can take tests to become certified in specialties like valve repair, welding, industrial rigging, and green awareness.
How long does it take to become a plumber?
It takes four or five years to complete an apprenticeship and become a journeyman plumber.
What does a plumber earn?
The median yearly pay for plumbers, pipefitters, and steamfitters in the United States was $49,140 in 2012. The lowest ten percent earned less than $29,020 that year, and the top ten percent made more than $84,440.
What are the job prospects?
The Bureau of Labor Statistics projects that employment of plumbers, pipefitters, and steamfitters in the United States will grow 21 percent between 2012 and 2020, faster than the average projected growth for all occupations. The BLS predicts that qualified plumbers with welding experience will have the best job prospects.
What are the long term career prospects for plumbers?
Journeyman plumbers can pursue continuing education to further their training and learn more about specialties in their field. Continuing education is often available to plumbers through their union. As they gain experience and additional training, journeyman plumbers can earn licensure as master plumbers or specialty plumbers. Master plumbers are qualified to design plumbing systems and can start their own plumbing businesses.
How can I find a job as a plumber?
As a new plumber, your first job will most likely be to work as an assistant to an experienced plumber. You may continue working for the plumber you completed your apprenticeship with, or you can use resources like job boards and local classified ads to find permanent or contract work.
How can I learn more about becoming a plumber?
You can learn more about becoming a plumber by contacting your local plumbers' union. They can tell you about their apprenticeship program and help you determine what the requirements are for plumber licensure in your state.