Find an Online School
4,150
Degrees from
87
Schools
How to Become a Psychiatrist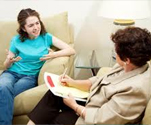 Psychiatrists are medical doctors who diagnose and treat mental health issues. They are familiar with the diagnostic criteria for all types of mental illnesses and can order and interpret laboratory tests and talk with patients to determine the cause of their issues. Psychiatrists use psychotherapy and prescribe medication to help their patients find balance in their mental health.
There are many specialties that psychiatrists can practice, including child, geriatric, or addiction psychiatry. They may also specialize in pain or sleep medicine.
What kind of training is required to become a psychiatrist?
For the first several years of their training, psychiatrists follow the same path as any other prospective physician. Psychiatrists must complete medical school, and to gain admission to medical school they must earn high scores on the Medical College Admissions Test and high grades in prerequisite undergraduate courses like chemistry, math, physics, and biology. In addition, some medical schools require work or volunteer experience in health care.
In the first few years of medical school, students complete coursework in the scientific basis of medicine and in the practice of medicine. They study the human body, from its organs and tissues down to its cells and their molecular structure, including DNA. Students also learn about pathology, immunology, and pharmacology. When learning about the practice of medicine, students focus on ethics, public health, epidemiology, and how to examine, interview, and build relationships with patients.
The last two years of medical school are spent completing several clinical rotations, or clerkships, in various health care settings and in various medical specialties. Several rotations are required, typically including pediatrics, psychiatry, critical care, primary care, and surgery. Students also choose elective clerkships, and prospective psychiatrists may choose electives like alcohol and drug treatment, child psychiatry, or crisis evaluation.
After graduation from medical school, doctors continue their training by completing at least one residency or fellowship that they are assigned through the National Resident Matching Program. Psychiatrists complete a four-year residency in their field, and some pursue further training after that.
Are there any certification or licensure requirements?
Psychiatrists, like all physicians, must be licensed to practice in their state. Becoming licensed typically involves completing a graduate medical program that includes clinical experience, completing a residency, and passing a licensing examination. Most states recognize the results of the United States Medical Licensing Examination.
Though it's not required for licensure, most psychiatrists pursue certification through the American Board of Psychiatry and Neurology. Becoming board certified involves passing written and oral examinations and demonstrates to employers and patients that a psychiatrist has met high standards for education, training, and experience.
How long does it take to become a psychiatrist?
It can take at least 12 years to become a psychiatrist: 4 years as an undergraduate, 4 years in medical school, and 4 years in a residency.
What does a psychiatrist earn?
According to the Medical Group Management Association, the median yearly pay for psychiatrists in the United States was $220,252 in 2012.
What are the job prospects?
The Bureau of Labor Statistics projects that employment of physicians, including psychiatrists, will grow by 18 percent between 2012 and 2020. The BLS predicts that physicians who specialize in treating health issues related to aging and those who are willing to practice in underserved urban and rural areas will have the best job prospects.
What are the long term career prospects for psychiatrists?
Psychiatrists continue to learn throughout their careers. Those who are board certified must complete continuing medical education to renew their certification every 10 years.
Many psychiatrists eventually start their own practice. The American Psychiatric Association offers guidance and resources to psychiatrists who want to manage their own practice.
Some psychiatrists may earn related PhDs in psychology or neuroscience and go into higher education and research.
How can I find a job as a psychiatrist?
Psychiatrists can search for jobs in hospitals, private practices, community health, or other health care facilities. Many employers use recruiters to locate psychiatrists to fill openings, and new psychiatrists may use placement agencies, like "locum tenens" agencies, which fill temporary job openings, to look for jobs.
Many psychiatrists also find work through their professional contacts. Medical students and residents meet a large number of health care professionals throughout their education and training, and this network of contacts should be a valuable source of information on job openings and career advice.
How can I learn more about becoming a psychiatrist?
You can learn more about mental health and the practice of psychiatry through the American Psychiatric Association website. The APA offers resources for the public, medical students, residents, and practicing psychiatrists. Many states and psychiatric specialties have their own associations as well.