Find a Real Estate Management School
How to Become a Real Estate Broker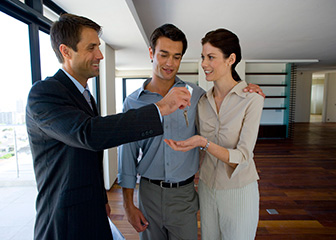 Real estate brokers guide their clients through the process of a real estate transaction. When representing a seller, a broker lists the property for sale, advertises the property, and arranges and oversees open houses and other viewings. When representing a buyer, a broker works with their client to determine their needs, locates properties that fit with the client's needs and budget, helps their client prepare their finances, and takes them to visit properties.
Brokers may employ sales agents to work with their clients and take care of many of the above tasks, but they are ultimately responsible for all transactions that come through their brokerage. They are paid a commission on the final sale and pass some of that commission on to the sales agent who worked on the transaction.
Brokers must have strong communication skills to succeed in their field. Throughout the process of a sale, they are in contact with their clients and with other brokers and sales agents, and when it is time to close a deal, they must negotiate on their client's behalf to ensure their needs are met. Because brokers work independently, they must also have strong business skills to attract potential clients, manage employees, and handle their brokerage's finances.
What kind of training is required to become a real estate broker?
To become a real estate broker, one must first gain experience as a real estate sales agent. Sales agents work for brokerages, helping their employer's clients buy, sell, or rent houses or other properties. In most states, sales agents train for their jobs by first completing a pre-licensing training course offered by a state-approved school. Students in pre-licensing courses learn about topics like real estate legal issues, ethics, real estate finance, contracts, taxes, and insurance. Once they complete their training and become properly licensed, sales agents can go to work for a broker.
Sales agents who have two or more years of experience in their job and want to become brokers can pursue additional training. Broker courses cover some of the same topics that sales agent courses cover, such as taxes and real estate finance. Prospective brokers also learn about the law as it applies to operating a brokerage, real estate investments, construction and development, property management, and business law.
Some brokers do not open their own brokerages right away and instead continue to work for a designated broker as an associate broker. Associate brokers typically perform the same duties as sales agents employed by a broker and do not hold the same responsibilities and liabilities that a broker who runs their own brokerage assumes. Working as an associate broker can give brokers valuable experience that they can put to use if and when they do start their own brokerage.
Are there any certification or licensure requirements?
Like real estate sales agents, brokers must be licensed by their state. To qualify for a broker license, one must first hold a valid real estate sales agent license and work under that license for a number of years. In many states, brokers must have two years of experience working as a sales agent, but some states require only one year of experience. Other states may require three.
In addition to meeting requirements for experience, prospective brokers must complete a training course that has been approved by their state. A broker training course can take several weeks to complete and can cover topics like real estate law, finance, agency law, contracts, and property management. At the conclusion of the course, students can take their state's broker licensing examination. Brokers who pass this examination may also be required to pass a criminal history background check to qualify for a license.
How long does it take to become a real estate broker?
Depending on their state's requirements, prospective brokers must spend one to three years working as a real estate sales agent before they can apply for licensure. It may take additional weeks or months to complete the required training course and pass the broker licensing examination.
What does a real estate broker earn?
The median hourly wage for real estate brokers in the United States was $28.05 in 2012. The lowest ten percent of brokers earned less than $12.32 per hour that year, and the top ten percent made more than $85.07.
Because brokers are paid on commission, their earnings depend on the amount and types of transactions they are able to complete for their clients. These earnings can fluctuate from month to month and from year to year depending on the housing market and the broker's success in attracting clients.
What are the job prospects?
The Bureau of Labor Statistics projects that employment of real estate sales agents and brokers will grow 11 percent between 2012 and 2020, about as fast as the average growth for all occupations during that time.
What are the long term career prospects for real estate brokers?
A broker's success depends on their ability to attract new clients. As they gain experience and build a larger network of contacts in their community, brokers can build a stronger reputation and grow their business. Brokers who attract a high volume of business may eventually hire sales agents to work for them.
How can I find a job as a real estate broker?
If you would like to start out as an associate broker, you may be able to continue working for the broker who employs you as a sales agent.
If you would like to start your own brokerage, you will need to find clients for your business. You can advertise your services in social media or in traditional media like local newspapers. You may also receive referrals from former clients.
How can I learn more about becoming a real estate broker?
You can learn more about becoming a real estate broker by talking to brokers in your area. You can also visit the National Association of Realtors website or seek out your state's association of realtors.