159
Degrees from
18
Schools
How to Become a Registered Nurse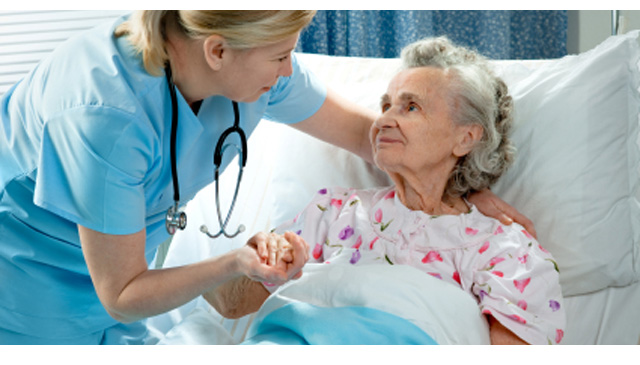 Registered nurses (RNs) provide care to patients in all kinds of health care settings. Working in a team with other nurses and physicians, registered nurses conduct physical examinations, take health histories, provide health education, take care of wounds and give medications, make critical health care decisions, and direct the care provided by nursing aides and licensed practical nurses.
Registered nurses work in hospitals, skilled nursing facilities, physicians' offices, and in home health care. They work all hours of the day and their job is often physically demanding.
What kind of training is required to become a registered nurse?
To become a registered nurse, one must have at least a diploma or associate degree in nursing, though a bachelor's degree in nursing (BSN) is becoming the preferred credential for the profession.
Diploma and associate degree programs take about two years to complete at full-time status. Students in these programs take courses in the scientific foundations of medicine, like anatomy and physiology, developmental psychology, and human development. They also learn about the fundamentals of nursing practice, including nursing skills, health assessment, nursing pharmacology, health care nutrition, and interpersonal relations. Nursing programs also focus on clinical practice, and students have many opportunities to care for patients in a variety of health care settings.
While it's possible to enter a BSN program directly from high school, many nurses first earn a diploma or associate degree so they can work as RNs while completing a bachelor's degree. For this reason, many colleges offer RN-to-BSN completion programs. These programs are typically flexible to accommodate nurses' working schedules, and many courses are available online. Students in RN-to-BSN completion programs take courses in nursing research, health policy, health care leadership and management, and health care statistics in addition to general education courses. RN-to-BSN students also complete a clinical practicum toward the end of their program.
Students who enter BSN programs after high school graduation take a combination of general education courses plus in-depth courses in nursing theory and practice. They also complete a clinical practicum, treating patients under the supervision of experienced nurses in health care settings.
Are there any certification or licensure requirements?
RNs must be licensed by their state to treat patients. Obtaining a license typically involves completing a state-approved diploma, associate, or bachelor's degree program in nursing and passing the National Council Licensure Examination (NCLEX-RN).
Organizations like the American Nurses Credentialing Center offer voluntary certifications in different areas of nursing practice. Nurses who have met experience and continuing education requirements can take an exam to earn certification in specialty areas like ambulatory care, diabetes management, home health nursing, pain management nursing, or pediatric nursing. Earning a certification shows prospective employers that nurses have met high standards for education and experience in their field.
How long does it take to become a registered nurse?
It usually takes two years to complete a diploma or associate degree program in nursing, and once graduates pass the licensing examination, they can begin working as RNs. Prospective RNs who first complete a bachelor's degree in nursing will take four years to finish their education and begin working as RNs.
What does a registered nurse earn?
The median yearly pay for RNs in the United States was $65,470 in 2012. The top ten percent of RNs made more than $94,720 and the lowest ten percent of earners made less than $45,040 that year.
Nurses who have BSNs are generally more qualified for higher-paying jobs.
What are the job prospects?
The Bureau of Labor Statistics projects that employment of registered nurses will grow by 19 percent between 2012 and 2020, faster than the average growth for all occupations. Growth in the nursing profession will be driven by the need to care for an aging population, by increased access to health insurance and health care, and by a rise in the use of outpatient care facilities to provide health care. The BLS predicts that RNs who have bachelor's degrees in nursing will have better job prospects than those will diplomas or associate degrees.
What are the long term career prospects for registered nurses?
Nurses with experience can advance into supervisory roles in their hospital, practice, or health care facility or qualify for better paying jobs with new employers.
RNs who return to school to earn master's degrees in nursing can become advanced practice registered nurses (APRNs) such as clinical nursing specialists and nurse practitioners. APRNs are part of a growing trend of health professionals who are not physicians providing primary care to patients.
RNs may also go into higher education training the next generation of nurses.
How can I find a job as a registered nurse?
Most nurses work in hospitals, but you can also seek work in physicians' offices, residential facilities, and outpatient care facilities. Networking is an important part of finding any job, and nurses should make connections throughout their education and clinical experiences. Your professional connections can be helpful sources of information on job opportunities in your area.
Some nurses find work through nursing staffing and placement agencies. Placement agencies may be particularly useful for nurses who want to work in home health care.
How can I learn more about becoming a registered nurse?
You can learn more about becoming a registered nurse through organizations like the American Nurses Association and the National Student Nurses Association. Several specialty nursing associations exist as well, such as the American Association of Critical Care Nurses, the American Holistic Nurses Association, and the Society of Pediatric Nurses. These associations can help you explore different areas of nursing practice.
You can also learn about the profession by talking to a registered nurse. A practicing RN can tell about the education and training they completed and about the rewards and challenges of their job.