Find a Social Work School
35
Degrees from
14
Schools
How to Become a Social Worker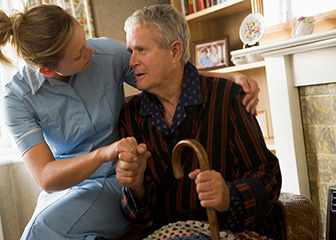 Social workers help people from all walks of life find solutions to their problems and access needed services. They work with children, the poor, and the elderly, as well as those who are dealing with mental illness and other health problems.
Social workers with significant education and training can provide clinical therapy and counseling services to people struggling with mental health, social, or emotional problems. Non-clinical social workers can help and advocate for people in many settings, including community health centers, child welfare agencies, correctional facilities, employee assistance programs, drug and alcohol treatment programs, veteran's agencies, and nursing homes.
Social workers may also work at a systems-level as community organizers, program coordinators, legislative aides, or policy analysts. This type of social work involves focusing on larger issues instead of directly with individuals.
What kind of training is required to become a social worker?
Most entry-level positions in social work require a bachelor's degree. Although there are a few exceptions, the majority of these jobs require a degree in social work, as these programs best prepare students for the experiences they will have in their field. In fact, many states protect the title "social worker" to include only those who have graduated from a social work program that is accredited by the Council on Social Work Education (CSWE).
Social work students take courses in topics like sociology, psychology, cultural diversity, social work statistics, and social work practice.
Most social work programs also emphasize volunteering and field work. Students typically complete a semester-long field practicum that puts them in direct contact with clients in an agency setting. Under the supervision of experienced social workers, students learn how to communicate with clients, identify their problems, and help find solutions and locate resources.
Social workers who want to provide clinical services will need a master's degree in social work. Master's degree programs include coursework in human behavior and the social environment, social justice, diversity, social work practice, and social welfare policy and research. Students may also take elective courses in topics like clinical practice with children, couples, substance abusers, immigrants and refugees, or families. Field experiences also play a large role in master's degree programs, and students are expected to complete hundreds of hours of supervised practice in community settings.
Are there any certification or licensure requirements?
All states license social workers in some way. Many states require different licenses for social workers who have bachelor's degrees and those who have master's degrees. The former is known as a licensed bachelor's or baccalaureate social worker (LBSW) and the latter is known as a licensed master's social worker (LMSW).
To qualify to become an LBSW, social workers must complete a bachelor's degree program in social work that is recognized by their state, typically one that is accredited by the Council on Social Work Education. Candidates must also pass an exam and accrue thousands of hours, usually two years'-worth, of post-degree work experience.
LMSWs must meet similar requirements. They must earn a master's degree from an accredited program, pass a licensing exam, and gain two years experience working under the supervision of another LMSW. Students with an accredited bachelor's of social work degree can apply for an advanced standing master's in social work program, which can be completed in a single year instead of the standard two.
In order to obtain their license, clinical social workers must also earn a master's degree in social work, in addition to two years of direct clinical social work experience upon graduation from their program.
How long does it take to become a social worker?
Social workers who work in non-licensed roles can start their careers after they complete a bachelor's degree, which usually takes four years. Becoming an LBSW can take two more years because states require these social workers to gain working experience before they can become licensed.
LMSWs and licensed clinical social workers will take an additional one or two years to complete a master's degree, plus two or three more years of working experience to become licensed.
What does a social worker earn?
The median yearly pay for social workers in the United States was $44,200 in 2012. Social workers who practiced in hospitals and educational services made the highest median wages that year.
What are the job prospects?
The Bureau of Labor Statistics projects that employment of social workers in the United States will grow by 19 percent between 2012 and 2020, making it one of the faster-growing professions in the nation. The BLS predicts that social workers who focus on health care and substance abuse issues will have the best job prospects over the next several years.
What are the long-term career prospects for social workers?
LBSWs who want to advance their careers can earn master's degrees and become licensed master's social workers to move into supervisory roles in their agencies or open independent practices.
Some social workers pursue PhDs in social work and transition into research and higher education. Others with significant education and experience may advance into administrative roles and help set policy in governmental and health care agencies.
How can I find a job as a social worker?
Social workers can practice in a wide range of health care and social service settings, so job seekers should cast a wide net when looking for work. You can seek work in hospitals, schools, mental health clinics, inpatient care facilities, nursing homes, correctional facilities, and social welfare agencies, for example.
Graduates of social work programs who are interested in broader issues can also seek work at nonprofit organizations, think tanks, and government agencies.
Because social work programs emphasize volunteering and field work, graduates should enter the job market equipped with a large network of professional contacts to consult for career advice and information about job openings.
How can I learn more about becoming a social worker?
Both the National Association of Social Workers website and the Council on Social Work Education website offer resources for students and those interested in joining the profession. Each state has its own chapter of the NASW, and associations also exist to serve professionals in different areas of social work practice, such as the School Social Work Association of America and the Clinical Social Work Association. Specialty associations may offer information on the challenges and opportunities specific to that area of practice.