Find a Sports Management School
49
Degrees from
13
Schools
How to Become a Sports Agent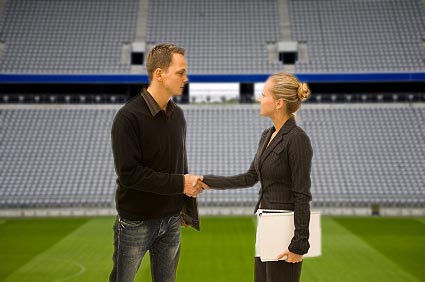 Sports agents help athletes plan their careers. One of their most basic duties is to handle contract negotiations between athletes and sports franchises or event promoters.
Agents also help athletes set goals for their careers, find teams and events that fit with those goals, manage their finances, negotiate endorsement deals, handle public image issues, set up charitable foundations to advance the athlete's causes of interest, and prepare for careers after they retire from their sport.
What kind of training is required to become a sports agent?
Many agents enter the profession with law or business training. Because part of their job is negotiating contracts, being trained as an attorney can help sports agents gain an edge for their clients. Attorneys attend school for eight years, including undergraduate education and law school. After graduating from law school, attorneys must pass their state's bar exam before they can start practicing law. Lawyers who are thinking about entering sports management can get started by studying contract and sports law.
Prospective sports agents who want to enter the field with a business background can complete a degree in sports management. These programs are typically offered by business schools, and, for the most part, lead to master's degrees or MBAs. Some schools do offer undergraduate majors or minors in sports management, however.
Students in sports management programs take courses in topics like sports ethics, sports business and finance, sports economics, brand management, marketing strategy, event planning, and sports law, contracts, and negotiation. Students may also complete one or more internships in a sports management setting.
Are there any certification or licensure requirements?
Most states require agents who represent student athletes to register with the state and comply with the Uniform Athlete Agents Act (UAAA). Registering with the state typically involves completing paperwork and paying a fee, but agents may be required to purchase insurance or a surety bond as well. The National Conference of Commissioners on Uniform State Laws, which created the UAAA, is considering revisions that will extend the act to include agents who represent professional athletes.
How long does it take to become a sports agent?
It can take years to build the experience and professional network necessary to land clients. Sports agents who start out as lawyers spend eight years on their undergraduate and graduate education, and may practice law for some time before entering the profession. Those who complete a sports management degree can take four to six years to enter the workforce, and it may be necessary to gain some experience in the sports industry before one can begin working as an agent.
What does a sports agent earn?
The median yearly salary for agents and business managers of artists, performers, and athletes in the United States was $63,370 in 2012.
What are the job prospects?
The Bureau of Labor Statistics projects that employment of agents and business managers will grow by 10 percent between 2012 and 2020, which is about as fast as the average for all occupations.
What are the long term career prospects for sports agents?
Successful agents may go on to become partners in a sports management agency or even start their own agency.
How can I find a job as a sports agent?
There are hundreds of sports management agencies across the country that specialize in different kinds of sports, including professional sports and Olympic sports. Contact some agencies that interest you to see what openings may be available. Gaining some related experience in the sports industry, starting out as an assistant to a sports agent, or completing an internship can help you get your foot in the door.
How can I learn more about becoming a sports agent?
The Sport Agents Blog is a helpful resource for those who are thinking of becoming sports agents. Here you can find a list of sports management agencies by state or by sport, interviews with professionals in the industry, and links to internship opportunities.