Find an Online School
2,937
Degrees from
74
Schools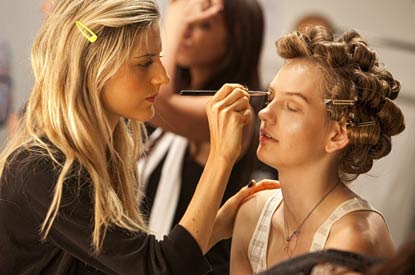 Stylists, or hairdressers, work with their clients to give them the hair cut, style, and color they desire. They are skilled in various techniques and processes related to hair styling, such as cutting, drying, straightening, curling, perming, relaxing, braiding, highlighting, and coloring.
They are familiar with many different types of hairstyles and know how to create a hairstyle that works with their client's hair type and facial features. Clients often come to hair stylists with an idea of what they would like to do with their hair, and stylists should be able to work with their clients to create a style that meets their expectations.
What kind of training is required to become a stylist?
Stylists learn their craft by attending a cosmetology school or vocational program that has been approved by their state. Stylists in all states must have a license to practice, and to earn their license, they must complete one of these training programs. A cosmetology program can take anywhere from 6 to 18 months to complete.
Cosmetology programs teach students how to cut, color, and style hair. Students learn by working with real clients who visit the school for discounted services. Through this process, they learn the skills they need to become licensed and they learn how to communicate with customers and create a style that meets their needs.
Students in cosmetology programs learn about more than just hair. Makeup, makeup application, nail care, and skin care are all parts of a cosmetology curriculum. While studying these topics, students learn about facial structure, color theory, applying facials, nail shaping, and performing manicures and pedicures.
Some states allow hair stylists to receive their training through an apprenticeship. Apprentices work under the supervision of a licensed stylist, and they are paid for the work they perform while they are learning. Apprenticeships typically last around two years, and apprentices may be required to supplement their training with classroom instruction during this time.
After graduation from cosmetology school or completion of an apprenticeship, stylists can pursue their state license and begin to work, but many continue to pursue training to learn new skills and techniques and stay abreast of current trends. Many hair academies and cosmetology schools offer advanced training for licensed, experienced stylists. A stylist may attend advanced training to learn more about braiding techniques or to learn a special technique for cutting curly hair, for example.
Are there any certification or licensure requirements?
All states require hair stylists to hold a license, but the requirements to earn a license differ by state. In general, stylists must hold a high school diploma, complete a state-approved cosmetology program or apprenticeship, and pass a licensing examination.
Some states license hair stylists as cosmetologists, while others license cosmetologists and hair stylists separately. A cosmetology license covers services in addition to hair styling, such as nail care and makeup application. In states where hair stylists must have a cosmetology license, they must complete around 1500 to 2000 hours of instruction or complete an apprenticeship that meets their state's standards. States that offer separate hair stylist licenses typically require fewer hours of instruction.
To earn their licenses, hair stylists must pass a practical exam, which requires applicants to perform certain hair cutting and styling skills on a mannequin. Applicants may be expected to cut, dry, curl, and apply chemical treatments that color, relax, and permanently curl hair. While demonstrating their skills, applicants should also demonstrate proper workplace safety and sanitary procedures.
How long does it take to become a stylist?
It can take several months to complete a cosmetology program or two years to complete a hair stylist apprenticeship. Some states allow hair stylists to work while meeting the requirements for their license, but stylists in other states must wait until they pass their licensing exam and obtain their license before they can seek work.
What does a stylist earn?
The Bureau of Labor Statistics groups hair stylists with hairdressers and cosmetologists, and the median hourly wage for this group was $10.91 in 2012.
What are the job prospects?
The Bureau of Labor Statistics projects that employment of hair stylists will grow 13 percent between 2012 and 2020, about as fast as the average growth for all occupations. Competition for positions at upscale salons will be strong, and experienced stylists should have the best prospects for these jobs.
What are the long term career prospects for stylists?
Stylists with experience, additional training, and a strong reputation and client base can earn jobs at high end salons and charge more for their services. Some hair stylists open their own salons or go into education, training new hair stylists at hair academies and cosmetology schools.
How can I find a job as a stylist?
Before you begin your job search, you should put together a professional looking portfolio of hair styles you've created. Your portfolio should demonstrate a wide range of skills. If you are just starting out, you can include work you've completed as a student. You can also ask friends and family to allow you to cut and style their hair so you can include a photo in your portfolio.
You can find hair stylist jobs posted on general job websites and on job websites geared toward the beauty industry. You may also be able to find a job through your cosmetology school, as many schools offer job placement services for graduates. Some schools are affiliated with certain salon chains, and you may be able to find work in one of these salons after graduation.
How can I learn more about becoming a stylist?
You can learn more about becoming a stylist by talking to hair stylists in your area. They can tell you about their training and about their experiences in the beauty industry. Making connections with stylists in your community has the added benefit of building your professional network, which can help when it is time to look for a job.