Find a Hospitality Management School
12
Degrees from
8
Schools
How to Become a Wedding Planner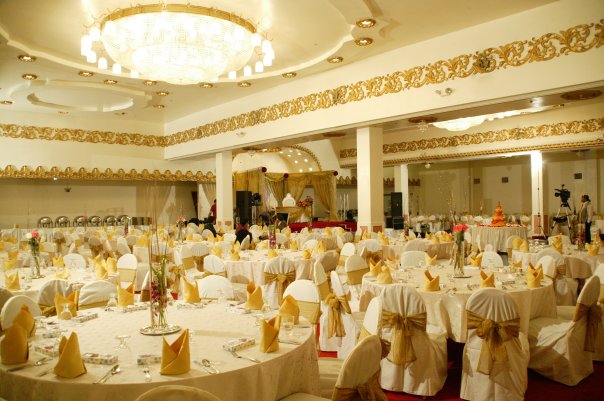 Wedding planners help couples plan the events surrounding their wedding. Weddings encompass more than just the marriage ceremony, and couples use the services of wedding planners to help them find and book venues, caterers, florists, officiants, photographers, and musicians. Wedding planners also help make sure the events of the day go on as planned by setting a timeline and making sure all members of the wedding party follow it.
A wedding planner's clients tell him or her what kind of wedding they want, and the wedding planner helps them set a budget and find the right venues and vendors to fit with the couple's vision.
What kind of training is required to become a wedding planner?
Some wedding planners learn on the job, but others take training courses through private schools and community colleges. Students in wedding planning courses learn how to create and work with budgets and contracts. They also learn about current fashion, etiquette, and event design. Prospective wedding planners must also know how to find and work with vendors like photographers, videographers, caterers, DJs, and bands. Many wedding planners work for themselves, so training courses also cover business topics like public relations, marketing, pricing, and billing.
Students in some wedding planner training courses have opportunities to help plan a wedding for a client.
Are there any certification or licensure requirements?
Wedding planners are not required to become licensed to take on clients, but those who are working independently may need to register as a business with their state.
Some wedding planners choose to become certified to show potential clients that they have completed some training in their field. Wedding planner certifications are offered through organizations like the Association of Bridal Consultants, the American Association of Certified Wedding Planners, and the Association of Certified Professional Wedding Consultants.
Certification courses can be taken from home or in a classroom. Many organizations certify wedding planners at different levels, and certification may require planning and receiving letters of recommendation for a certain number of weddings.
While certification is not required, it can be beneficial, because employers may prefer to hire someone who is certified, and couples may use the certifying agency's website to find a certified planner.
How long does it take to become a wedding planner?
Wedding planner training courses can take anywhere from a day to a few months to complete. Planners who complete training courses and want to become certified may take several months to plan enough weddings to qualify for certification.
What does a wedding planner earn?
The Bureau of Labor Statistics (BLS) groups wedding planners with meeting, convention, and event planners, and the median yearly pay for professionals in this group was $45,810 in 2012.
PlannersLounge.com reports that wedding planners with one to four years of experience can expect to earn between $14,795 and $73,047. Generally, as wedding planners gain experience and can show potential clients positive feedback from past work, they earn a higher salary.
What are the job prospects?
The BLS projects that employment of event planners will grow by 33 percent between 2012 and 2020, making this one of the faster-growing professions in the United States.
What are the long term career prospects for wedding planners?
As they gain experience, wedding planners can take on more elaborate weddings with bigger budgets and earn a higher salary. Becoming a successful wedding planner also depends on one's business skills, as planners need to promote themselves to expand their customer base.
Wedding planners who go to work for a venue or event planning company may eventually gain enough experience to become event coordinators.
How can I find a job as a wedding planner?
Some wedding planners work for event planning companies, and these companies may prefer to hire planners with training, certification, and experience. If you completed a wedding planner certification program, your school may offer job placement assistance. You can start your career as an assistant or intern with a company that plans weddings.
You can also seek work with a venue that caters to weddings. Many couples who don't hire their own wedding planner use the services a planner employed by the venue they choose for their ceremony or wedding reception. Without some experience, you may not be able to land a job right away as an event coordinator, but you can start out as an assistant.
If you go to work for yourself, all you need to start is a client. Successfully planning weddings can lead to referrals and new customers. As you gain some experience, you will be able to show potential clients examples of your past work.
How can I learn more about becoming a wedding planner?
You can learn more about becoming a wedding planner through the various certification agencies that exist for the profession, such as the American Association of Certified Wedding Planners, the Association of Certified Professional Wedding Consultants, and the Association of Bridal Consultants.
Websites like PlannersLounge.com and TheWeddingPlannerBook.com offer helpful resources to those who are thinking about a career in wedding planning.