Find an Online School
2,937
Degrees from
74
Schools
How to Become a Yoga Instructor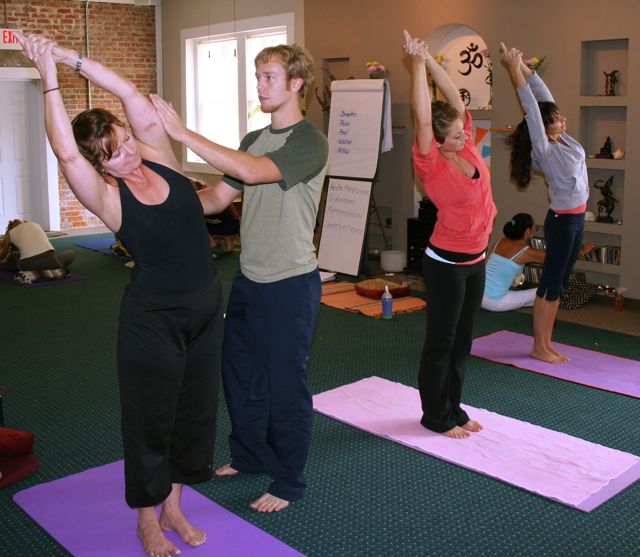 Yoga is a system of physical and mental wellness that was developed more than 5,000 years ago in India. There are many variations of yoga practiced around the world, including hatha yoga, which is the variation most commonly practiced in the United States.
Yoga instructors help practitioners learn and master the techniques of yoga, including breathing, meditation, and exercise.
What kind of training is required to become a yoga instructor?
Yoga instructors are typically skilled practitioners of a yoga variant. They may receive their training through a school or under the guidance of a mentor whose philosophy they find appealing. There is more to teaching yoga than being a skilled practitioner, however, and prospective instructors must also learn how to lead a class and guide students.
There are many schools across the country that offer training programs to those who want to become instructors. These programs can cost anywhere from $1,500 to $3,000 and can last several weeks or several months.
Part of an instructor's training focuses on helping students avoid injuries. Instructors learn about human anatomy and physiology and proper alignment for each yoga pose. They also learn how to read their students' bodies and to use touch to guide them into proper position.
Students who are training to become instructors also learn how to lead a class. Instructors must know how to design a sequence of poses, how to use their voice effectively, and how to build a teacher-student relationship, for example.
Some training programs also focus on business and marketing skills, as instructors are often self-employed, either freelancing with existing studios or opening their own.
Are there any certification or licensure requirements?
State governments do not require yoga instructors to obtain a license to teach students, but instructors can pursue voluntary certifications and designations. There are many different types of yoga practice and philosophy, and schools that train instructors in a certain philosophy may offer a certification to those who complete their program. These certifications can be attractive to potential employers and clients who are looking for an instructor who has been trained in a specific type of yoga practice. Some organizations, like the Yoga Alliance, do not offer certifications, but register yoga instructors who have gained a certain amount of training and teaching experience.
Many states are moving toward requiring yoga schools who train instructors to become licensed. Yoga instructors who open their own schools and train new instructors will have to meet these requirements, which include paying a fee and passing a site inspection, when the time comes.
How long does it take to become a yoga instructor?
It can take anywhere from several weeks to several months to complete an instructor training program, but instructors may spend months or years as a yoga student before they are ready to learn how to teach.
What does a yoga instructor earn?
The US Bureau of Labor Statistics groups yoga instructors with other fitness trainers and instructors. Their data show that the median yearly pay for fitness trainers in the United States was $31,720 in 2012.
A yoga instructors' pay typically depends on the number of students in the classes they teach. Yoga studios often pay instructors on commission, giving them a set amount for each student in a class, so an instructors' wages can fluctuate from month to month and year to year.
What are the job prospects?
The BLS projects that employment of fitness trainers and instructors will grow by 13 percent between 2012 and 2020, about as fast as the average for all occupations.
Earning a certification or becoming a registered instructor may help one's job prospects with studios and clients who are looking for instructors with these qualifications. Having some business savvy can help as well, as instructors can gain clients by marketing themselves effectively.
What are the long term career prospects for yoga instructors?
Yoga instructors who gain experience and build a strong reputation in their community can attract more clients and charge higher rates for their services. Some instructors are eventually able to open their own yoga studios and may even train new instructors.
Many instructors find it difficult to live only on the wages earned from teaching, and may supplement their income in other ways.
How can I find a job as a yoga instructor?
Many yoga instructors are self-employed and either own their own studios or contract with existing studios and other organizations. The Yoga Journal recommends contacting health clubs, spas, bodywork studios, complementary medicine practices, religious institutions, and community organizations to offer your services as a yoga instructor. Nursing homes, hospitals, schools, and businesses may also be interested in hiring you to provide instruction to their residents, patients, students, and employees, respectively.
The Yoga Journal also recommends marketing yourself to reach a wide audience of potential clients. You can hand out flyers, build a website, contact local media, and offer free workshops to get your name out in your community. Establishing a social media presence can be helpful as well.
How can I learn more about becoming a yoga instructor?
There are many resources, both online and in print, for yoga practitioners and instructors. You can start your investigation with the Yoga Alliance, which is an organization committed to raising the standards of the profession. The Yoga Journal offers many resources for teachers, as well.
You can also go out in your community and talk to different kinds of yoga instructors. Contact teachers who practice different yoga disciplines to learn about the training they've completed to reach their current level of practice.