Find an Online School
4,150
Degrees from
87
Schools
How to Become an Air Traffic Controller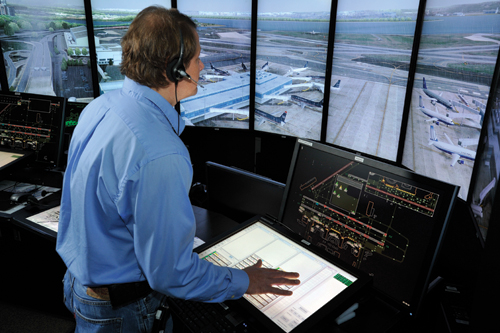 Air traffic controllers help guide planes both in the sky and on the ground. They use technology that allows them to see all air traffic in a given area, and it is their responsibility to coordinate that traffic to ensure each flight takes off, lands, or passes through safely. Air traffic controllers communicate with pilots, telling them when to take off and land, and alerting them to issues with the weather and on the ground at the airport. They also direct the activities of airport personnel on the ground.
Different kinds of air traffic controllers have their own sets of responsibilities and work in different settings. Those who work in airport control towers may be responsible for directing activity on the runway or for making sure planes in the sky stay a safe distance away from each other. Others work in air traffic control centers between airports monitoring and guiding the traffic going through their airspace.
What kind of training is required to become an air traffic controller?
Air traffic controllers go through two phases of training. The first phase is typically completed through a program approved by the Federal Aviation Administration's (FAA) Air Traffic Collegiate Training Initiative(AT-CTI). 36 schools across the country are approved through AT-CTI to offer associate, bachelor's, and master's degree programs for prospective air traffic controllers.
If you are interested in entering an AT-CTI program, you should first make sure you can meet the FAA's standards for the employment of air traffic controllers. Air traffic controllers must be United States citizens, be younger than 31 years of age when they are first hired, and pass a criminal history background check and a medical exam that includes vision, color vision, hearing, psychological, substance abuse, cardiovascular, and neurological screenings.
Associate degree-level AT-CTI programs typically focus closely on air traffic control, but bachelor's and master's degree programs widen their focus to aeronautics, aviation management, or aviation technology. Students in associate degree programs take courses in topics like aviation weather, aviation law, basic navigation and flight operations, air traffic control technology, radar, and human factors. Students in bachelor's and master's degree programs take these courses but also delve more deeply into aviation science and branch into computer science, management, or research.
Graduates of AT-CTI programs must receive a recommendation from their school and pass the FAA's bio-data assessment and Air Traffic Selection and Training Test to move on to the next step in the training process. Based on the results of these tests, the FAA hires a group of graduates to continue their training at the FAA Academy. At the FAA Academy, air traffic controllers receive intensive training that includes classroom instruction and work on air traffic control simulators. Students who complete this training program are assigned to a job location where they continue their training while working.
Are there any certification or licensure requirements?
Air traffic controllers must be certified by the FAA, and they earn certification by passing a knowledge and practical exam and meeting experience requirements. The experience requirement is met through on-the-job training after graduation from the FAA Academy.
How long does it take to become an air traffic controller?
There are several steps along the way to becoming an air traffic controller, so the amount of time it takes to become one varies by individual. The FAA requires prospective air traffic controllers to have three years of working experience in a field related to aviation, but this experience requirement can be met by completing a bachelor's degree, which typically takes four years. FAA Academy training takes two to five months to complete depending on one's experience, and it can take two to four years of on-the-job training to become fully certified. Some may become fully certified in as few as five years, while others can take eight years or more.
What does an air traffic controller earn?
The median yearly pay for air traffic controllers in the United States was $122,530 in 2012. Air traffic controllers are paid $17,803 while training, and $37,070 when they are first placed in a job, so it can take years of additional training and experience to reach the median salary.
What are the job prospects?
Between advances in technology and budget concerns, employment of air traffic controllers in the United States is expected to grow only 1 percent between 2012 and 2020. Any new hires made by the FAA will be to replace retiring air traffic controllers, who in most cases must leave the field at the age of 56.
Younger candidates who have completed an AT-CTI program, have related working experience, and are willing to relocate have the best chances of earning a job in this field.
What are the long term career prospects for air traffic controllers?
Air traffic controllers who gain experience and additional training can earn ratings that allow them to work in more complex roles and in busier control towers and traffic control centers. Those with significant experience can train the next generation of air traffic controllers.
How can I find a job as an air traffic controller?
All air traffic controllers are employed by the FAA and all openings are posted on the USAJOBS website. Prospective controllers are expected to complete their education, pre-training, and testing, and then wait for an opening to apply.
How can I learn more about becoming an air traffic controller?
You can access the FAA's frequently asked questions for air traffic controller training and hiring through their Aviation Careers web page. The FAA's Air Traffic Controller Workforce Plan may also be a useful source of information on the future of the profession.