Find an Online School
3,120
Degrees from
74
Schools
How to Become an Anesthesiologist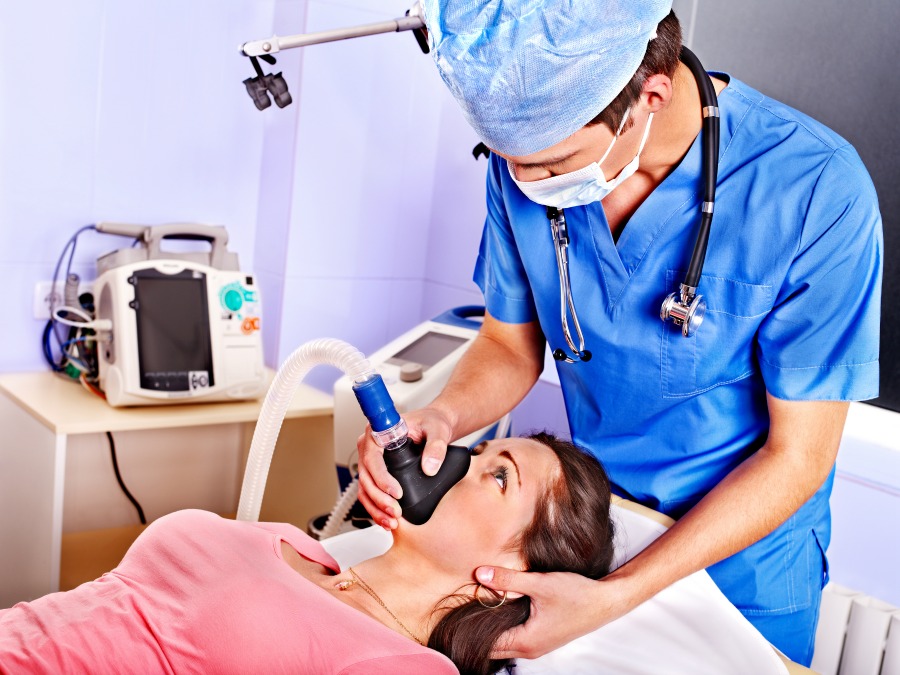 Anesthesiologists are doctors who design and implement plans to usher patients safely through surgery.
An anesthesiologist will meet with you before surgery to assess your health and readiness, administer anesthesia to dull or eliminate pain before surgery, monitor your vital signs and adjust anesthesia during surgery, and oversee pain management and safe recovery after your procedure.
What kind of training is required to become an anesthesiologist?
To become an anesthesiologist, you must start with a bachelor's degree. Your goal is medical school, so your undergraduate course of study should prepare you with a broad base of knowledge in the sciences and liberal arts, and you should take the Medical College Admission Test (MCAT) before graduation. Earning a high score on the MCAT and volunteering or completing internships in health care can increase your chances of being accepted by the medical school of your choice.
Medical school typically takes four years to complete. The first two years consist mostly of classroom and laboratory learning, and the last two years are spent learning clinical practice under the supervision of medical professionals in a variety of health care settings.
After medical school, prospective anesthesiologists complete a four-year anesthesiology residency. Medical school graduates in the United States are matched with residencies through a national system called the National Residency Matching Program (NRMP). Residents train with highly skilled medical school faculty to learn how to practice their chosen specialty. Some doctors follow their residency with a fellowship to further train in anesthesiology specialties like pain management, pediatric anesthesiology, or obstetric anesthesiology.
Are there any certification or licensure requirements?
After completion of a residency program, an anesthesiologist can obtain a license to practice medicine in their state and complete certification with the American Board of Anesthesiology. Not all anesthesiologists hold board certification, but a state license is required to practice medicine.
Each state has its own requirements for physician licensure, but they generally involve completing medical or osteopathy school, spending at least one year in a residency program, and passing licensing examinations. The multi-step United States Medical Licensing Examination (USMLE) and the examinations administered by the National Board of Osteopathic Medical Examiners (NBOME) are typically used by states to license physicians.
To earn ABA certification, anesthesiologists take three exams:
The BASIC exam is taken after the second year of residency and focuses on the scientific basis of anesthesiology practice.
The ADVANCED exam is taken after completion of the residency and focuses on clinical and advanced aspects of anesthesiology practice.
The APPLIED exam includes oral and clinical examinations and can be taken after candidates pass the ADVANCED exam. Anesthesiologists have seven years after completion of their residency to pass this exam.
How long does it take to become an anesthesiologist?
Counting four years of undergraduate study, four years of medical school, and four years of residency, it takes twelve years to become an anesthesiologist. Some medical students enroll in combined six-year undergraduate and medical school programs, which can reduce the time needed to begin a career.
Additional time may be needed after completion of the residency to pursue fellowships or to achieve state licensure or board certification.
What does an anesthesiologist earn?
According to the Bureau of Labor Statistics, the average yearly pay for anesthesiologists in the United States was $232,830 in 2010. The median yearly pay was $407,292 in that year.
What are the job prospects?
Job growth for physicians is expected to increase by 24% between 2010 and 2020, faster than the average for all occupations during that time period. More physicians, including anesthesiologists, will be needed to meet the needs of the aging baby boomer generation and to work in underserved low-income and rural areas. Anesthesiologists can enhance their job prospects by earning board certification and by pursuing advanced specializations through fellowships.
What are the long-term career prospects for anesthesiologists?
Anesthesiologists can continue to learn about advanced topics in their field as they practice and pursue additional board certifications in specialties like critical care medicine, pain medicine, hospice and palliative medicine, sleep medicine, and pediatric anesthesiology.
Another career option for anesthesiologists is to branch out into higher education and research. You can pursue grants to fund research that will contribute new knowledge to your field.
How can I find a job as an anesthesiologist?
Most of the United States' more than 29,000 anesthesiologists practice in physicians' offices, but anesthesiologists can also find work in hospitals, colleges and universities, and outpatient care centers.
During their years of training, anesthesiologists make many professional contacts and may learn about job opportunities through their network. Anesthesiologists may also find jobs through physician recruiters, which are often used by hospitals and practices to fill openings. Professional publications and societies like the Journal of the American Medical Association and the American Society of Anesthesiologists offer job boards and other career resources.
How can I learn more about becoming an anesthesiologist?
There are many professional boards and societies associated with anesthesiology, including the American American Society of Anesthesiologists, the , the Association of University Anesthesiologists, the Foundation for Anesthesia Education and Research, and the Society for Education in Anesthesia.
Each of these organizations offers resources for those who want to learn more about the practice of anesthesia and how to become an anesthesiologist.