15
Degrees from
7
Schools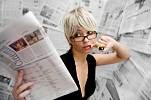 Editors read pieces written for publication and edit them with an eye for spelling, grammar, punctuation, and style. They work with writers to help shape their work into a piece that fits with the writer's vision or with the vision of the publication the editor works for.
A copy editor is typically responsible only for editing individual pieces. Editors at publishing houses work closely with authors, not only editing their work, but ushering that work through the publishing process.
Managing editors of publications like newspapers, magazines, journals, and websites are responsible for guiding the day-to-day activity of the publication, choosing pieces for print, or assigning work to staff and freelance writers. Assistant editors of print or online publications are responsible for managing these tasks within their department.
An executive editor of a publication sets its vision and direction and makes hiring decisions and chooses pieces that fit that vision. Executive editors are also responsible for managing their publication's budget.
What kind of training is required to become an editor?
There is no set educational or training path to becoming an editor, though most editors have at least a bachelor's degree in some subject. Many editors have degrees in English, communications, or journalism, but a degree in any field can be a good start for a career as an editor, especially for editors who focus on writing in their area of expertise. An editor with a degree in biology, for example, may be a good fit for a nature magazine.
While they can come from diverse educational backgrounds, editors are often well-read and familiar with one or more style guides. Editors at specific publications are expected to edit pieces following their publication's chosen style guide. News editors may be required to edit pieces to conform to the Associated Press Stylebook, while an editor of a scientific journal may refer to the American Medical Association Manual of Style.
Some colleges and universities offer degree or certificate programs in editing and publishing. These programs are often offered at the graduate level and include coursework in grammar, research, and fact-checking. Depending on their interests and career goals, students may take elective courses that focus on magazine editing, book publishing, book manuscript editing, or online media.
In addition to any formal education they've completed, editors learn their craft by practicing and gaining on-the-job experience. Some editors get their start by completing internships with magazines, journals, and publishing houses. Others start out with entry-level clerical jobs with publications and publishing houses so they can learn about the business from the inside. Freelance work is another option for those who want to gain experience editing. New editors can start out with small jobs and learn how to work with clients and practice their editing skills.
Are there any certification or licensure requirements?
There are no certification or licensure requirements to work as an editor.
How long does it take to become an editor?
It takes most people around four years to earn a bachelor's degree. Those who pursue graduate publishing or editing degrees or certificates will take another year or two to complete their education. Those who want to work with publications or in publishing houses may have to spend some time completing internships or working in entry-level positions before landing an editing job. Freelance editors can begin seeking clients at any time, but it may take time to build a portfolio that will attract bigger clients.
What does an editor earn?
The median yearly pay for editors in the United States was $53,880 in 2012. The lowest ten percent of earners made less than $29,340 and the top ten percent earned more than $104,660 that year.
What are the job prospects?
The Bureau of Labor Statistics projects that employment growth for editors in the United States will be flat between 2012 and 2020. Employment of editors in traditional media is expected to decrease, but gains made in online media should act as a balance to these job losses. The BLS predicts that competition for jobs in print media will be very strong and that job prospects will be best for those who are comfortable with online media and digital publishing tools.
What are the long term career prospects for editors?
As they gain experience, editors can advance into positions of greater responsibility within their publication or publishing house, possibly becoming assistant, managing, or executive editors. Editors may also move on to larger, more prestigious publications. Freelance editors can attract bigger jobs and higher-paying clients as they gain experience and build a more impressive portfolio of work and make more contacts in the field.
How can I find a job as an editor?
If you are looking for your first editing job and want to work for a publication or publishing house, you can gain experience and make contacts by taking on internships or taking entry-level clerical jobs. Competition for jobs in traditional and online media can be strong, and you will increase your chances of landing a position by first building a professional network of experienced editors who are familiar with you and your work.
If you are interested in pursuing freelance editing work, there are many websites devoted to connecting freelancers, including editors, with potential clients. Some editorial associations host job boards on their websites as well. If you don't yet have a portfolio of work to show clients, you can start by taking on small jobs.
How can I learn more about becoming an editor?
If you want to learn more about becoming an editor, you can seek out groups like the Editorial Freelancers Association, the American Copy Editors Society, or the American Society of News Editors. There are associations for many different types of editors, from medical editors to agricultural editors, and if you can find a group that matches your interests, you may be able to make contacts who can tell you about the profession and share advice on education and training.