Find an Online School
3,120
Degrees from
74
Schools
How to Become an Insurance Agent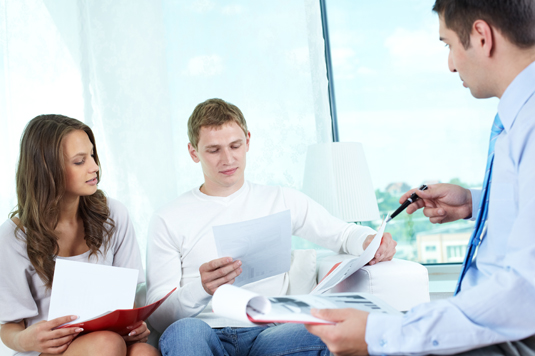 Insurance agents sell insurance policies to customers on behalf of insurance carriers and brokerages. Agents must be familiar with the types of policies their agency sells, and help customers determine which policy best suits their needs. They should also have strong sales, marketing, and customer service skills in order to locate and attract potential customers. Insurance agents may sell one of many different types of insurance, including life, health, automobile, and liability insurance.
Agents who work for an insurance carrier sell policies only from that agency, while those who work for brokerages sell policies from a variety of insurance providers.
What kind of training is required to become an insurance agent?
Insurance agents can come from all types of educational backgrounds. In many cases, agents can qualify for jobs with only a high school diploma, but some employers prefer a college degree. Completing a degree in business or management, for example, can be good preparation for a career in insurance sales, because graduates will be familiar with principles of marketing, economics, and finance.
While there is no one degree that is required for insurance sales agents, most states require agents to complete a pre-licensing training course. These courses typically take a few days or more to complete and cover topics that appear on the state licensing examination. Students in pre-licensing courses learn about insurance ethics, different types of insurance policies, and their state's laws as they apply to the type of insurance they want to sell.
New insurance agents often receive on-the-job training from their employer after they are hired. Trainees learn about the types of insurance products their agency sells. They also receive training in sales strategies and may be matched with a mentor with experience in insurance sales.
Are there any certification or licensure requirements?
Each state has different licensure requirements for insurance agents, and even within a state, these requirements vary depending on the type of insurance one sells. In general, to obtain a license to sell insurance, one must pay a fee, complete a pre-licensing training course and pass a licensing examination. Some states also require license applicants to be sponsored by an employer.
Agent licenses must be renewed periodically and maintained by completing continuing education.
How long does it take to become an insurance agent?
While taking two or four years to earn a college degree can enhance one's job prospects, in many cases, one can become an insurance agent after completing only a pre-licensing course, which can take several days.
What does an insurance agent earn?
The median yearly pay for insurance agents in the United States was $48,150 in 2012. The lowest ten percent of earners in this field made less than $26,120 and the top ten percent earned more than $116,940 that year.
What are the job prospects?
The Bureau of Labor Statistics projects that employment of insurance sales agents will grow by 10 percent between 2012 and 2020, which lines up with the average projected growth for all occupations. The BLS expects that job prospects will be best for agents who sell health and long-term care insurance and for those who provide financial planning services in addition to insurance sales.
What are the long term career prospects for insurance agents?
Sales agents who gain experience can advance into senior sales and management positions within their agency or brokerage. Some agents find success working independently, running their own agencies.
How can I find a job as an insurance agent?
There are many national and local insurance carriers and brokerages that you can contact for information about employment opportunities. Because success in sales depends on making connections in your community, having volunteer experience can be an asset in your job search. If you are unable to find a job right away, you may be able to build experience by completing an internship or taking a related job in the insurance field.
How can I learn more about becoming an insurance agent?
There are a few national associations for insurance agents, such as Independent Insurance Agents and Brokers of America, Inc. and the National Association of Professional Insurance Agents. There are also many state associations for insurance agents, and these groups can be good sources of information on becoming an insurance agent in your state. State associations also typically offer pre-licensing training courses for agents as well.