Find an Interior Design School
How to Become an Interior Designer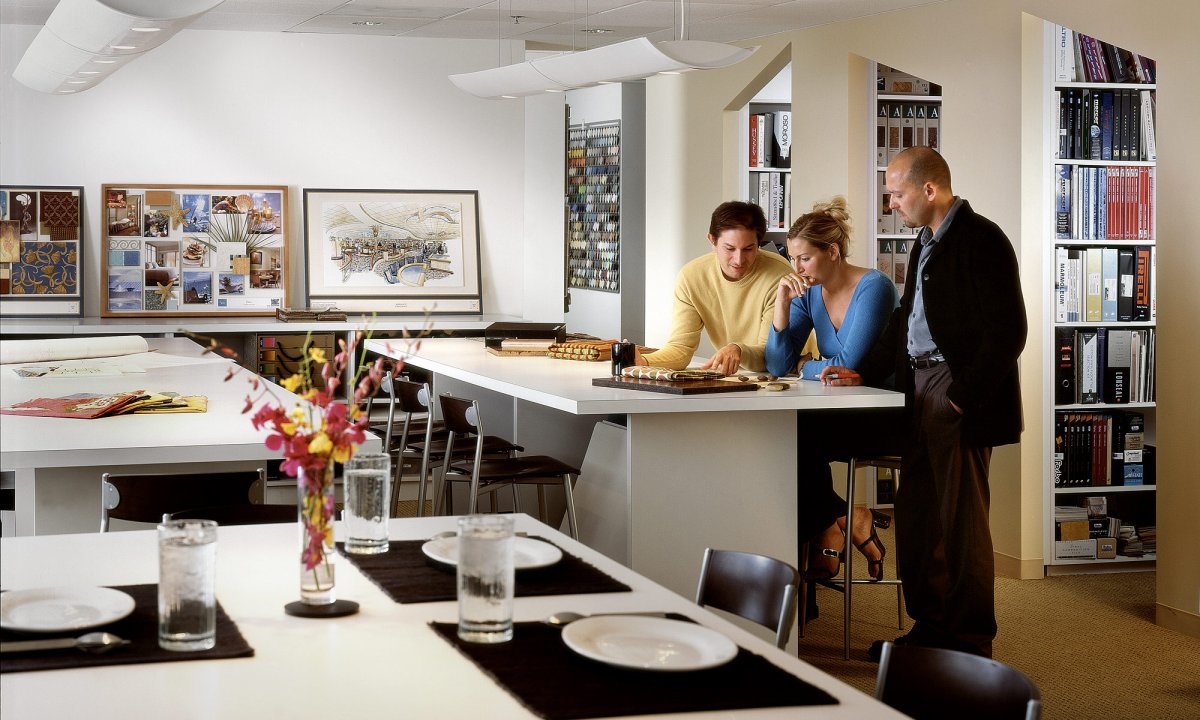 Interior designers work with both residential and commercial clients to plan the design of living and work places. They oversee the entire process of creating a space, including consulting with their client to determine their needs, sketching plans or creating them with computer-aided design software, sourcing and purchasing materials and furnishings, and making sure their plans are implemented to the satisfaction of their client.
Some designers specialize in a certain type of design style or in designing certain types of places, like kitchens, bathrooms, or office spaces. A designer may also specialize in design that emphasizes concerns like environmental sustainability or accessibility for the elderly or disabled.
What kind of training is required to become an interior designer?
Most interior designers have at least a bachelor's degree. Both traditional colleges and universities and specialized art and design schools offer degree programs in interior design, typically leading to a Bachelor of Fine Arts (BFA) degree.
Students in interior design BFA programs take courses in the theory and history of interior design and learn how to draw architectural sketches, build three-dimensional models, and use computer-aided design software. Students also learn about building materials, construction fundamentals, and furniture theory so they can help clients choose the appropriate materials and furnishings to achieve the desired effect in their space.
Interior design programs also introduce students to the principles of designing different types of spaces, including residential, retail, office, and large public spaces. Students consider factors like lighting design, traffic flow, and the social and psychological needs of the space's occupants.
Studio courses feature prominently in interior design programs, so students have many opportunities to put their study of theory into practice designing spaces. Students create computer and three-dimensional models, and their classmates and instructors offer critiques on their work.
Students in interior design programs also prepare to enter their profession after graduation by completing internships, preparing their professional portfolios, and taking courses that focus on the business side of interior design.
Are there any certification or licensure requirements?
Licensure requirements for interior designers vary by state. Some states require those who want to use the title of interior designer to obtain a license. In these states, obtaining a license typically requires meeting standards for education and experience and passing a licensing examination.
Interior designers may be required to complete all or part of a degree program in interior design and to have a certain number of years of experience doing interior design work under the supervision of a licensed interior designer or architect. Many states that require interior designers to pass a licensing examination use the National Council for Interior Design Qualification (NCIDQ) Examination.
How long does it take to become an interior designer?
The length of time it takes to become a licensed interior designer varies by state. In states that regulate the use of the title, it can take four or more years to meet the education and experience requirements to become eligible to take a licensing examination.
What does an interior designer earn?
The median yearly pay for interior designers in the United States was $47,600 in 2012. Interior designers who worked for architectural or engineering firms earned the highest median salary among their peers, at $54,360 in 2012.
What are the job prospects?
The Bureau of Labor Statistics projects that employment of interior designers will grow 13 percent between 2012 and 2020, about as fast as the average growth for all occupations. Employment growth for interior designers who offer specialized design services, such as accessible or sustainable design, is expected to be faster than the projected growth for the profession as a whole, at 20 percent. For this reason, the BLS expects that interior designers who focus on specialized design services will have the best job prospects in the coming years.
What are the long term career prospects for interior designers?
Interior designers with undergraduate degrees can return to school and complete graduate certificate or Master of Fine Arts programs in interior design to further study a specialized area of interest. Some designers pursue doctoral degrees and go into higher education.
As they gain experience, interior designers who work for architectural, engineering, and design firms can advance into positions of greater responsibility, leading the design of larger projects. Some interior designers go on to start their own interior design firms.
How can I find a job as an interior designer?
According to the Bureau of Labor Statistics, 25 percent of interior designers were self-employed in 2012. If you would like to start out as a self-employed interior designer, you will need to find clients by marketing your business and making contacts in your community. The American Society of Interior Designers offers a "Managing and Marketing Your Business " resource on its website that may be helpful to you as you start your design business.
If you would like to gain experience working for a design firm, you can apply to positions with architectural, engineering, design, or construction firms. Some interior designers get started in the field by providing design services to retailers and furniture stores. You can learn about job openings in these types of companies through general job websites, but organizations like the International Interior Design Association host specialized job boards for designers as well.
Attracting clients and landing jobs with design firms often depends on the strength of your portfolio of design work. Your portfolio should showcase the variety of work you do and be continually updated to show potential clients and employers your talent and versatility as a designer.
How can I learn more about becoming an interior designer?
There are many professional associations that serve the interior design community. Groups like the American Society of Interior Designers, the International Interior Design Association, and the Interior Design Society offer continuing education and career resources to interior designers and may be helpful sources of information as you explore this career.