122
Degrees from
33
Schools
How to Become an Occupational Therapist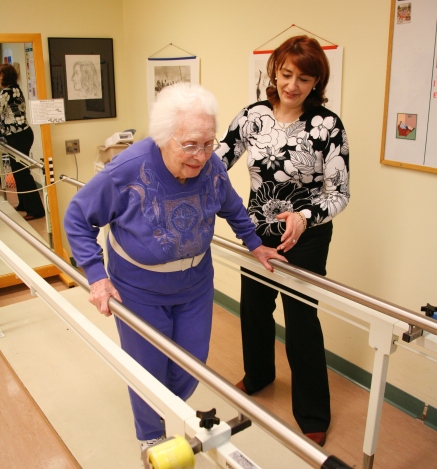 Occupational therapists help people of all ages learn how to perform the everyday tasks they need to function at home, school, and work, and in their community. They work with children and adults with developmental disabilities, the elderly, and people who have lost function due to illness or injury.
Occupational therapists meet with their patients to evaluate their needs, and design an intervention plan to help their patients gain or regain functions such as eating, interacting in a social environment, or using adaptive equipment like wheelchairs. OTs can work in schools, hospitals, nursing facilities, and outpatient care centers, and they often visit their patients in their homes.
What kind of training is required to become an occupational therapist?
The minimum educational requirement to become an occupational therapist is a master's degree in occupational therapy. The American Occupational Therapy Association (AOTA) accredits master's and doctoral degree programs in occupational therapy, and in most states, OTs must graduate from an accredited program to qualify for licensure.
Entry-level OT master's degree programs accept students with bachelor's degrees in any subject, but applicants with a background in health sciences may have an advantage in the admissions process. Students in OT programs take courses in topics like behavioral neuroscience, functional anatomy, and kinesiology. They also study occupational therapy research and learn about the practice of occupational therapy.
The latter part of an OT master's degree program is spent gaining clinical experience in one or more health care settings. Depending on their interests, students can choose fieldwork in pediatrics, mental health, geriatrics, or physical disabilities.
Some colleges and universities offer one-year master's degree programs for students who completed an undergraduate degree in occupational therapy science. Some schools also offer bachelor's to master's degree bridge programs that allow students to earn two degrees in a compressed time frame.
Are there any certification or licensure requirements?
All states require occupational therapists to obtain a license to practice. To become licensed, OTs must complete an occupational therapy program that is either accredited by the AOTA or approved by their state and pass the National Board for Certification in Occupational Therapy examination.
How long does it take to become an occupational therapist?
It can take five to six years to complete the education required to become an occupational therapist.
What does an occupational therapist earn?
The median yearly pay for occupational therapists in the United States was $75,400 in 2012. The lowest ten percent of earners in this field made less than $50,500 and the top ten percent earned more than $107,070 that year.
Entry-level occupational therapists earned an average salary of $52,000 in 2010.
What are the job prospects?
The Bureau of Labor Statistics projects that employment of occupational therapists in the United States will grow by 29 percent between 2012 and 2020. This growth is much faster than the projected average growth for all occupations, and the BLS attributes this growth to several factors. As the population of the country ages, occupational therapists will be needed to help the elderly remain independent in their homes and recover from the illnesses and chronic conditions associated with aging. OTs will also be needed to help people with autism spectrum disorder learn social skills and participate in school and in the workplace.
What are the long term career prospects for occupational therapists?
Practicing occupational therapists are expected to complete continuing education to maintain their certification, but some OTs pursue specialized education and training to earn additional certifications in specialties like driving and community mobility, environmental modification, school systems, low vision, and feeding, eating, and swallowing.
Some OTs go on to earn doctoral degrees in occupational therapy. Those who are interested in advanced clinical practice or in taking on leadership roles in the workplace may complete a Doctorate of Occupational Therapy, while those who want to conduct research in occupational therapy can pursue a PhD.
How can I find a job as an occupational therapist?
The AOTA hosts a job board for occupational therapists called OTJobLink.org.
This and other job sites can be good ways to find openings in your area. You may receive a job offer through one of your fieldwork placements, but if you don't, you should still make several contacts who can be good sources of information on job openings that may be a good fit for you.
How can I learn more about becoming an occupational therapist?
You can learn more about becoming an occupational therapist through the American Occupational Therapy Association website. They offer information on education, certification, running a practice, and advancing your career.