Find a Personal Training School
How to Become a Personal Trainer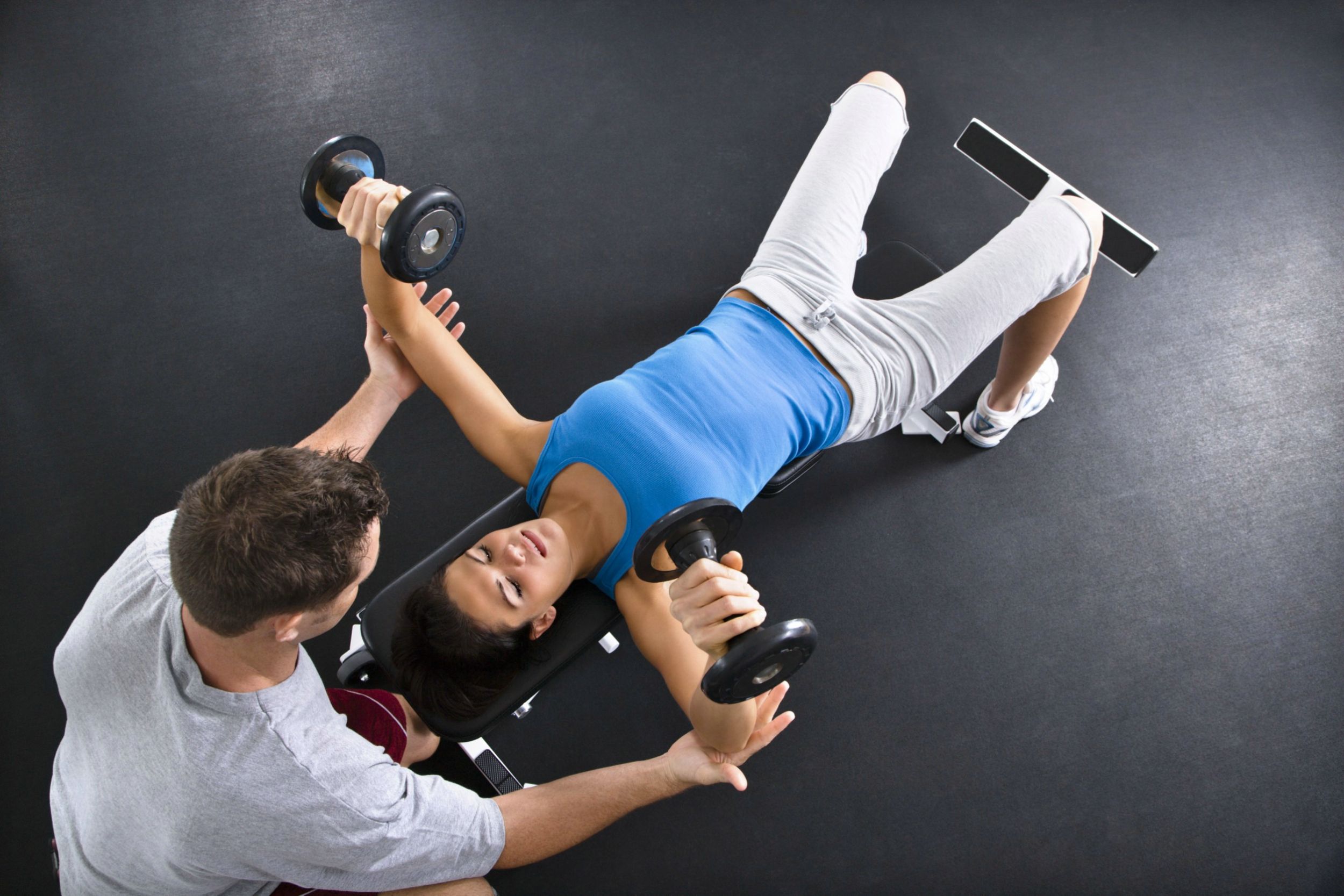 Personal trainers help people achieve their fitness goals by designing and implementing training programs. Personal trainers must know how to listen to their clients, work with them to identify goals, and determine the best methods to reach those goals.
To do this effectively, personal trainers should have knowledge in nutrition, human physiology, exercise techniques, and fitness assessment. Knowing how to motivate people is helpful as well.
What kind of training is required to become a personal trainer?
Training and education for personal trainers are available through certification organizations and colleges and universities.
To enter a certification program, you must be at least 18 years old and have a high school diploma or GED. These programs typically involve purchasing study materials, taking part in a small number of workshops and seminars, and taking a certification exam. The study materials and workshops prepare students to take the certification exam, which may cover topics like training program development, nutrition and weight management, health evaluation, anatomy, and various training techniques. Candidates must have cardiopulmonary resuscitation (CPR) and automated external defibrillator (AED) certifications before they can take the exam.
Many colleges and universities offer bachelor's degree programs in exercise science. It is usually not necessary to hold a bachelor's degree to work as a personal trainer, but earning one can give you more options for advancement and specialization farther along in your career. Exercise science students take courses in topics like human anatomy, physiology, neuroscience, biomechanics, injury, sports and exercise psychology, and exercise assessment and programming. They may also complete internships at rehabilitation, sports, or training facilities.
If you want to take some college courses but aren't ready to take on a bachelor's degree, many colleges offer certificate programs in personal training through their continuing education department. Students in these programs take courses in topics like anatomy, physiology, health assessment, and legal and safety issues, and may also complete a practicum or internship. Certificate programs last one or two semesters and often come with the option to take a certification exam through an affiliated personal trainer certification organization.
Are there any certification or licensure requirements?
Personal trainers in the United States are not legally required to a hold a license to practice, but some states are working toward regulating the profession. Most gyms will hire only certified personal trainers, however, and some personal trainer certifications are valued more than others. If you are seeking certification, look for a program accredited by the National Commission for Certifying Agencies.
How long does it take to become a personal trainer?
The time it takes to become certified as a personal trainer depends on the program you choose. Some programs take days to complete, while others take weeks or months.
What does a personal trainer earn?
The median yearly pay for all personal trainers in the United States was $31,090, or $14.95 per hour, in 2010. The top 10% of earners in the field made more than $63,400 that year.
What are the job prospects?
Personal training is a fast-growing profession; the number of personal trainers in the United States almost doubled between 2001 and 2011 and is expected to grow by 24 percent between 2010 and 2020.
The more education and specialized training you have, the more likely you will be to find a job. Some personal trainers work for themselves, so your success may also depend on your business and marketing skills.
What are the long term career prospects for personal trainers?
Personal trainers have many options for specialization, such as teaching a certain discipline like yoga or strength training, working with senior citizens or children, or working with people recovering from illness or injury. Some of the same organizations that offer personal trainer certifications offer continuing education and specialty certifications so personal trainers can find a niche and educate themselves to advance their careers.
Personal trainers who work for themselves may find long term success if they are able to attract clients and build a strong reputation for their business.
How can I find a job as a personal trainer?
Most personal trainers work for fitness and sports recreation centers, so look for openings at gyms, spas, and other athletic centers. If there is a specific place at which you want to work, check to see what certifications they look for when hiring personal trainers.
While the majority of personal trainers work for someone else, the US Bureau of Labor Statistics reports that 8 percent of personal trainers worked for themselves in 2010. All you need to start out is a client, but you will also have to figure out where to conduct your training sessions, how to set up your billing, and what kinds of insurance you will need.
How can I learn more about becoming a personal trainer?
Many personal trainer certifying organizations act as professional associations as well, offering continuing education and career resources. You can learn more about the profession through these groups, including the American Council on Exercise, the Aerobics and Fitness Association of America, the International Sports Sciences Association, and the National Exercise Trainers Association. The IDEA Health and Fitness Association has a tool that lets you compare the personal trainer certifications offered by organizations across the United States.