Find a Law Enforcement School
22
Degrees from
10
Schools
How to Become a Police Officer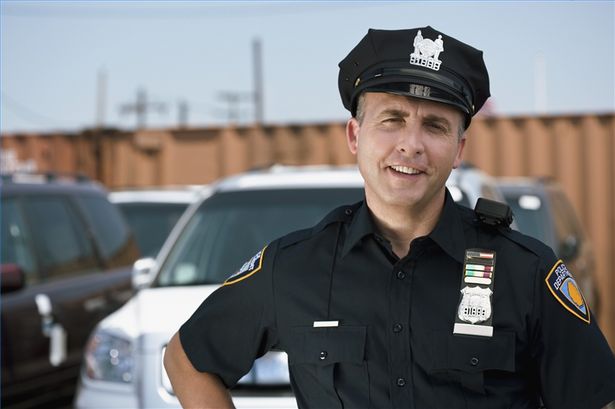 Police officers enforce the laws of their community by responding to and investigating reports of crime. Police officers patrol their communities on foot or in vehicles like cars, motorcycles, and bicycles, and may stop and question people who are committing crimes or behaving suspiciously.
Law enforcement can be a dangerous career, especially in areas with high levels of violent crime, as police officers are called on to stop crimes as they are occurring and to confront and take into custody people who may be armed with weapons. Police officers may work for towns and villages, colleges and universities, cities, counties, states, or for the federal government.
What kind of training is required to become a police officer?
New recruits receive paid training after they are hired by a police department. They attend a full time police academy for about six months before they begin working. Recruits undergo training in several areas during this time:
If a recruit successfully completes police academy by passing written exams and meeting physical standards, he or she then may move on to a field training program, where new officers work with experienced officers to apply the skills they've learned in police academy.
Some police departments accept only applicants who have completed some college coursework, but others require only a high school diploma or GED. Many police departments operate cadet training programs, where college students can complete training while working on a degree. Cadet programs may provide tuition assistance and give cadets opportunities to work within the police department in a limited fashion.
Those who want to work for a police department that requires college experience may pursue an associate or bachelor's degree in criminal justice. Students in criminal justice programs take courses in topics like law and the legal system, criminal investigation, psychology, and correctional systems.
Are there any certification or licensure requirements?
Each state sets its own standards for the certification of police officers. The specifics may differ from state to state, but most set requirements in these categories:
Age: Officers may be required to be at least 18, 19, or 21 years old.
Citizenship: Officers must be United States citizens or, in some states, working toward US citizenship.
Education: The minimum standard may be a high school diploma or GED, or some college experience.
Pass a physical examination by a doctor: Some states require psychological evaluations as well.
Submit fingerprints and undergo a background check: Most states will not certify officers who have been convicted of a felony or certain other criminal offenses.
Pass a physical fitness test: Each state requires candidates to meet physical standards. Officers may have to complete a certain number of situps and pushups or run a mile in a certain amount of time, for example.
States also define what counts as "passing" for each component of police academy training, and recruits must pass their training to qualify for certification. Earning a certificate gives police officers the authority to enforce the laws of their community and carry a firearm while doing so.
How long does it take to become a police officer?
How long it takes to become a police officer can depend on timing and circumstance. If you are 18 and your state requires police officers to be 19 or 21, you will have to wait until you are the appropriate age. You may also be required to pass a civil service exam before you can apply for a job, and in some states these exams are offered only once a year or every other year. If your police department requires some college education or requires applicants to have residency in the area for some amount of time before applying, you will have to wait to meet those requirements as well. Police departments may also hire and offer training only at certain times of the year, so you may have to wait for that window of time to open.
What does a police officer earn?
The median pay for all police officers and detectives in the United States was $55,010 in 2010. Considered separately, detectives and criminal investigators had a median pay of $68,820, and police and sheriff's patrol officers had a median pay of $53,540 that year.
What are the job prospects?
The job market for police officers is not expected to be fast-growing over the next several years. The US Bureau of Labor Statistics expects employment of police officers and detectives to grow only 7 percent between 2010 and 2020, which is slower than the average for all occupations during that time.
Your job prospects may be limited by your location, as many police departments require applicants to be residents of that city, town, or county, and your local police department's hiring needs will depend on its budget and its current workforce. Some police departments only require police officers to establish residency once they are hired, however.
Your chances of being hired may be better than others if you have some college education or military experience. Many police departments publish sample exams and physical fitness requirements, so you can prepare yourself before you apply.
What are the long term career prospects for police officers?
There are several paths for advancement and specialization for those who make it through the officer recruitment and training process. Police departments have very specific pay grades and rankings. By gaining experience and additional training, police officers can become detectives, then sergeants, lieutenants, and captains. At each rank there are opportunities to specialize in different aspects of police work, like narcotics, gang activity, traffic, community relations, or training. In some cases, advancement requires completing college courses or earning a degree.
How can I find a job as a police officer?
If you want to work as a police officer in your community or in another area, research that police department's hiring requirements. Some police departments open up their applications only at certain times of the year, and you don't want to miss your opportunity to apply. Map out the steps that you will need to take before and during the application process, such as preparing for and taking exams, taking college courses, and improving your physical fitness.
How can I learn more about becoming a police officer?
Many police departments do community outreach, so contact your local police department to see what kinds of events and programs they offer. You may be able to go on a ride-along with a police officer or volunteer in community patrols. These programs should give you some opportunities to talk with real police officers and learn more about the work that they do.