Find a Real Estate Management School
How to Become a Real Estate Agent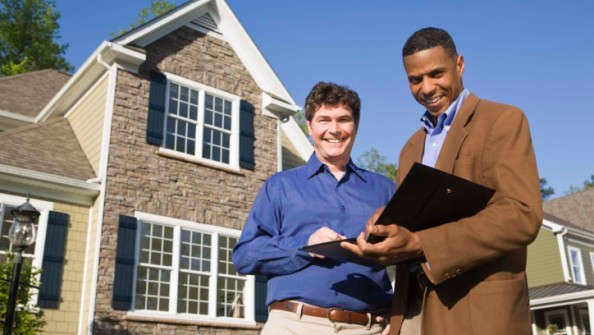 Real estate agents help people sell and buy houses and other properties. People can hire real estate agents to list their home for sale and market it to potential buyers. People can also hire real estate agents when they are looking to buy or rent a property. Buyers tell real estate agents what they are looking for in a home, including details like size, number of rooms, style of home, price, and location. Agents will then search real estate listings to find the homes that best fit their clients' needs and arrange times to show their clients these potential homes.
Real estate transactions often involve negotiation, and real estate agents try to get their clients the best deal possible. If a sale is made, agents will coordinate and guide their clients through the buying process.
What kind of training is required to become a real estate agent?
Those who want to become real estate agents must take training courses. These courses may be offered by the continuing education departments of colleges or universities or by independent agencies that are accredited by each state. These courses may be offered either online or in-person.
The number and type of courses potential real estate agents must take differs by state. New York, for example, requires real estate agents to take one 75-hour pre-licensing course, while California requires three college-level courses: one in real estate principles, one in real estate practice, plus one elective.
Students in real estate pre-licensing courses learn about legal issues in real estate, ethics, contracts, real estate finance, insurance, taxes, and different types of properties.
Are there any certification or licensure requirements?
Each state sets its own standards for real estate sales agent licensure, but licensure typically involves completing one or more approved training courses and passing an examination at the end of that course.
States also set age and education requirements, but most states allow anyone 18 or older with a high school diploma or GED to apply for a license. Some states require applicants to submit fingerprints for a background check.
In many states, real estate sales agent licenses must be requested through a sponsoring broker, so applicants must have an offer of employment to qualify. Other states allow prospective agents to request a license before they are hired, but these agents cannot conduct any business until they are employed by a broker.
How long does it take to become a real estate agent?
If you meet the minimum age and education requirements for real estate agents in your state, you can become a real estate agent after you have completed your training courses and passed your exam. The length of a real estate training course is usually measured in "clock hours," which is the total amount of time it takes to complete the course. A in-person 60-hour course, for example, could be spread out over seven or eight days. An online course of the same length could be completed at any pace. Most states require training courses between 60 and 75 clock hours in length.
If you live in a state that grants licenses only through an employing broker, you will have to secure a job before you can get your license and begin working as a sales agent.
What does a real estate agent earn?
The median yearly pay for all real estate sales agents in the United States was $40,030 in 2010. The top 10 percent of earners in this field made more than $95,220 that year.
Most real estate agents work on commission, which means that they earn a percentage of each sale they make. The more a real estate agent sells, the better he or she is compensated.
What are the job prospects?
Real estate is not expected to be an exceptionally fast-growing field over the next several years. The Bureau of Labor Statistics expects employment of real estate agents in the United States to grow 12 percent between 2010 and 2020, which is about as fast as the average for all other occupations.
The real estate market in your area will dictate your job prospects. If the market is booming, you may be more likely to find a job. You can enhance your prospects by taking extra courses in real estate or by earning an associate or bachelor's degree. Some colleges and universities offer degree programs in real estate, usually through their school of business.
What are the long term career prospects for real estate agents?
As real estate agents gain experience and community contacts, they can sell more and earn more money. Successful sales agents may consider becoming real estate brokers. Real estate agents must work with a broker, while brokers can operate their own businesses.
To become a broker, a real estate agent must earn another license from their state. Each state determines how many years of experience brokers must have and what additional training they must complete before they can take an exam and receive a broker's license.
How can I find a job as a real estate agent?
As a new real estate agent, you will need to find a broker to work with. Research brokers and real estate companies in your area and find out what qualities they look for in sales agents. You can set yourself apart from other prospective agents with education, sales experience, and excellent people skills.
How can I learn more about becoming a real estate agent?
The National Association of Realtors has many resources for prospective and current real estate agents. You can learn more about the profession, take courses, and read about trends and research in the field.
You can also learn more by visiting the website of your state's real estate board or bureau. There you can learn exactly what your state requires for real estate agent licensure. Some states also offer education resources and helpful tips for agents.